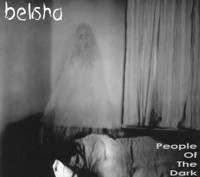 Belisha
The Hounded
~reviewed by Jezabel
(photo courtesy/property of the band's website)
After a recommendation from a leading DJ here in London, I decided to give Belisha a listen…I need to listen to that guy more often.
The first track at first made me doubt the word of my intelligent friend. Wormwire seemed disjointed and out of synch as if the metronome used by the band had gone all wrong and they kept playing with it never realizing that it would speed up and slow down…and not that delicately. Perhaps an "effect" was being approached here, but it left me taking deep sighs and hoping for something better.
And I was not disappointed in the least. These men from East London are another of the bands that need to be watched because of their versatility and strength, something sorely lacking in many bands who can do one thing well and that will be it. The fiercely danceable Cannibal should work well in the club scene, as will the title track, The Hounded and especially, The Fall of the Evergreen (although most Goths might be out of breath after the first chorus). These are danceable goth rock tracks with a metal twist brought in for good measure and even enough electronic in the background to keep bleepy types somewhat satisfied (although why that would be important is beyond me).
And for those like me who like an album to ebb and flow and turn and twist, there is "Into the Capsian Sea" and "Every Sentimental Moment". Both, especially the latter showcase a poetry in the lyrics that are in sharp contrast to the rest of the album.
From "Every Sentimental Moment":
Life has such meaning with true love that's burnin
Changing my yearning for your love that's turning me
No….that is wrong. I have it wrong as I read through more. There is a poetry in ALL of the songs and that is perhaps what makes it magical. Through this lovely poetry and fine writing (and great vocabulary – calubrious????) the music creates enough strength, anger and energy to take the poetry to another level, changing its identity and giving it more levels than the original words possessed.
I have tried to find some similarities to other bands and I feel I may have to duck some tomatoes here. The versatility of the band actually remind me of early Goo Goo Dolls who were able to balance themselves between hard hitting punk sounding and more relaxed pop sounds.
The vocals are strong, powerful, filled with depth…. and hard to find a comparison to. Believe me, I tried. I found some of the guitar work a bit laborious, and a bit too layered, but again, an overall package that takes away any weaknesses.


Some small problems may arise for these guys if Carl McCoy ever takes a gander at the inside of the liner notes….those images are just "bit" too close to the FotN logo for taste. Thankfully, the logo for the band (available for download on their website) is nothing like the liner and actually is a quite cute alien line drawing. (Hope the guys don't find that offensive, but I find the little guy cute).
These are hard working guys who have a new video which will be showcased on MTV-2 and Kerrang. I have yet to see the footage, but know there is a copy waiting for me.
This CD is good. It's solid. And it a great foundation for a band. In that I mean, it doesn't blow you away so much that any album in the future will be a let down, but gives you the band a way of bringing you in, sitting you down for a nice before dinner drink and then later, will wallop you with a seven course meal that would make a Cordon Bleu chef jealous.
Track List:
1.) Wormwire
2.) Hope of Pills
3.) Cannibal
4.) Filthy
5.) Into the Casparian Sea
6.) The Hounded
7.) Every Sentimental Moment
8.) Wolfs Head
9.) The Fall of the Evergreens
10.) Ball of String
Belisha are:
Dan, vocals
Byden, guitars
Elric, Bass
Pit, keys
Oliver, drums
Belisha - Official Website:
http://www.belisha.com
Filthy Sonnix Records
http://www.filthysonnix.com
01/05/02