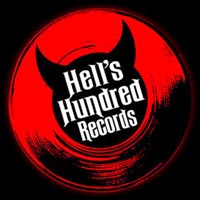 THE BRIDES
THE BRIDES (Hell's Hundred Records)
~review by Mick Mercer
Progress is always good to see with bands and after a slew of bristling post-Cramps, post-Garage, post-Punk CDs, The Brides have gone onto a fine label, where they've wildly ratcheted up the gears until their wheels are burning.
The wicked good humour coursing through their polished veins is still here, but it hasn't the inventive feel of earlier releases. Part of this is down to producer Jacques Cohen, who has worked with Mercury Rev. He has fashioned something of real power, more likely to create serious impact with the people who haven't heard them before, which makes for good common sense, and the fact a little of the volatile character has been reduced simply means you have to dig a little harder.
It starts brilliantly and ends almost bizarrely. 'Whore Money' gets us underway with indecent glories. 'Whoooooo!' they gush, with hugely melodic punk and a heavenly pop chorus, whose shining teeth covers up the lyrical filth beneath. Then 'Death Wears Red' is contrarily tough punk, and that's where the difference on this album becomes so noticeable. They've sharpened the brevity but given a rough modern feel to it. The kitsch elements remain distinct strains throughout the album, but the melodic combustion is similar to modern bands who don't know much about the past. It allows guitars and vocals to dominate, with the organ circling behind. 'Black Market Rebate', replete with creepy organ and rumbling bass, sees the happy marriage of demure Blondie sauce, led astray by Stranglers grit.
The drums force 'Normal' to run wild, and played live it's probably riotous, but here is ordinary, as is 'Hags Of Old Broadway'; not a Courtney tribute, but moodily offering a vague sense of dread. 'Hoity Toity' has a touch of Ausgang in its bass rawness, but fast becomes their own with weirdly ladled vocals over the bumps and humps of a mesmerising encounter. What you lose on the roundabouts you gain on the slow motion swings, and I was shocked to realise that 'Pleasure Of My Company' really does appear to be The Carpettes, with organ added. A rising riff, catchy vocals and rolling rhythm make another snappy hit; indignant and frothing in equal measure.
They've definitely grown, but haven't yet achieved balance between sharpening the good parts and avoiding some of the duller nuances. The songs which don't carry the previous zest make do with deeper twists. 'Pink Purple Blue' is a twitchy detour, 'Measure Of Caution' has more tension, with swelling organ and thin guitar whisking you into one of their pause-caressed passages, but it also has almost rocky rather vocals and that's a touch alarming. 'Brooklyn Gothic' has a kitsch opening and welds a rough and tumble to their traditional punchy, skipping rhythm. This is a fantastic song, scolding more than scalding, and nicely intense. Then 'Lovesick Minority' reminds me vocally of something quite plain, showing they're prepared to sail close to the foul-smelling wind of the purely conventional, but only a touch of drumming and clanging keyboards offsets the normality.
Digging deeper, the starker, funereal 'Centorplex' is a seething slasher which takes them even more strongly into Stranglers territory, given the gruff vocals, and it's got the attitude trapped within to make it ugly as you require. 'Overpower' is a slightly dementoid punk jumble with vocals sprouting up to provide disciplined excitement
Then, with great charm, they go mad, and that's reassuring. 'Marchinha' twinkles with luscious keyboards and unexpectedly restrained guitar. 'The Strange Passing Of John Coal' has stone chippings on guitar, as a swing lament from a parallel dimension staggers by in alarmist fashion, bloody and snotty. Finally, 'Audience To The End' sounds like a different band, bringing us double-barrelled female vocals and Cabaret sociability , introducing a cool demeanour.
I can only find fault with a few songs, so it's a swaggering album, make no mistake. The next one ought to be exceptional.


WHORE MONEY
DEATH WEARS RED
BLACK MARKET REBATE
NORMAL
HAGS OF OLD BROADWAY
HOITY-TOITY
PLEASURE OF MY COMPANY
PINK PURPLE BLUE
MEASURE OF CAUTION
BROOKLYN GOTHIC
LOVESICK MINORITY
CENTROPLEX
OVERPOWER
MARCHINHA
THE STRANGE PASSING OF JOHN COAL
AUDIENCE TO THE END
http://www.thebrides.net - band
http://www.hellshundred.com - label
http://www.middlepillar.com/brides - order

08/01/04