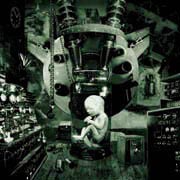 Various Artists
Dreams in the Witch House Compilation
Grave News Records - 1995
~reviewed by Jezebel
Yes, you read the date correctly - 1995. Do you remember what you were doing in 1995? I think (and this is only a theory that I am working on) that I had forgone much of the gothic club scene in the US. Had I known what was going on over here in the UK, damn, what a difference it would have made.
I found this lovely CD compilation in a bunch that was being packed when we moved. Popping it in the stereo, I found myself transported oddly to a time where I hadn't been put should have.
We open with Incubus Succubus and "Take My Hunger". Yes, I did spell that right. This is 1995 and the band hadn't quite changed their name yet. Oh my goodness, a young band they were then. Only together for a few years, the production values are not what should or could be or what we are so used to hearing now….But hold off, I will comment on production values later.
This is young, early and innocent Inkkies…and a must for collectors of their music. Actually it's a must for any fan of any of the bands that are featured on this comp. Children on Stun, Die Laughing (John Berry plays guitar, now plays with Passion Play and used to play bass with this Burning Effigy), Revolution by Night, the Marionettes, soul Inside, Cries of Tammuez, Vendemmian, Blood Simple and This Burning Effigy.
For some of these bands - this was a one-off, like in the case of Blood Simple. For others, like This Burning Effigy, this was the beginning of their careers. The first time they were in a studio, the first time they were on a CD. The Marionettes last release was in 1998, this being on their second to last album before breaking up. Bands like Inkubus Sukkubus and Vendemmian (see their review this month) are still going strong. As well as Revolution by Night which has resurrected themselves after disbanding in 1998.
So why get this compilation? Why? One, if you are a fan of any of these bands, it's a great way to complete your collection. Some of the bands don't even mention this release in their discographies. Secondly - because in 1995, although gothic music wasn't young by any stretch of the imagination, many of these bands are and you can here it. The production isn't perfect, the playing is perhaps a bit off, but you can hear, almost palatably taste the talent that either had been or just beginning. This is raw, not overly polished, pretty studio recording. Sampling and programming and the like were not used as predominately and were too expensive anyway for these bands to be using. This was ADAT. There is not even a mention of a synthesizer. Keyboards are as fancy as these bands got.
There is a history to gothic music, which which sometimes gets lost, forgotten and that is the smaller bands that perhaps shined brightly once, or continue to shine. This compilation brings them back to you….ten songs which take you back to 1995. Darn I wish I could remember where the hell I was.
Track Listing:
1 Incubus Succubus - Take My Hunger
2 Cries of Tammuz - Rosicrucian Ritual
3 The Marionettes - Savage Garden
4 Die Laughing - Harlequin
5 Vendemmian - Hang the Shame
6 This Burning Effigy - Communion with Sophia
7 Soul Inside - Desire (Heave into Dust mix)
8 Revolution by Night - Selling Heaven
9 Children on Stun - Celebration (original mix)
10 Blood Simple - Rainbow Head
For ordering information…
Website:
http://www.gravenews.demon.co.uk/
Bands (which still have websites/are still going)
Children on Stun
http://hem.passagen.se/harlot/Stun.htm
Revolution By Night
http://www.revolutionbynight.com/
The Marionettes
http://www.fortunecity.com/silverstone/healey/405/marionettes.html
Vendemmian
http://www.resurrection-rec.demon.co.uk/vendem.html
Inkubus Sukkbus
http://www.inkubussukkubus.com/
09/09/02