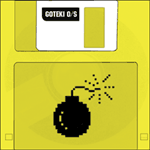 Goteki
Goteki O/S: Corrupted Files
~reviewed by Mick Mercer
Remix albums are a strange beast. They can change the way you appreciate things, from improving a track you found mundane, to totally ruining something you loved, but as I'm not overly familiar with Goteki's material I'm just left to consider the other possible effect they have: that of making a band too widely fractured in sound to do them much good. Thankfully, that hasn't happened here, making the album pretty cohesive throughout, and with precious few details available on the artwork I can only assume the band expressly requested that very little in the way of excess was entered into, which could have made the experience too surreal to be enjoyable. That or the remixers weren't up to getting frisky.
If you've never heard the Human League this could be a very exciting record for you, and that isn't a snide comment. The vocal inflection is very Okay-cokey at times, as are the tunes with the most space age lyrics, but the fact remains few people cover this sort of material well without making it too kitsch, and Goteki have got some fine bumpy tunes which don't end up quirky. Given that the majority of people under thirty (the majority of Goteki fans) have no real incentive to locate old Human League records, this could well seem totally new, and highly desirable.
I regard it as curiously likeable, and sometimes annoying. Goteki prove to be the most slapdash people getting to grips with their task because both 'Phuturist' and 'PN55' do their utmost to drag you sideways when you want the song to simple forge on ahead, while Echo Image show how successful and fuzzily mainstream that can be. Sigue Sigue Sputnik also make things go like a very duff Human League track which was to be expected, although Norgate's attempt with 'We Go Chrome' flatlines also, so maybe it's just a weak track.
Seize introduce us to a new dance genre, Irritating House, and Project 65 are way too bland. I was particularly surprised anddisappointed no-one felt brave enough to tackle the vocals and boost them. Chaos Engine try to robotise them into Europap, which doesn't work, but Icon Of Coil bring out hearty vocal sleaze and gives us the sharpest beats, Carol Masters does a great slow motion Todd Terry approach which feels good, Intro/Depot make it drunkenly Numanoid, and Glis squeeze 'Ninjagirl' out as a fabulous, soft-focus beauty. This is followed by the tempting exposed wires which is a Deathboy remix and if Yendri fail to keep things extra-taut, it's certainly a highly stylised and attractive song.
It works as an album in its own right, with more peaks than troughs, removing hard edges and instilling warmth.
So, curious, and with yellow artwork.
PHUTURIST - ECHO IMAGE
GEISHA DECONSTRUCT - SEIZE
PIRANHA ADVANCEMENT - ICON OF COIL
SURVEILLANCE - THE CHAOS ENGINE
WE GO CHROME - SIGUE SIGUE SPUTNIK
AUTOLOADER - CAROL MASTERS
PHUTURIST - GOTEKI
WE GO CHROME - GRAEME NORGATE
PIRANHA ADVANCEMENT - INTRON.DEPOT
NINJAGAL - GLIS
DO NOT LISTEN TO GOTEKI - DEATHBOY
UNLIMITED LIVES - PROJECT 65
PN55 - GOTEKI
STEAM VIRUS - YENDRI
http://www.darkcelldigitalmusic.net/
3/16/04