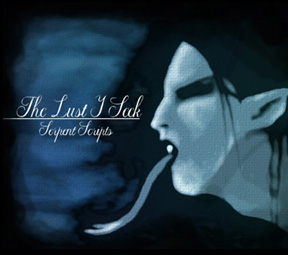 The Lust I Seek
Serpent Scripts
~review by Matthew Heilman
Hailing from Finland, The Lust I Seek is a five-piece Gothic Metal ensemble, and the Serpent Scripts is the band's second demo release. The extended world of dark metal is an extremely crowded place, and the amount of bands that should be overlooked far outnumbers the bands that should be recognized. But there is a considerable amount of promise demonstrated on this release, with a wonderful array of dark emotions presented, ranging from despondent melancholy to riff-laden heaviness.
"Beyond The Grace Divine," the demo's opening cut, immerses the listener in slow paced, dreary guitar harmonies. The production is raw and therefore eliminates the risk of this band having any of the atmospheric weaknesses that riddle most slick, polished, and over-produced 'Goth metal' heavyweights. We begin in a state of swirling, melodic gloom and descend deeper into darker, more mischievous and rhythmic heaviness, as the thickly accented vocals first appear. The initial observation that most listeners will make is that J. Wuroinen sounds remarkably similar to Fernando Ribeiro of Moonspell. It's all in the delivery, the exotic and seductive theatricality of the clean vocals and the raspy monstrosity of the growls. Some vocalists of this breed fail and sound strained or overbearing. Silly is also a word that springs to mind. But whatever mysterious elements are at work, The Lust I Seek pass the tests and have convinced me at least, that their music is a genuine expression of decay and terror.
The band's strengths are foremost their strong sense of melody, which rings throughout the majority of the record's sublime guitar riffing. Of course the harmonies are backed by equally arresting rhythms, which boast thick and muscular power chord crunching over crisp and powerful drumming. The halfway point of "Crowned In Damnation" showcases a wonderfully heavy barrage of rhythmic battery. There are even a few highly charged forays into blackened Death Metal gallops and faster parts, all still firmly rooted in the purpose of creating atmosphere, as opposed to showing off. The melodic gloom merely intensifies, flirts with fear and pushes the adrenaline, before cascading back to less confrontational but equally enthralling pastures. There are a lot of changes, but the band wisely lingers and develops some great structural ideas before charging ahead prematurely. They allow the listener time to digest the various movements within the songs, and succeed in stirring the emotions. And finally, they have penned some imaginative and poetic lyrics – dwelling on the familiar themes of isolation, yearning, loss, and the ever present sense of supernatural foreboding, all produced with a keen sense of English despite the fact that it is not the band's mother tongue.
What I liked most about this band, when compared to other contemporary dark metal bands, is that (and you guessed it) The Lust I Seek does actually come across as a relatively dark band and haven't gotten caught up in the current over-progressive fads permeating the European metal scene at the moment. After reviewing this kind of music for nearly eight years now, I have a much more difficult time swallowing a lot of the supposed 'melancholy' which is truthfully nothing more than over-sensitive wispiness that is culling from the sugary well of hair metal more so than the rot of the grave. It has therefore gotten easier to distinguish between a band that is genuinely animated by a truly Gothic aesthetic or if they are merely posing because Death Metal just doesn't cut it anymore.
The band's sole weakness is basically the frequent use of 'vampyric' vocals, which run the risk of turning some folks off. I strongly maintain however that they are not nearly as distracting as some dark metal vocalists' imitations of Andrew Eldritch that I have been exposed to. The music more than makes up for things as each of these songs have at the very least one or two passages that have the potential to impress even their most ardent critics. There is a lot of musical and technical skill that should be apparent to listeners, but the key to it all is that this band weaves a spellbinding atmosphere throughout the duration of this disc. The three epic length tracks all have their shining moments, which beckon for repeated listens just to hear your favourite part. They're indeed one of THOSE kinds of bands! The album clocks in at just under half an hour, though it was ample time for these lads to have asserted themselves. If they stay focused, and tone the vocals down a bit, we very well will be hearing more from them in the future. Stay tuned!
Track List:
1.) Beyond The Grace Divine
2.) Crowned In Damnation
3.) Anno Pandomonia
The Lust I Seek:
J. Wuorinen: vocals
K. Suhonen: guitars
J. Pekkala: guitars
A. Ojala: bass
T. Valkealahti: drums
The Lust I Seek:
http://www.thelustiseek.cjb.net
Email: thelustiseek@hotmail.com
11/14/04