---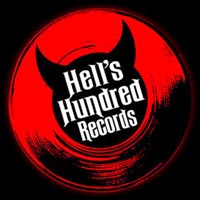 MISTER MONSTER
OVER YOUR DEAD BODY (Hell's Hundred Records)
~reviewed by Mick Mercer
It appears from the press release that since they began in 1998 Mister Monster have done a pretty good job in attracting an audience, and a reputation with the ghouls and boys who go for Horror Punk, which is a scene I haven't seen much about, although it runs parallel in many ways to Deathrock, and I did a lot of site reviews last year. It's where the mutant strains of punk with character, pscyhobilly and gothpunk merge together, and in Mister Monster we have a punk band who exploit the lyrical possibilities, or so it seems to me. The title track is nice and busy with linear bass, tight but light riffing and melodic vocals everywhere, 'Prom Night' is a deeper Ramones, 'This Night I Call (Bad Luck)' is slower, but the vocals work it all up and create a sleek sense of action. ''Til The End' gets by on sweet riffs, and 'Her Open Grave' has adventurous reliance on more emotive vocals throughout. The way he has the confidence to sing, while a lot of punky boys simply rely on rhythmic chantiness, maintained my interest despite a lot of this, 'like 'Dead Flesh Gurl' being like Stiv Bators rejects, mixed with a touch of The Adicts, with an occasional whiff of The Rubinoos, and while that is never a bad thing, it isn't produced with enough power.
Punk without power needs cracking melodies, and they don't actually have those, so excess character would be required to really stamp their identity on the songs, and they don't display that either, what with so much guitar flying about. So it's a hotch-potch of styles, but the songs themselves are very trim and purposeful. 'Bigger Shop Of Horrors' is move by the jolting guitar, 'All My Monsters' is roaring thrash, 'Love Thornz' sees Ramones bass give way to slush, 'Amy Sue' offers lighter, swirlier guitar, and we have some ramalamasingsong in 'Little Frakenstein'. The main stab at something different is in the controlled, canoodling drama of 'Transylvania-mania', 'Send More Paramedics' buzzes with life, and it ends with the moodiest mover, 'Scars 19'.
So, it's a nice album, and a nice idea, but overall I felt perplexed. I don't know if there's some kind of kitsch stage show they do which boosts the horror aspect, or that live they have increased effort which sees them flaying the audience with Punk energy, but this is all seems rather subdued and polite to me.


OVER YOUR DEAD BODY
PROM NIGHT
THIS NIGHT I CALL (BAD LUCK)
'TIL THE END
HER OPEN GRAVE
DEAD FLESH GURL
BIGGER SHOP OF HORRORS
ALL MY MONSTERS
LOVE THORNZ
AMY SUE
LITTLE FRANKENSTEIN
TRANSYLVANIA-MANIA
SEND MORE PARAMEDICS
SCARS…19
http://www.boowop.com
http://www.middlepillar.com
http://www.hellshundred.com
08/01/04