---
RADIO BERLIN
THE SELECTION DRONE (Action Driver/Ache)
~reviewed by Mick Mercer
If I told you this record sounds like early Cult meets Ludus you would say, 'that's absurd, we don't even know who Ludus are!', and I would have sympathy with you. If I then said imagine a sparky late night session between the Psychedelic Furs and Durrutti Column, we'd still be nowhere nearer achieving equanimity, so let's just say this is where Jack from aLUnARED also practices aural alchemy, and leave it at that. You either read my review of them the other day or you didn't. I don't have time for stragglers. Onwards now, onwards…..
And what a striking sound they do have, because while the vocal are sometimes stridently ultra-corpuscular enough to rival anything, it's actually the bass and drums given prominence here, which has you suspicious during the opening, title, track where slabs of rhythm fall in place beside you, through which some teasing electronic smoochy chorus glides. You suspect this might be arty rock, but it's simply a different approach: a rock and a shard place. To show variety they go slow for 'Change Your Mind' where the bass is magnificent in its marble presence, the guitar impersonating a swarm of charismatic.
'Eyes Like Lenses' sees guitar arrows fired and scattering with slow, steady singing and this orderly approach isn't quite as exciting, being mature pop by the close, while 'Electric Halls' begins with echoes and a coy voice, and the haunting synth ushers in a desolate atmosphere. The abrupt change at the end ruins everything, but for a while it was wonderful. 'Glass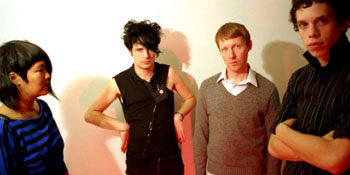 Horizon' goes truly wild with pained vocals, scathing guitar and a barrage of bass and drums, as 'Green Teeth' slows again, smooching. 'Kill The Moment' is fun! With very little guitar present everything else goes mental, and the more it goes on the more audacious it becomes, first with a drum and bass passage and then cutting back further to bass alone, without losing any of its impact.
'Sequences Is Over' fails through the bass being too light, taking the sting out of the martial drums and creepy guitar, 'Twelve Fingers' is slightly sombre with a flooding synth and a squiggly pop feel and then, finally, the title track is cleverly reprised. It sounds muckier and distant, then buzzes off like bored aliens, but if you play track one immediately it starts just how track 10 ends. Now that's a clever circle!
Their latest album will be reviewed on Monday (see below). I suspect it will be worth reading about, because there are times when this record in almost obscenely invigorating
THE SELECTION DRONE
CHANGE YOUR MIND
ELECTRIC HALLS
GLASS HORIZON
GREEN TEETH
KILL THE MOMENT
THE SEQUENCE IS OVER
TWELVE FINGERS
THE SELECTION DRONE
http://www.radio-berlin.com
http://www.actiondriver.com
http://www.acherecords.com

---

RADIO BERLIN
GLASS (Action Driver)
~reviewed by Mick Mercer
I made reference to certain early 80's independent bands by way of creating comparisons to some of Radio Berlin's achievements. With this newer album we move towards the end of that decade, which was the last great period of Indie music. After that stage, when the independent labels had their almighty crash and financial disasters we saw a rebirth along generic terms. The Creation sound and ethic, the Sarah label, the indie-label-as-major-feeder, and so on. True individual bands tended to survive by miracles as much as any concerted coverage in the press and plenty of bands just vanished. Expectation became diminished and pioneers were replaced by gurning 60's obsessives with pies for ears.
On this record we recapture some of the bravery, and what happens here is that the big shapes of the older recordings have pulled in on themselves and sweeter strains are stirred in, as soundscapes shape-shift into song! Think AR Kane, or Blurt, by all means, even Stump, then remove all the 'quirky' tendencies. Think of wilfully provocative music, but with more sensible, thoughtful singing. The adventure is the overall, compulsive qualities.
'Gauze' starts, groaning and clappy, with a leprous chorus escaping from its grey cocoon. Edges are softened, and there's an intriguing sense of tinny guitar and squinting, assured rhythm. 'A Suitcase' is sparse, with clear vocals and chunky bass; a cautious nobility in its expression, while solidifying their intent. 'The Hyphen' sees reliably sturdy drums helped into sociability by a poised synth. The vocals don't work hard enough there, but bounce back in 'D>E>S>' and this is straightforward indiepop, but with crucial interplay between the guitar and bass, which is another odd touch – but watch the Prog keyboards lads! 'Rote Lippen' sees a delicate voice over a lumpen attitude and you think they're going nowhere, only for the song to build subtly into something quite superb with a beautiful guitar sound rarely heard since…ooh, I don't know, Zero Le Creche? It's Goth. 'Aftermath' could also be The Cure, circa 'Killing An Arab', due to its basic clarity, but with plainer vocals, and keyboards stirring it into life. 'Knives' is nervier and slipshod, almost peculiarly fey, yet still it plunges merrily on. 'How Fast Can You Run?' sees a strange poignancy emerged from teasing bass and guitar, which slowly, and grandly, sidles away in a mournful manner.
They're developing, with distinction, and you can't ask fairer than that. They're also showing people alternatives to what have become the norm. And you should ask for a lot more of that.
GAUZE
A SUITCASE
THE HYPHEN
D.E.S.
ROTE LIPPN
AFTERMATH
KNIVES
HOW FAST CAN YOU RUN?
http://www.radio-berlin.com
http://www.actiondriver.com
08/01/04