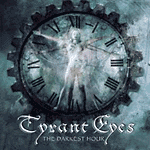 Tyrant Eyes
The Darkest Hour
~reviewed by Joel Steudler
Hold on tight and prepare yourself for a ferocious storm of relentless mediocrity! Get ready to hear an album of astoundingly average music! Yield to a pulse-poundingly pedantic platter of pointless power-prog!! Tyrant Eyes has arrived.
It's not that bad, actually. Sort of. 'The Darkest Hour' is hardly the darkest hour I've spent listening to music. That honor would probably go to Limbonic Art, or Internecine... both of which are bands who would eat these powder-puff power-proggers for breakfast and regurgitate them into more bile filled, hate driven invective for their latest albums. Instead, the fellows in Tyrant Eyes have made Yet Another Power Metal Album. I should try to get that established as a common acronym, so I don't have to type it out in nearly every review I write of powermetal based music. Hmm... YAPMA. That's not bad. Sounds like a support group, though. Come to think of it, Tyrant Eyes could use one: "Formulaic Musicwriters Anonymous".
Have you heard powermetal before? With synthy keyboards in it? Well, then, imagine that for an hour and you won't need to buy Tyrant Eyes' latest offering. The only difference is that the lead vocals aren't of the usual high-enough-to-shatter-glass variety. Instead, the band has opted for a mid-range shouter in Mr. Alexander Reimund, who may be better off if he invests any profit he earns from this album into some singing lessons. He's not really off-key or anything- he just isn't very good. My opinion is of course merely a mostly meaningless subjective belief... but if it were up to me, I'd prefer he take up the harmonica, or trumpet, or some other instrument that prevents him from "singing" on future albums.
There you have it, then. 'The Darkest Hour' contains sounds made by instruments such as the guitar, drums, bass, and synthesizer keyboard, and those sounds are fashioned into a well established pattern usually defined as progressive powermetal. There's nothing especially unique or compelling about Tyrant Eyes' entry into a crowded genre. Though the music isn't poorly played, and the album's production is crisp and clear, there is no reason for me to suggest that you spend money on it... unless perhaps you're writing a dissertation on 'The Downfall Of Modern Metal: Tired Formulas And The Bands Who Use Them'.
Track List:
01.) Night Of Defender
02.) Delight in Dying
03.) Magic Touch
04.) The Dawn
05.) Out Of The Dark
06.) NDE
07.) Command To Destroy
08.) Gladiator
09.) The Last Light
Tyrant Eyes is:
Alexander Reimund: vocals
Marcus Amend: guitars
Michael Apfel: bass
Jürgen Bormuth: keyboards
Sascha Tilger: drums
Tyrant Eyes Official Homepage:
http://www.tyrant-eyes.de
Scarlet Records:
http://www.scarletrecords.it/
The End Records (US Distribution):
http://www.theendrecords.com
02/10/03