---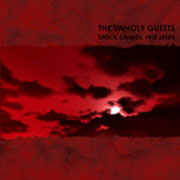 THE UNHOLY GUESTS
BLACK CLOUDS, RED SKIES
~reviewed by Mick Mercer
So how do you react when you think of Russian Goth? You expect sombre sounds, if not actual bleakness? Wrong, you have here a band who sound remarkably vibrant, taking you aback from the word go with buoyant style, and a singer on about, "your skin smells like Spring." The title song of this EP positively bounces along. There are good, confident English vocals, sweeping happily into the mixture, with keyboards sparkling and the guitar picked at watchfully. It becomes compelling through its very warmth, and even fades out in a masterful fashion.
'Helga' sees a deeper, more conventional voice (I'd have liked to have heard at least one song in Russian myself), and here the guitar gets willowy with serious panache and you can see they understand Goth curvature as we get to explore silken troughs of sound.
The guitar remains steady and fairly fast throughout 'Dark Dancefloor', ever-constant, with some light keyboards again. It's just so bubbly and charming, very catchy with a sudden, superb ending, and maybe 'Synapses Cry' seems more ordinary. The vocals rise and fall as the guitar has a more conservative pace, but greater impact. A weird musical interlude with fabulous keyboards will make you smile, and as the guitar gets moody so the vocals froth, but settle gently into the chorus and it ends all too soon, but if you wait long enough the secret live track appears and this suggests they can go really mental too.
Exciting, either in that rawer form, or the gentler strains of the poppier studio work, with interesting lyrics, this is a great new band. Try and get yourself a copy, because you'll love it. They're doing it their own way, and they're doing it beautifully.
BLACK CLOUDS, RED SKIES
HELGA
DARK DANCEFLOOR
SYNAPSES CRY
http://the-unholy-guests.nm.ru

02/05/04