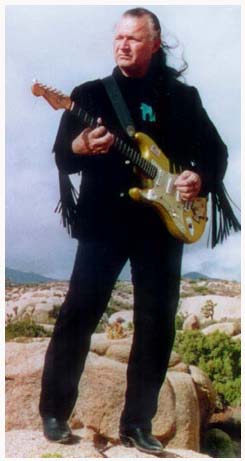 Dick Dale
Muck and the Mires
Dana Stewart & The Old Howards
@ The Middle East downstairs
Cambridge, MA
May 29th, 2004
~review by Basim
(photos from each band's website - see links at the end of this article)
This evening, Dick's guitar smashed into the audience like an eleven foot wave breaking over the sea bed. That jangly surf rock sound is as carnal as an aggitant can be; we all yelped and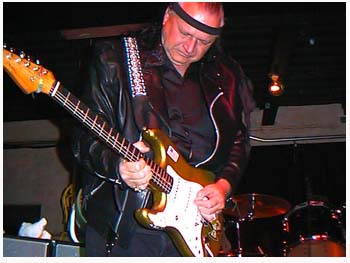 hollared our voice boxes shot trying to match its intensity. You know that reverb heavy, fist pouding rockabilly guitar sound? Dick invented it. Reverb, and LOUD rock owes it's health to Dick's Surf Rock daycare center. 9 out of 10 mansonites asked, "Is this some kind of evil surf music?!?" when I tried educating them with Dark Entries. And besides laying the bedrock of rebellion, Dick's still reinventing the way we look at writing and producing sounds. Portions of the set were spent with Dale using drum sticks to pound power chords out on his bassist's strings. There was also drum solo which featured some nice call and response between Dick Dale clicking his tongue and the skin basher's kick.
I'm noticing more and more that when artists persevere in one band and keep writing quality music, their fanbase expands indefinetly. The Cramps are a good example, but Dick Dale is an even worthier contender to smash the record industry's view on "cornering demographics". There's a point where music can't be described by name dropping subcultures consisting of upper to middleclass white kids trying desperately to be unique and "down". There's a point where you go home and put all the music you own into two piles: "Good" and "Bad". Dick Dale is good, and worthwhile people realize this. This isn't a matter of having different tastes, this is a matter of being mature enough to see beyond a horizon set by fashion driven subcultures. If you can't go to a Dale show and feel shaken up you have some very rudimentary growing up to do. The Rock is ineffable.


It has been proven by the diversity of the crowd: well-over middle-agers bouncing along next to youthful psychobillies. I've never seen so many "Demented are Go" patches and pompadours in my life. I wish I had used my pomade.
The two openners were alot of fun too. Muck and the Mires are one of those trendy retro bands, who I probably wouldn't be caught dead listening to. At a rock concert their music is another story. There's some serious thematic punch to four guys dressed in the same red and black getup with the same bowl haircut, playing agreeable yet fun pop rock. It's three minute long bursts of nostalgia that I think alot of us could use in our life. For fans of the 60's garage sound; the soundtrack to American Graffiti, Buddy Holly or Moulty and the Barbarians.
Wanna know who really were breath taking?
Dana Stewart & the Old Howards.


This was a loud rockabilly racket done well. Dana Stewart's punchy drumming and lead vocals made us all shout along. Guitarist Jeff Herring's approach to soloing really harkened to the classic solos of old, the kind that make you wince once they've reached their peak. It was a cross between the variety of Wayne Hancock and energy of Chuck Berry.
This is a band that needs to be seen live, they'll make you pull your hair out and blow your lungs. Watch your livers ;)

---
Dick Dale
www.dickdale.com
Muck and the Mires
www.muckandthemires.com
Dana Stewart & the Old Howards
http://theoldhowardsslysq.tripod.com/index.html
07/20/04