---
see all the photos from this concert here
Frankenstein
Devilish Presley
Zen Motel
DC Molina
On The Rocks, London
Sunday September 12 2004
~review and photos by Uncle Nemesis
Tonight, we're off to On The Rocks, a small pub full of red light and noise, somewhere in the east end of London. Frankenstein have blown into town on the UK leg of their European tour, and an evening of suitably noisy entertainment has been assembled around them.
Opening the show in a haze of smoke, we have DC Molina, former glam-punks gone weird. I say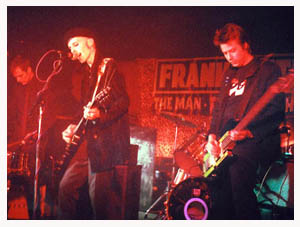 'former glam punks' because in their present incarnation DC Molina seem to have shifted away from their previous identity of a slightly odd, but decidedly rock 'n' roll, outfit. Now, they've gone all Public Image Limited, and that's not just a reference to the lead singer's Lydonesque beret. Their sound is all odd angles and wails, experimentation and bizarreness. The guitar fizzes and stabs, the stand-up drums beat an assertive tattoo, and the vocals keen and freak amongst the noise - it's all very 'Metal Box' in a way, and although the overall sound isn't what you'd call instantly accessible it hits the spot with me.
Zen Motel are a complete contrast. They're a three-piece rock band, and that's rock as in ROCK. They're loud, assertive and play like they're on stage at the Enormodome. The two guitarists up front spend much time rockin' out with that classic legs-apart, head shakin' stance that has been successfully employed by everyone from The Jam to Guns 'n' Roses. Now there are two band names you might not expect to see in the same sentence, but if you were to establish Zen Motel's coordinates on the Great Map Of All Things Rock, then I think they'd turn up neatly equidistant between those two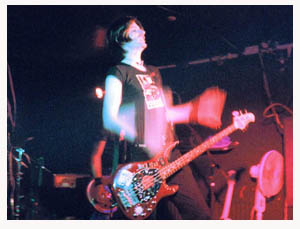 combos. Their songs are brash and loud, rooted in the punkish attitude of the short sharp musical shock, but played with a kind of stadium-status flamboyance that sits rather awkwardly with this small venue. When the singer starts trying to get some audience participation under way, clapping along to the beat with arms up above his head in true rock messiah style, shouting at us all the while to try and get some sort of reaction - well, frankly, it all gets rather embarrassing. Zen Motel aren't a bad band, but I think they really need to work on a way of communicating with their audiences that's more appropriate to the small venues they're playing. All that stadium rock god stuff can wait until you're actually playing stadiums, lads.
It's compare and contrast time. Devilish Presley have the knack of audience communication neatly sorted. They rock out like there's no tomorrow, naturally, but somehow they create an atmosphere like we're all mucking in at one big party. Johnny Navarro talks *to* the audience, in a succession of pithy
comments and pointed asides between the songs, rather than simply shouting stadium rock-isms out from the stage. But, of course, it's the songs that make the show - those explosions of energy, detonated one after another as if the venue has been mined with rock 'n' roll. It's a classic Devilish Presley set, with all the essential elements present and correct: the hardest working drum machine in showbusiness slapping the beat around, those piledriver basslines shoving it all along, and, balanced precariously on this foundation, guitar riffs stacked as high as Robert Johnson's eye. It's rock music, sure enough, but done with a strange kind of gung-ho, foot-to-the-floor minimalism in which sheer energy fills the space where, in a conventional band, the other musicians would be. Weird but it works, folks.
And then comes Frankenstein: the man, the band, the slightly bedraggled and sleep-deprived rock 'n' roll experience. This is gig number five and country number four in five days of touring, and the band is still standing, if rather unsteadily. They crank up a witches' brew of swamp-rock riffs, the basslines burbling like gas oozing up from the murky depths. And here's Dave Grave himself, the man who is Frankenstein: a very dapper monster in slicked-back hair and black leather jacket, commanding the centre of the stage with a casual, offhand confidence. He rumbles out the vocals in a voice like a train going over a wooden bridge, while the band chugs and churns around him. Between songs, he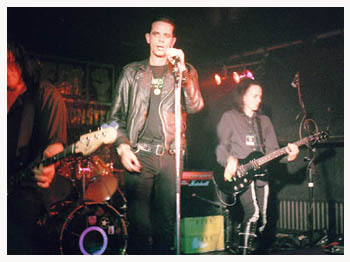 engages the audience in quickfire (and occasionally incomprehensible) banter, a rock raconteur with a hundred crazy tales to tell. It's all good fun, but it must be said that Frankenstein are not here to blaze any new musical trails. Their schtick is good-time, mid-tempo rock 'n' roll, and they do it very well - but it's very quickly apparent that this is all they do. If you're looking for some easy-going entertainment delivered with good humour, a quip or two and an arched eyebrow along the way, Frankenstein are your band. They aren't in the business of challenging the listener, or talking their audiences into new and strange musical territory - they're here to grin and rock out and have fun, and that's fine, but it does mean the band tend to bump up against their own self-imposed limitations. I'm not at all familiar with Frankenstein's material, but as I stand listening to their set I find I can pretty much predict how each song is going to go from the first bar forward, and that leaves me feeling a bit ho-hum. I'd like to hear a bit more of Dave Grave's off-the-wall personality in the music itself, but Frankenstein, it seems, don't want to go there. They just keep rockin' amiably along. Good fun stuff, sure enough - but no surprises.
---
see all the photos from this concert here
Frankenstein: http://www.frankensteintheband.com
Devilish Presley: http://www.devilishpresley.com
Zen Motel: http://www.zenmotel.co.uk
DC Molina: http://dcmolina.20m.com
Reviewed by Uncle Nemesis: http://www.nemesis.to

12/04/04