---
see all the photos from this concert here

Living With Eating Disorders
Limehouse Town Hall, London
Saturday February 28 2004
~review and photos by Uncle Nemesis
The East End of London is a strange place these days. Glittering skyscrapers stand right next to the remains of 19th century industry; designer apartments for the cool and well-heeled turn their noses up at ramshackle terraces. Stainless steel and soot-blackened brickwork side by side, murky tidal creeks glimpsed through noisesome alleys and bijou yuppie sun-decks alike. And through it all, the Bladerunner rollercoaster that is the Docklands Light Railway threads its computer-controlled way. Here's Limehouse station, perched atop a Victorian railway arch, the river Thames on one side, the river of constant traffic that is Commercial Road on the other. Turn right, walk along until you see the statue of Clement Attlee (endearingly wearing real wire-framed spectacles), and that elegant building nearby, still bursting with municipal pride even though local government has moved elsewhere these days, is Limehouse Town Hall.
It's an odd setting for a gig, but Living With Eating Disorders are playing here tonight, as part of a Self Injury Awareness Movement charity event. There's no stage, just an expanse of floor around which a crowd gathers, curious but cautious, as showtime approaches. It's not Living With Eating Disorders' usual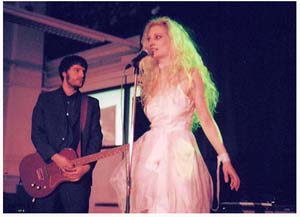 audience, that's for sure. Most people here are wearing high-street leisurewear, trackies and hoodies and big-brand sports gear.
There's a distinctly odd style collision between the audience and the band: the gentlemen musicians are all dressed down in severe monochrome tones, while Andrea, the vocalist, is in her Hollywood Babylon wedding dress. 'Everyone here is so...normal,' she mutters apprehensively, looking around at the assembled throng. 'They're so normal they're...weird!'
The DJs at the side of the room, who've been playing vintage soul and rare groove selections all night, bring their set to a close. And there, incidentally, we have another bizarre style-crash, since, at the risk of doing anyone a disservice, I imagine few of the crowd are aware of anything much beyond this weeks' charts. At any rate, nobody's been dancing. Now it's time for the band to take the floor and do their thing. 'This is the strangest place I've ever played,' says Andrea, just before she goes on-floor. 'I'll never complain about Camden again!'
The crowd forms a respectful semi-circle around the band - without the physical presence of a stage-edge, nobody's quite sure how close they're allowed to get. In any case, Living With Eating Disorders aren't really the kind of band that attracts the kind of glad-handing devotion of gushing fans. They're a bit more of a challenge, and, I assume, deliberately so. Their music isn't instant-gratification stuff; the band doesn't deal in toe-tapping instant hits. You've got to work to get into this stuff, and I can vouch for that myself.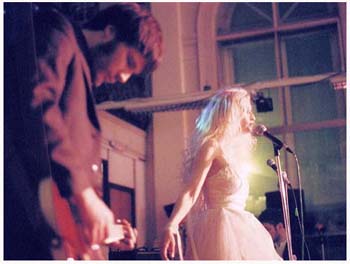 When I first saw Living With Eating Disorders, supporting Skeletal Family a while back, I wasn't quite sure whether I liked them or not. I couldn't decide whether their music got under my skin or just got on my nerves. But the band sent me their demo CDs, and I sat there and listened to them...and I'm sure a little cartoon light-bulb suddenly flickered on above my head. All of a sudden, the band's angular, fractured racket made sense.
I'm not sure how much sense the band's angular, fractured racket is making to tonight's audience, but encouragingly they're treated well, and every song is greeted with appreciative applause. The boys in the band keep their presence minimal: dressed in black, against the black backdrop, they're hardly visible. Out front, Andrea carries the show with a slightly restrained, yet still attention-grabbing performance. I doubt if there's any way Living With Eating Disorders' songs could be simply treated to a casual run-through: this music, these lyrics, demand as much from the band as they do from the audience. 'Horsemilk' is the crackle and crunch of splintered glass under your bare feet, 'I Talk to God' is as unsettling as ever, even in these prosaic surroundings, and 'Demon In The Wheels' is careering, broken machinery. The music pounds along, driven by minimalist drumming and implacable keyboards, more often than not filling the gap where most bands would have a bass guitar. The guitar itself sometimes drops out altogether, then elbows its way in again, all awkward edges and jabbing fingers. It's heady stuff if you allow it into your head, and although the setting of tonight's gig isn't exactly sympathetic, the strength of the songs still comes through.
It's a tribute to the band that they volunteered their services for this gig - a fine case of living up to your convictions, regardless if there's any career-benefit to be had or not. I don't know if any of the trackies 'n' hoodies kids will become converts to the Living With Eating Disorders cause, but even if they never experience anything so unusual again, it feels perversely good that they've had at least one glimpse of the world beyond River Island and JD Sports.

---
see all the photos from this concert here
Living With Eating Disorders: http://www.livingwitheatingdisorders.co.uk
The Self-Injury Awareness Movement: http://www.si-am.info
Limehouse Town Hall: http://twenteenthcentury.com/lth
River Island: http://www.riverisland.com
JD Sports: http://www.jdsports.co.uk
Reviewed by Uncle Nemesis: http://www.nemesis.to


07/20/04