---
see all the photos from this concert here

Siouxsie: Dream Show
Royal Festival Hall, London
Friday October 15 2004
~review and photos by Uncle Nemesis
Tonight, I'm not in my usual haunts. For once, I'm not propping up the bar in one of London's grubby rock 'n' roll holes. I'm in the altogether more upmarket surroundings of the Royal Festival Hall, all fifties-modern wood veneer, besuited stewards on every door. There's a hubbub of conversation in the crowded foyer as the audience - everyone from fiftysomething avant-rock aficionados to young, wide-eyed nu-metal kidz - gathers for the performance. Tonight, we will experience Siouxsie's Dream Show - a bona-fide concert, rather than a plain old gig, in which Siouxsie will deliver selected highlights from her repertoire, arranged for orchestra and rock band, and presented in the formal surroundings of one of London's foremost concert halls.
I must admit I had my misgivings about this idea. After all, it's hardly what you'd call punk rock. Wasn't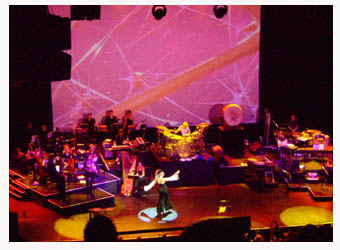 this sort of thing exactly what punk was supposed to kick into touch, or at the very least kick up the arse? I can imagine, say, Yes, or Pink Floyd putting together an orchestral concert, but surely Siouxsie was always on the side of visceral thrills rather than meticulously-planned formality? But then again, it's not like Siouxsie ever troubled to follow anybody's rule book. If orchestras, concert halls and formality are against the rules of punk, well, dammit, that's a good enough reason to do it right there. What makes this idea even more interesting is that this concert comes only a week or so after Siouxsie and her current part-Creatures, part-Banshees band played three nights at the 100 Club, the very same venue where a hastily-formed group of Sex Pistols followers called Suzi And The Banshees appeared at Malcolm McLaren's punk festival in 1976. At a time when so many old-skool bands are reforming in an effort to capture former glories, the juxtaposition of Siouxsie's London gigs sends a typically snook-cocking message. Siouxsie can dip into her past any time she likes - but, alone of all her erstwhile contemporaries on the punk-and-after scene, she's also moving onwards and upwards.
The audience is gonged into the auditorium. The lights go down, the traditional expectant hush falls. And here comes the orchestra: a string section, a distinctly jazz-oriented horn section, percussionists and a harpist. Along with them, the current Siouxsie-band, including Leonard Eto with his battery of fearsome percussion. We begin with a Budgie/Eto drum duel, the sound unfurling itself huge and high into the acoustic funnel of the auditorium. And then Siouxsie herself is on stage, whirling in the spotlight as the band fires Creatures numbers into the audience like shells from a Howitzer. 'Say Yes' is a powerhouse of precision percussion;
'Godzilla' - complete with projected cityscape backdrops - a glorious romp. 'Miss The Girl' makes an appearance, a groovy tumble of marimba and drums, light on its feet and sounding delightfully fresh. But it's on the older Banshees numbers that the orchestra really comes into its own. 'Dear Prudence' is a great sweep of drama, the string section swooning away like nobody's business, while 'Obsession' manages to sound close and claustrophobic even in the wide open spaces of the Royal Festival Hall. 'Second Floor', as ever a mad rampage of an anthem, slams in; the new arrangement of the song with its long drawn out, so-mo coda giving Siouxsie a chance to do her dying swan number on the stage. And then 'Happy House', with much of John McGeoch's distinctive guitar figure given to the harpist - ah, now, that really does work. I can almost see old McGeoch grinning with delight at the cheek of it.
There's an interval, during which we may adjourn to the foyer bar for drinks, or stay in our seats and chuckle at the projected message on the backdrop - 'I wanna Ice Queen!' - an amusing pun for those whose Banshees-knowledge is arcane enough to get the joke, and proof that Siouxsie never forgets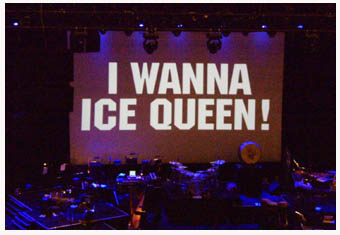 what the press say about her. The gong goes for part two, and the orchestra takes the stage once again. They're joined by Martin McCarrick, former Banshees cellist, who sets himself down by guitarist Knox Chandler, the two of them stationed on a podium as if they're on display - 'Exhibits A and B - two Banshees, high mileage but full working order'. The orchestra slips neatly into a naggingly familiar string figure. It's 'The Rapture', the grandiose orchestral number on the Banshees' last album. It's a track which I always felt fell rather flat on record, but this version - unleashed into its natural habitat, a concert hall - sounds full of life. 'Cities In Dust' provokes the audience into the kind of frenzy seldom seen, I'll warrant, in these staid surroundings, the entire downstairs contingent leaping out of their seats and turning the Royal Festival Hall's stalls into a good old moshpit. Siouxsie herself is on a roll, revelling in every minute. When someone shouts out 'We love you!' she turns to the audience, arms outstretched, and for one minute I think she's going to give in and simply bask in the adulation. Ha, I think, she's having such a good time she's forgotten to be cynical old Siouxsie! But she recovers herself, and turns the compliment towards the band: 'We love....all *this*!' she says, and nobody's going to disagree tonight.
Encores follow, including 'Face To Face', the Banshees' Batman tune, and another song which benefits
hugely from the full-scale orchestral arrangement. And to finish, a pedal-to-the-metal romp through 'Spellbound', everything piled in to the arrangement, that big, slamming drum tattoo - 'Dance! Dance! Dance!' - hammering out like the 1812 Overture. And that's yer lot; there is no more. The audience files out, dazed and grinning, all of us aware that tonight we've seen Siouxsie break the rules and push the boundaries and come up, yet again, with another success. Sure, that wasn't punk rock. Nowhere near. But so what? We're a long, long way from all that now. Times have changed, things are different. And Siouxsie's still out in front.
And yet, and yet. Outside, on the walkway overlooking the Thames, the usual 'unofficial' T-shirt vendors have spread their wares. The latest Siouxsie image is displayed on blue and green and white shirts; a multicoloured display of Siouxsies staring up at us under the glow of the Royal Festival Hall's lights. A girl just ahead of me surveys the display with disdain. I overhear her unimpressed comment: 'Why haven't they got anything in *black*?' she complains. Ah, many things may well be different now - but some things never change!
---

The Creatures' website - official source of all current Siouxsie info: http://www.thecreatures.com

Unofficial Siouxsie site - best for comprehensive tour info, setlists, photos, reviews, etc: http://www.untiedundone.com
(Check the 'Tour' section to find this gig)

The Royal Festival Hall: http://www.rfh.org.uk

Reviewed by Uncle Nemesis: http://www.nemesis.to


12/04/04