---
see all the photos from this concert here
Terry Edwards And The Scapegoats
Leisur::Hive
Living With Eating Disorders
Buffalo Bar, London
Wednesday April 14 2004
~review and photos by Uncle Nemesis
There's a man with a mullet in the queue ahead of me. He's holding everyone up as we try to get in, because he wants the bemused bloke on the ticket desk to give him a receipt for his five quid entrance fee. 'You know, for, er, business,' he says, cryptically. But we know what he's doing here. It seems the music industry is casting an eye over tonight's proceedings. Our mate with the mullet is some sort of A&R man, although to look at him you'd hardly think he'd be interested in the bizarre noises kicked up by the bands at this gig. He looks more like he's on a mission to discover the new Shania Twain.
If so, I fear his search will be fruitless. At any rate, Living With Eating Disorders certainly aren't in the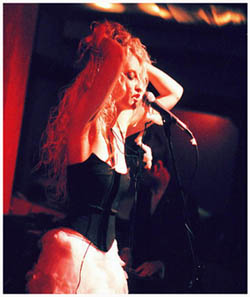 business of making coffee-table anthems for the SUV generation. They plough a different furrow. Here, in the compact confines of the Buffalo bar - an encouragingly well-laid-out venue, although the stage lighting is, as usual, mostly an unhelpful red - the band have an opportunity to push their unsettling noise right into the faces of the audience. But that's not to say that Living With Eating Disorders are in the business of crude confrontation - far from it. Andrea, the vocalist, seems to go to another place as she sings. As the boys in the band crank up their avant-rock racket, she seems to tense up, her eyes take on a faraway look, and she stares right through the crowd as if she's seeing into another world. It's quite disconcerting to watch all this happen no more than a couple of feet away from my face, as I stand at the front of the crowd. None of this means the band are anything less than completely in control, however. The music is a loose-limbed dancing skeleton, all guitar-shards and jazzy beats. I swear the drummer seems to *stir* the drums, rather than do anything as mundane as hit them. 'Demon In The Wheels' is a snarling, shuddering highlight. At the end of the set Andrea wanders off, still in her other world, as the audience exchanges anxious glances, unsure if they've just seen a performance...or a glimpse of something deeper.
Leisur::Hive array themselves on stage, suited and booted and looking like they mean business. Their tense, angular, noise works well in this venue, the guitar sound cannoning off the red walls as the band revolves and churns. But behind all the guitar-grind, Leisur::Hive's sound is built upon and prodded along by a battery of drumbeats so assertive and powerful that it's astonishing to glance over at the drummer and
find that he's just casually sitting there, wielding his drumsticks with such an effortless swing that it's hard to believe he's creating such a big bad yammer. Meanwhile, at the mic, Dan gives vent to his agonised caterwaul. All the essential elements are present and correct, but this is, perhaps, a somewhat ragged set compared to other Leisur::Hive gigs I've seen. Not that the band have ever been in the business of creating blandly smooth performances, you understand; but nevertheless there's a slight undertow of things going not quite right tonight. My suspicions are confirmed when Maria, scrabbling around on the stage as she switches from guitar to violin, whispers to me 'This is the worst we've played in months!' But even in not-quite-right mode, Leisur::Hive make an exhilarating, splintered sound, the sonic equivalent of cracks spreading their way through glass. Dan abandons his usual persona of an apprehensive research chemist as the set draws to a close, and vents his frustrations in a burst of rock 'n' roll madness that's really quite alarming, coming as it does from a performer who never usually allows his inner feelings to show in anything but the music. He lurches around on stage, kicking at his effects pedals and trying to pull Maria over as she gamely keeps playing. Everything shudders to a halt, and after a pure moment of 'What the fuck?' the audience realises that it's all over, and a gust of warm applause blows the band off stage. A passing Andi Sex Gang delivers his verdict: 'They're very art-house!' From Andi, consummate art-rocker that he is, that is high praise indeed.
Terry Edwards is in the slightly odd position of being, in a sense, the least well-known artist on tonight's bill - and yet I'm sure he appears many times over in the record collections of most people here, although I dare say some might not know it. 80s indie kids might recall him as a member of The Higsons, but more recently he's lent his multi-instrumental and arranging talents to such luminaries as Nick Cave, The Creatures, Lydia Lunch, The Jesus And Mary Chain...and countless others. His own recordings have seen him mix original songs with a bewildering variety of other peoples' material - even releasing tribute EPs to artists as diverse as Miles Davis and The Cure. Occasionally, Terry Edwards plays solo sets with just a
tape recorder and a hold-all of instruments for company, but here, with a drummer and bassist in tow, he appears before us as The Scapegoats. The three of them pile in to a gloriously heterogeneous set which takes in jazz, blues, punk - sometimes all within the space of one song. Terry Edwards himself, dapper and urbane in a suit, rings the instrumental changes, treating us to cornet, saxophone and guitar on a selection of songs as varied as The Jesus And Mary Chain's 'Never Understand' to Thelonius Monk's 'Harlem Nocturne'. Sometimes the music is cool, hep-cat jazz, sometimes it's experimental, splattered with discords and weird harmonics, and then at other times it's as if we've stumbled into a sixties blues club as the band fry up a good old rockin' rhythm. The pay-off is a full-throttle punk number, all sandpaper guitars and a righteous shout of a vocal - and a title that gets a sardonic laugh from the audience when it's announced: 'Margaret Thatcher, We Still Hate You'. Excellent stuff, splendidly idiosyncratic and utterly unconcerned with musical boundaries, and that's just the way music should be. As I wander out of the venue after the show the thought occurs to me that Terry Edwards is probably the only artist on the planet to be equally influenced by Charlie Parker and Charlie Harper. Long may he continue on his musical journey to everywhere.
---
see all the photos from this concert here
Terry Edwards: http://www.terryedwards.co.uk
Leisur::Hive: http://www.leisur-hive.co.uk
Living With Eating Disorders: http://www.livingwitheatingdisorders.co.uk
Up All Night, promoters of the gig: http://www.upallnightmusic.com
The Buffalo Bar: http://www.buffalobar.co.uk
Reviewed by Uncle Nemesis: http://www.nemesis.to
07/20/04