Buy This CD at Darkcell Digital Music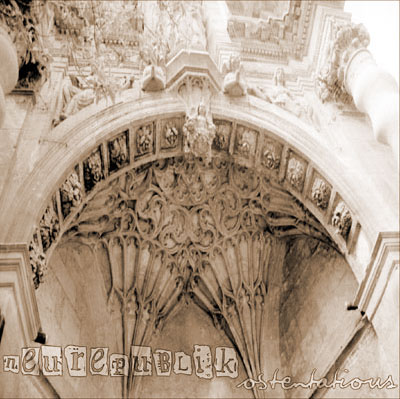 Neurepublik
Ostentatious
~reviewed by Mike Ventarola
Ostentatious is a quirky CD whose title pokes a tad bit of fun at some in the underground who take things way too seriously. The cover depicts beautiful and ornate gothic architecture while the inside sleeve has a delightful medieval castle and fortress in ruins.
From the appearance of the artwork and song titles, one would instantly surmise that this disc will be a foray into morose sounds. In true Neurepublik fashion, they flipped the script, so speak, to provide moody lyrics wrapped up in stylized EBM tracks.
"The Neugothic Movement" is a dark, midtempo EBM track with a recitation and splicing of words telling us that the "neugothic movement is taking over America." For those old enough to remember, it comes across as a goth Max Headroom.
"Come Undone" morosely percolates with beats similar to the heyday of the Pet Shop Boys. The track lyrics are rather potent considering the quirky crossover of this club track.

dancing in the club disguising solitude & pain
intimate & drunken
state - do you know my name?

let the lights go down on me
my glass is
raised to misery
it used to seem like so much fun
but now I hate what I've
become

kiss a stranger taste their mouth: smoke & bile & beer
swear that I
will kill myself if I'm still here next year

never thought my life would be
the opposite of all my dreams
I wish that I could come undone
I know I'm
not the only one

"Crying Alone" reflects the penchant of painful introspection about life not being what we thought it would be and not being emotionally available to the ones we love.

promise you forever if I only had the time
I should think you'd know by now my life was never mine
just because I'm not around does not mean I don't care
I should think you'd know by now that life is never fair

so many ways to be wrong in your eyes
patience is fading cohesion divides
never before has my life been this way
crying alone at the end of the day

every time I come to you it's like you're miles away
I always talk but never speak what you want me to say
I know you'd be happier if I was less like me
suffer through another day then
go and watch TV

when I am away from you I know I'm not the same
the world can try to claim me, but they never will maintain
the energy I waste on you so very happily
so I can see you laughing even if it is at me

"All Hallow's Eve" was a special Halloween creation for the Hidden Sanctuary Halloween Tunes station on Mp3. Rather than resorting to mawkish horror-like lyrics, Crowell created a haunted electro-ballad of love and longing on the most sacred Pagan holiday. "dancing with my past /dancing in a dream /dancing with her ghost /on this happy Halloween /she who went before /caused my soul to grieve…."
"This Must Be A Dream" is a blatant attack against the foolish Blue Springs Missouri Congressman Sam Graves for allocating $273,000 from the Dept. of Education's fiscal budget for the sheer fact of harassing and badgering gothic underground leaders. The opening portion is spoken like a sci-fi computer nightmare while the rest of the vocals are treated to a total make-over and Vocoder effect. This is probably the angriest tune ever made by Neurepublik. One must commend them that when they take a stand, they are sure to do it with all the information intact as a means of educating while also being a nod towards historical relevance during this time when the world has gone completely mad.
"The Vampire Skank" seems to be a double entendre. It works as a vampire song, yet also reflects that portion of ourselves that seems to be endless and unenduring. The opening is rather orchestrated and bombastic, but then winds into an EBM dance track that is sure to have the clubs screaming. The potency of the lyrics is not missed on those who have lost many friends from a number of causes over the years. It is hard to experience loss of that magnitude without feeling metaphorically vampiric.

"Lies" depicts the actions and words of someone who is smooth with their falsehoods.
Resorting to untruth seems to be the best way to hide the fact that one is really not nice and has a heart of stone.
"Emptiness Machine" takes us on the journey of a purposeless relationship with someone who is simply emotionally vacant. The sad irony of this track is that the most emotional people tend to attract these types, which is poignantly depicted in this track. Loving someone who is a blank and cold-hearted slate is a losing battle that will only crush the one who is in love.
"Goodbye" is dedicated to the memory of the late George Harrison. Oddly, it is written from the first person perspective, as though Harrison would have delivered this homage upon his Earthly passing.
"Christmas In Babylon" is another special track created by the artist for a station called Gothic Christmas on Mp3. Rather than delivering a cheery Yule-tide song of mirth and laughter, this track takes us to the underbelly of the holiday, where all that glitters truly isn't gold.
"Crying Alone (radio edit)" is a shorter version of the above track designed for radio play to whet the appetite for the longer version.
Having been privy to the creation of this Cd from the outset, it is a delight to see it as a final mastered version. Crowell seems to draw from a haunted recess of his memory to pull out lyrics that may or may not be autobiographical, but are nonetheless telling of the emotional state of today's generation. The songs are all written in a first person narrative, giving them a bit more of a personal emphasis that many can relate to, while also becoming a testament and snapshot for these troubled times.
Neurepublik does not resort to hitting music lovers over the head with a lot of brazen flash. Instead, they continue to develop an ever growing following because of the innate nature to sing songs that no one else would. Crowell, as a lyricist, often puts his heart on his sleeve and perilously close to the edge, in full view of the entire world. He sings about things we often fail to find the proper words for, but also gives a voice to the situations of life and the world that simply seems skewed and unbalanced.
In essence, the EBM style contrasts with the dark lyrics. This not only delineates being able to venture into a genre that has become popular in many underground clubs, but also demonstrates that Crowell and company have not abandoned their disconsolate muse.
Historically, Neurepublik managed to stay just below the radar in the underground, often weaving any number of styles with their songs to fit the mood. It is not unthinkable then to hear Goth mixed with EBM on some recordings. Despite the song's infectious grooves, one cannot come away unmoved from reading and hearing the lyrics as they are delivered. For those in the Goth world who are not adverse to electronic music, this will be a welcome respite from all the carbon copy bands that are surfacing these days. In the final analysis, Neurepublik is helping to bridge the gap between goth and EBM, much the same way the band HMB have done.
Band Line-Up
Jeff Crowell: Programming, vocals
Brad Johnson: guitars
Jannice Larkin: "live" keyboards
Tracks:
1. The Neugothic Movement
2. Come Undone
3. Crying Alone
4. All Hallow's Eve
5. This Must Be A Dream
6. The Vampire Skank
7. Lies
8. Emptiness Machine
9. Goodbye
10. Christmas In Babylon
11. Crying Alone (radio edit)
Website:
www.neurepublik.com
Email: info@neurepublik.com
Available at www.darkcelldigitalmusic.net

07/05/02