Buy It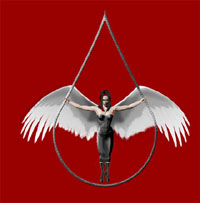 Various Artists
Only Sorrow - Memorial Compilation
~reviewed by Blu
Only Sorrow is a wonderful gothic music compilation created to support a Memorial Scholarship. An amazing wealth of well known bands found the time and compassion to donate tracks for this cause. Instead of trying to paraphrase Lee, the originator of this CD, I'll let his heartfelt words speak for themselves on the subject of why it was made:
"The Ellen Claire Lawrence Memorial Scholarship was founded June 1998 following the death of my Fiancé. Ellen Claire Lawrence (Claire) was and still is the most compassionate human being I have met. Her death darkened the world of everyone that knew and loved her - and left us with questions that can not be answered. The only way I was able to deal with the loss was to carry on her memory in a positive way that she would approve of, helping others...

...With the advice of close friends of Claire and I (Ethan, Shawn, Matt), the Ellen Claire Lawrence Memorial Scholarship was started at Glendale Community College in Glendale AZ. It was a challenge raising the first $1000.00 . Dealing with the pain of her death, and the frustration of raising funds I put the project aside long enough to heal. A year later while listening to one of her favorite musical artists (Lorrena McKennitt ) the inspiration came to fund the scholarship with a CD.

...I started writing letters, e-mail and personally asking bands that I knew she liked (or would like ) to be part of the CD. Two challenging years later the compilation "Only Sorrow" is finished. I know it is something she would love. Please enjoy the CD. The Scholarship is scheduled to make its first award the fall semester of this year 2001." -Lee
From gothic, to ethereal, industrial and even ambient, this CD is a nicely balanced representation of what the gothic/industrial genre has to offer.

Gothic Rock abounds. Audra contributes "Venus" - one of my favorite songs by velvety smooth brothers. Its a sexy, slow-driving rumble, praising the mysteries of intimate relationships and the desire to be closer and closer and closer. 3SKS is one of the biggest highlights for me with their mournful "Sometimes Silver," a bittersweet but beautiful song that nearly brings me to tears every time I hear it.

I'm also drawn towards "Liberta Me" by Second Skin who pleasantly remind me of the gothic rock from days gone by. Lovely stuff... driving beats, crunchy bass lines and hefty male vocals similar to The Mission. Bravo! Makes me want to dance. Finally, big names in the club scene, The Razor Skyline adds its popular "Fade and Sustain" and The Cruxshadow's sing "The Dying Song" - a sadly appropriate and lamenting addition.

Stand out electronic industrial contributions come from The Azoic with "Progression," and from Per Somnia with "The Grace of Violence" - both fronted by ethereal female vocals that work well in contrast to the more aggressive music.

On the ethereal side, tracks 8 and 9 garner mentioning. Echoing the deep despair of artists like Sopor Aternus, Oneiroid Psychosis turns in a hauntingly beautiful performance with "Long Lost." Legendary for their minimalist beauty, Faith & Disease delicately offer up "Rubina Verde" for quiet contemplation.

And finally, the two tracks that don't really fit into a category are ones that I have long admired. "Drying in the Sun" from Deathwatch Beetle Repairman is a mysterious and somewhat darkly festive thing flavored with Gypsy-like melodies. In contrast "Angels" by The Unquiet Void is a beautiful ambient sound scape and the perfect way to end out this CD. Close your eyes, lay back, and drift out to the horizon, where we're sure to see Claire smiling somewhere in the clouds.

If the sentiment behind this CD is not enough to make you buy it, rest assured that its a great introduction into the goth/industrial genres as well as a great resource for any DJ wanting to fatten his catalogue with some quality tracks.

We don't usually push things on our readers, but I will this once, "buy it buy it buy it." You'll feel good and you'll have some great tunes to pat yourself on the back with :)

A special thanks goes to the talented bands that donated tracks to this project.

Bright wishes and blessing to Lee on his journey --
with love,
Blu and the StarVox Staff...
---

Track Listing:
Audra - Venus
3SKS - Sometimes Silver
ThouShaltNot - Trench Warfare
Sleepless - Winds Blow Higher
Second Skin - Liberta Me
The Azoic - Progression
Per Somnia - The Grace of Violence
Oneiroid Psychosis - Long Lost
Faith & Disease - Rubina Verde
The Razor Skyline - Fade and Sustain
Deathwatch Beetle Repairman - Drying in the Sun
The Cruxshadows - the Dying Song
Coven XII - Haunted
Paris Is Burning - Cold
The Unquiet Void - Angels

For more information and ordering, see the official website at:
http://www.onlysorrow.org/bands2.html

06/01/01