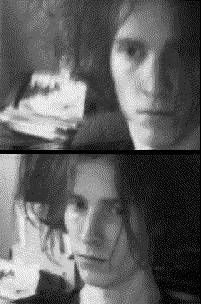 Edwin Somnambulist
Writer/DJ
Various locations, Ontario, Canada

The host of a campus radio program and various live events since 1998, Edwin has long been a fan of underground music. Currently residing in Toronto, Ontario, Edwin lived his past five years in Calgary, Alberta, Canada, so he knows the meaning of having to struggle to make the scene live. He is often heard muttering, "People don't know what they like; people like what they know." To that end, Edwin continues to attempt to educate people on the virtues of finding music that doesn't receive enough exposure. Attempting to bring local and Canadian bands to the rest of the world is another of his primary goals.
Edwin is a tall, thin man with huge 80's hair. He read once in a biography that people don't read boigraphies, and so he worries that no one will ever read this.
The webpage of Edwin's radio show, the temporarily on hiatus Industrial Strength Nightmares, can be found at http://www.blitter.com/~isn/ and he can be reached at edwin@starvox.net.

"We're all bankrupt, sir. We're all redundant. But we make the best of it."
- Neil Gaiman, Cold Colours