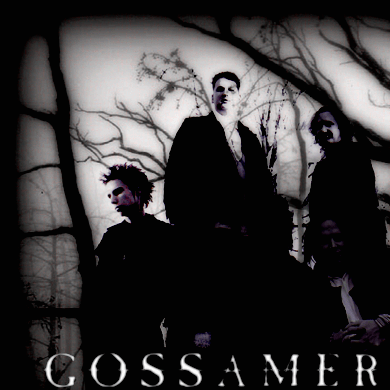 Gossamer
~interview by BlackOrpheus
I'd like to present to you today, our own interview with Christopher Gray aka Adagio of Gossamer, the critically lauded Ohio based band.
----------------------
StarVox: What year did Gossamer as a fully functional, and productive entity come to be?
Christopher: It was right around Halloween in '95. Or '96. I can't quite remember! That was when Aaron Grooms, Gary Thrasher, and I formed the initial lineup and began working on our demo release, The Zero Decade.
SV: Give me a little background on that contingent of the Ohio music scene that supports the dark music genres. Is the scene healthy? Can the fans really be counted on to turn out for shows, buy albums, and support the bands in otherwise non-financial support roles?
Christopher: It's a mixed bag, and everchanging. Ohio has a lot of pockets of cities with people very active in the scene. Columbus, Cleveland, and Cincinnati are the largest cities, but Dayton and Toledo have also had wonderful, receptive, and rabid fans and supporters. ;) The number of folks that turn out for a live show is always going to be less than the number that will turn up for a regular dance/DJ night, but that's to be expected. We actually seem to be doing the best in new cities that we've never previously performed in. We're really looking forward to hitting the West Coast, provided that the details work themselves out over the next week or so. If we haven't played out in a city in a long while, and if we, the promoters, and local fans truly bust our butts to flyer, mail, spam and do everything we can to get the word out, the turnout is generally good. We can't quit the day jobs yet, but we're trying. ;) The fans have been nothing less than wonderful... their word of mouth and popping the CD in for their friends, and bringing the CD to the local DJ/club is still the best way to spread the music.
SV: I understand you've had the opportunity to share the bill alongside many well known headliners. What if anything, has such experience taught you personally, and the band professionally?


Christopher: Primarily, that the majority of them are very down to earth and approachable. Cop an attitude with your fan base, and you'll lose them. Most of them regularly man their own merch tables, and talk with the fans. Wayne Hussey(Mission UK), Mike Van Portfleet(Lycia), and William and Monica (Faith and the Muse) are still very much personal heroes to us, only now we have the privilege of being able to call them 'friends'. Aside from attitude, they've also taught us that you really have to have both great music *and* an enjoyable stage show to have any sort of longevity.
SV: Have you toured nationally or internationally? If yes please briefly detail the experience(s). If no, do you have plans to in the future?
Christopher: We've primarily played in the Midwest over the years, with a few East Coast dates thrown in here and there. The most we've done as far as touring is play an extended weekend for several dates within a day's drive of our hometown here. Provided that things fall into place properly, we hope to be able to play the West Coast in the coming weeks! As far as internationally, we hope to play Toronto in 2002. A European tour will largely depend upon the success of our next release. Don't forget to catch us in New Orleans at GothCon 2002. We'll be the very first act of the event on Thursday, March 28th night at 9pm. It'll be an unforgettable experience!
SV: I gather from your site, that you have three eps under your belt and numerous compilation appearances to your credit. There was some mention of your first full length release "Closure" that was slated for a 2000 Summer release. What became of that, I saw no further reference to it?
Christopher: It was released last fall on Carpe Mortem Records and is available directly from the CM site. (Yes, they take credit card orders.) It is also available through amazon.com (their international pages, too!), just do a search for Gossamer...and please add your reviews there! It is also distributed by Metropolis Records, any local record store that carries Metropolis releases can order it in. Closure is also available through Projekt's Darkwave catalog online.
SV: "Closure" was to have brought together various demo material, and some new material. It also said a track listing hadn't been decided on. Has/was a track listing settled upon? If so, what was it? Also, could you share a little about the new material on this release?
Christopher: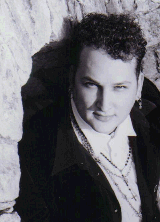 Track Listing:
1. Memoir
2. Sweetest Misery
3. Resurrection: resurrected
4. Her Ghost
5. Deceit & Betrayal
6. Hollow Eyes, Hollow Soul
7. Run
8. Entropy
9. Sin Again
10. Shell Full of Sand
11. Run [Wayne Hussey Mix]
Most of the material is a collection of our work over the years, a lot of it appears on the EPs available. However, all tracks were remastered or re-recorded. Some have a completely new sound to them. As some of you know, we spent some time recording with Wayne Hussey. Unfortunately time constraints and other roadblocks got in the way of our completing the album with him. We have some roughs of a handful of songs, which are available at our mp3.com page (http://www.mp3.com/gossamer). Unfortunaetly, the only song we fully completed with him that appears on the album is the final track, his mix of Run. Mission UK completists alert! Some of his backing vocal and guitar work is featured on this song, as well as some of the tracks at mp3.com.
SV: I was admiring the beautiful art work that comprises the body of your ep covers. Can you tell me about each piece of art, the process for choosing a cover, and how the ultimate choice is arrived at for a cover?
Christopher: I wish I had a more interesting answer, but generally deadlines are the motivational factor in making the ultimate choice. ;) Mike Manard, our ex guitarist did the majority of our EP covers. The compilation Of Passion and Remembrance that we put together on our home label, i.D. Records features the incredible artwork of Andy Bennett, who has worked with us over the years. In addition to his comic book releases, I believe his art has been featured in some of the White Wolf player guide books.
SV: Could you share the band's experience with MP3? Has the exposure been successful in promoting the band to a larger record buying audience, or at the very least made the world more aware of your existence and what you do? Has it generated any business/professional opportunities?
Christopher: Mp3.com has been *wonderful* to us the past few years. We've garnered many great, supportive, new fans as a direct result of the site, even people that generally don't listen to gothic music in general! Before the release of Closure, we held the #1 spot in the gothic rock, industrial, and electronic genres for a very long time, as well as many top 10 and top 40 ratings. We were almost in the top 40 for alternative rock as well. Unfortunately, we had to pull all of the album tracks off of our artist page due to contractual obligations, and we have lost a lot of our ratings there due to a lack of fresh material being placed up there. Hopefully that will change as we put up new songs in the coming months!
SV: I have to ask; What is the story behind "Gossamer Ate My Balls (www.geocities.com/sunsetstrip/stage/1395/ )?"
Christopher: Oh no.. You found it. :) That's a very old page...The scary thing is, we found out from the anonymous webmaster that the site has generated more than 15 million hits, I believe. That's a lot more than our home page at http://www.idrecords.com/gossamer ! I'd like to think that the site has at least brought a *few* folks over to the real site. Ate My Balls pages are disgusting at worst, free promotion at best. :)
SV: I.D.Records is an Ohio based production group that books, promotes, records, and distributes. I understand you manage many of it's daily affairs. Are you employed by or did you originate the enterprise?


Christopher: Aran and I originated it. John, the gossamer keyboardist assists with it.
SV: . What part does it play in the promotion of Gossamer, and the dark music scene in general?
Christopher: Well, back when we had a lot more time, money, and steam we pushed it hard. We put out the aforementioned compilation, "Of Passion and Remembrance" in an effort to help promote the bands that appear on it, giving the majority of the CDs to the artists themselves to distribute. Aran masterminded a second compilation "A Shoulder Where Death Comes to Cry". i.D. was/is basically the catch-all umbrella that we operate under when not doing gossamer-specific things, such as promoting shows and bringing in national acts. We'd like to revive it a bit, but with Carpe Mortem Records picking up our release of "Closure", we've been doing what we can to push that release. i.D. will continue to support the scene, and we hope to be able to put out some full length releases by specific artists in the future, now that our distribution contacts are much better.
SV: I understand you are a classically trained artist. I'm sure many of us have seen this reference made over the years. Would you tell us about what exactly that entails for the artist undergoing such a course of study? How might it contribute to the overall creative efforts of such a musician versus one who lacks such training?
Christopher: By classical training, I was referring to my background in performance of classical music, and my private voice instruction. I had opera and theatre scholarships to 2 different midwestern universities. Unfortunately it wasn't enough money to further my higher education.
I fortunately had the ability to do a regimen of 2 performance classes, and an hour of private instruction and exercises daily. It's something I really miss. Classical performance generally focuses on tonal quality, posture, power, and proper enunciation. However, some of those good habits have to be unlearned to do more 'rock' type vocals. Passion requires subtlety, and unconventionality.
There are a lot of artists in the scene out there that have good music... but the lead vocals are sometimes lacking proper tone or pitch, or buried under a ton of effects. Classical training or private instrucation can definitely help, and is well worth the investment. It can make many artists' performances and releases that much stronger, and hence, more marketable.
SV: How would you describe and characterize your personal creative process and then seperately, that of the band as a whole?
Christopher: Our writing styles and methods vary greatly within the band. Personally, I prefer to use my Bass VI/baritone guitar to write. It has a lower tonal range, similar to my voice. It's great for writing vocal melodies and melancholic leads. (For reference, The Cure's "Disintegration" and most Joy Division/New Order, and Cocteau Twins releases heavily use the Bass VI.)
Sometimes it's a riff on the Bass VI... sometimes it's a chord progression I've worked up on my 12 string acoustic or on a synth... And sometimes I've jotted down some lyrics I like that need a home. I'm not the best at programming/sequencing/loops/etc, so I generally hand those duties off to Aaron or John.
Aaron and John, on the other hand tend to start with the sequence (drums and keys), and work it back from there. It varies for them as well, sometimes they have a sheet or two of lyrics that we try to flesh out.


SV: What was your response to Sept.11th? Did it help spur you on to greater creative output, as a means of channeling your emotions? Or did it have just the opposite affect? What feelings are associated with it now?
Christopher: It pretty much numbed everyone at first, and then brought up some feelings in the band that hadn't been there before. We weren't sure what to do. We had a lot of friends in New York. Luckily, no one we knew was hurt. But you can't help empathize. John, Aaron and I are all ex-military. One doesn't necessarily associate staunch patriotism with gothic musicians, but we felt very strongly about the situation. It occurred right after we had lost our ex-guitarist Mike, and right before we began a string of shows. We donated a large portion of the proceeds from those shows to the American Red Cross. Now? The fear and anger have quieted a bit. Now I feel more disgust than anything, due to the mob mentality and paranoia that is spreading like an epidemic. I mean, banning sons by Anthrax from the radio? Come on. There's being politically correct, and then there's just plain dumb hypersensitivity. I'm also disgusted at the greed that a lot of folks are exhibiting. "All proceeds from the sale of (mass-emailed product x) will go to the victims." Yeah right. The true inspiration comes from the citizens of New York. These diverse people, in a city that is known for its crime, greed, and corruption pulled together and helped one another out.
SV: If you had the opportunity to share one thought, or one long held personal truth with as many people as possible, what would it be?
Christopher: Being kind is more important than being right.
SV: What are the band's long term goals? What's ahead for Gossamer in the coming year?
Christopher: GothCon, more shows, and hopefully a new release!
SV: On behalf of Starvox.Net, i'd like to thank Gossamer and Adagio most especially for taking the time to speak with us today.
Christopher: Thank you for the opportunity. Hopefully we'll get to meet a lot of you out West soon!

---

Official Gossamer page:
http://www.idrecords.com/gossamer

mp3 site:
http://www.mp3.com/gossamer

Carpe Mortem Records
(http://www.carpemortemrecords.com )



11/28/01