Clan of Xymox: Notes from the Underground
~Interview by Catherinna
additional question by Blu
(photos courtesy the official website; live photos by Blu)
Clan of Xymox's newest release Notes From the Underground, is truly a musical gift of beauty, darkness, and taunts the part of the soul that keeps you coming back for more. If you haven't had a chance to immerse yourself in the their latest release, I highly recommend running out to the nearest local record store (or ordering it online) and treating yourself, to one of the best darkwave albums of the year! Clan of Xymox has undoubtedly become a legend in their own time (As if there was any doubt ;) . They continuously prove, that despite this growing melting pot of musical diversity, they still have what it takes to invoke the musical spirit in their fans and mesmerize their listeners to a new level of consciousness. From their first self titled release in 1984 to their latest release Notes From the Underground in 2001, they never cease to amaze their fans and continue to grow stronger than ever, in the Gothic community. Curious about the album? Wonder if they will tour in the US or Europe next year? Read further to hear what Ronny of CoX has to say about Notes from the Underground and things to expect from them in the near future.
---------------------
Catherinna: What was the inspiration behind your latest album Notes from the Underground?
Ronny: The initial intention is always to make a most beautiful album as possible, the way I go about it is that I never have a clear idea of what direction I will go until I start writing, mostly the sounds I use and like will dictate me as it were in what direction I am heading. The mood is than set very easily and the track starts to take over, dragging me totally into it and giving me the whole mind set to start creating the whole sound scape and mind set.
Each track I approach this way so basically what happens is that over a year of writing you get as it were four seasons and moods of my personal self translated into words and music.I never sit and start without feeling inspired or the will to look for interesting bits and pieces. Of course in the past I have tried to write because of a deadline or so but that never worked for me, I rather delay than force myself. To me music has to come from the heart and there is no such thing as dictating yourself to be creative, you have to feel creative otherwise nothing worthwhile will come of it.
When I finished the album I was going through some old demo's and I had a sudden urge to make "The Same Dream" a bit more up to date, this is the only song which existed already for years but never used before. When Sonja Rosenblum of the band SOPHYA came around my studio I asked if she would sing a few lines in the song so in a way I keep the sort of tradition to use a female vocalist so in the end it became a bonus track on the album.


C: Notes from the Underground seems to be very club friendly. Did you do this on purpose or was it just something that evolved in your writing?
R: Hm, it has all sorts of tempos on this album, from slower songs to mid and more up beat, so it's quite varied. Of course there are several tracks on "Notes from the Underground" which I know DJ's love to play in clubs, so I guess it's also a club friendly record.
C: Personally, I think the entire album of your latest release Notes from the Underground is a complete success and will receive a tremendous amount of attention this coming year! If you could pick any track off of this album to be the "hit", which one would it be?
R: Hm , that is a most difficult question for me, but since you tied my hands behind my back I'll give in and answer: I would start with the first song "Innocent" ..... and follow with the second track.... "I want You Now" ... etc.
C: What type of feedback have you received on this album?
R: We are in every magazine in Europe with the new album getting great reviews- articles, a lot of fans mail us direct on our homepage and are telling their impressions and thoughts about the album, by the sound of it they like it a lot too. The press in Europe (I haven't read the US press yet !) is extremely positive about it , so I guess my mission for the new album is accomplished. Yesterday we entered with the album on the number 4 spot ( new entry) in the DAC chart, so we're pretty happy so far..
C: I have noticed as of late, that COX has been playing many German music festivals. Do you enjoy playing a show at these events and what is your overall take on these types of festivals? Do you prefer the smaller ones to the larger? Do you see any performances at future German festivals in 2002?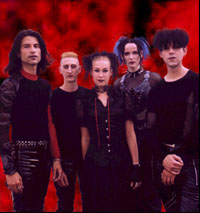 R: It is always fantastic to play on M'era Luna or any other festival, the shear crowd in front of you listening to your music is always breathtaking. When we started it was completely full up till the very far back. We played already two new songs from "Notes From The Underground" for the very first time so we were all quite nervous about that. When we finished our set we were completely ecstatic as we played and felt great. It was a weekend festival, lasting two days so we had enough time to see a lot of bands.
I love the German summer festivals, indeed they are huge, people are mostly dressed in black or very alternative. Of course there are smaller type of festivals but to me Mera Luna is a special festival, the surroundings are great too, it's held on an abandoned airport. Likewise is the Zillo festival , a bit smaller in size ( still 10.000 people) but as a location just ideally situated in the mountains (hills) next to a lake and surrounded by woods. I can go on like this as there are also a lot of smaller sized festivals held in idyllic castles etc....
For next year I already confirmed our appearance on the Wave-Gothic Treffen 2002 , so that's the only festival which plans that far ahead from as we speak.
C: Do you forsee a US tour in 2002 as well?
R: Well, not really .........it seems no bands are flying over to the States, or most foreign bands are canceling their already scheduled tour in the States. To me it doesn't seem the right time to think about touring in the States either.
C: What is the biggest difference (besides size) between your live shows in Europe and in the US?
R: That after a few shows in Europe we can go home , we drive back and forth , in the States you have to tour at least 2 months in order to pay back the bill for the night liner....


C: Do you have a favorite COX live performance? If so, where and what album were you touring? What makes this particular performance stand out in your mind from the rest?
R: When we were recording our live shows in Central-and South America (released 2000 called "Live" ), during our shows we experienced the southern mentality of music lovers , maybe you can call them absolutely mad...it's really great how they show their enthousiasm for us and give us this heartwarming feeling that we belong there, that they are the long lost relatives finally connecting with their loved ones. In those regions they just give you this great feeling of being welcome and we made so many friends there ! The brilliant thing about for example South America is that there is such a strange mix of people and its cultures that expresses itself into the architecture of buildings and life style.Also a lot of people cannot imagine that there is a big interest in bands who make "dark" music, but when you go there you can go to a lot of great gothic clubs and certainly there is a lot more to do than in Amsterdam.
The thing I never forget is that when we played in Mexico's former Olympic stadium I saw the strangest things happening, people were literally walking on each others heads in order to get closer to the stage, girls were fainting and every once and a while they had to be dragged over the fence in order to bring them back to their senses. The cheers were simply deafening, this will never come across on a CD, you just had to be there really! Also the stage was amazing, we had Rui (drummer) and Nina (keyboards) coming from under the stage on these risers slowly upwards , it was hilarious how big this stage was , that is why we put the stage on the artwork as it was fantastic what a good job they did on designing a stage like that, it was slowly sloping so of course you had to be careful how you walked on stage and trying to keep a good balance.
C: What type of things inspire you to write?
R: Often I get inspired by just a single sound which triggers my imagination and make me visualize some sort of sound scape and a direction I can build towards with other sounds, as soon as some sort of order is shaped into the sound collage it will dictate itself some sort of direction. Maybe a few words will match some chord structures so I get some idea of what I want to write and what words are suitable to match the created atmosphere which sort of triggers my emotional world. The lyrics are based on events mostly experienced by myself or what I have seen around me and of course when you think about all the things you have experienced you will have a lot to write about.
C: I recently read in an interview you did with Sideline magazine, that stated that you have given permission for someone to put together a remix album of tracks off of Notes from the Underground, none of which will be CoX remixes.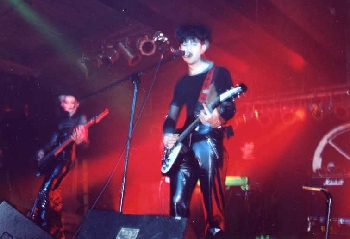 R: Yes, well I asked individual bands to remix each a song from "Notes From The Underground", at the moment a lot of different bands and artists are re mixing the songs from "Notes From The Underground". It is the first time COX are giving all tracks of an album out of hand to be re mixed entirely. I don't know if it is going to be danceable mixes or interpretations of the artists as I leave them naturally complete freedom in what they are going to do. I prefer however that they put their own signature on the track, so basically COX sounding like the artists who are re mixing.
C: Any idea as to when we can expect to see the release of this album?
R: the idea is to release it somewhere in 2002. I don't want to say too much about it now as I want to talk about it when it is coming out......
C: What label is producing it? Any word yet as to who might be doing some of the remixes? Inquiring minds (especially Dj's) want to know ;) And will you have any say in who does the remixes?
R: :) I will tell you all about it when it's going to be released
C: If you could be any type of vegetable what would you be and why?
R: What vegetable did you smoke to come up with a question like that?
C: If you could live anywhere in the world where would choose and why?
R: Well I live in Amsterdam , The Netherlands and that is the choice I made . I like to write music here as no one really understands what I am doing.....The advantage of the Netherlands is that it is in between the bigger countries of Europe, so if we have concerts all distances are as great.
C: What do you like do doing in your free time?
R: absolutely nothing
C: Sex or foreplay?
R: Are you proposing?
Blu: At the very end of the song "Anguish" there is a hint at a keyboard melody line that I noticed appears in "Something Wrong" and again, in the beginning of "The Same Dream" which works quite well in my opinion. Was this a conscious effort to draw the songs together as a collection or in theme?
R: Did you notice this after smoking the same vegetables as Catherinna or before ?
B: This CD, while being very modern sounding and club friendly, also showcases your talent at writing instrumental soundscapes, as with the track "Mysterium." Most of the songs on this CD also begin with very complex and texturized introductions. What inspired you to begin to add these kinds of elements?
R: When I want to write a new song I always begin with making small soundscapes , setting the mood. It always starts with a few right sounds..
B: "The Bitter Sweet" is a song that morphs and changes quite alot in tempo and in mood. Wonderfully unpredictable, it does not follow the generic chorus/verse/chorus structure of a song. Was your song-writing technique different for this CD and did you set out to make more complexly structured pieces?
R: I think I just write the way I feel it should go, having said that Mojca always helps me with criticizing whatever I show her so she always gives me feedback or proposes to cut things short or change a chorus line etc.
So I guess in the end we have to agree about the song otherwise it would not feel right .
B: The color and design of the CD is just beautiful... is there a story behind it?
R: Mojca always listens many times to the whole album she needs to design a sleeve for and then starts slowly compiling images and textures fitting the music, so in the end the sleeve represents her image interpretation of the album.
B: What makes you happy?
R: Nothing on the moment, especially because I stopped smoking a week ago !
B: Favorite book or movie?
R: My favourite book would be "Russian 19th -century Gothic Tales", with a small golden bat on the black cover. The book is beautifully illustrated and is certainly my prize possession.
My favourite movie is maybe "Bitter Moon" about a couple looking for thrills and playing games with people ( with Hugh Grant) or "Papillon " with Dustin Hoffmann as a convict on a barren island trying to escape.....
B: After 15 or so years of making music, are you comfortable with the fact that many people now consider you a gothic music legend?
R: That's all fine by me, I'm flattered, although for me it's more important that people like what I do now than what I did in the past. To me that's natural drive for an artist to look ahead instead of looking back.

---

Clan Of Xymox – Official Site:
http://www.clanofxymox.com

Metropolis Records:
http://www.metropolis-records.com

10/18/01