---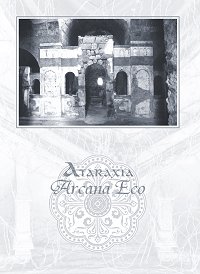 ATARAXIA
ARCANA ECO (Ark Records)
~review by Mick Mercer
It's about their scope, really, where there are no limits on the imagination, and they show it here, as the label does its admiration, for this is a book and CD of exceptional quality. It's the kind of thing you expect for Ataraxia, who are now gliding towards their 20th anniversary (!) as enigmatically as you could wish for.
A special band, so a special project here. The book delves into what they do with the whys and wherefores. The record demonstrates that scope, and the breathtaking imagination housed within, for here is a band who genuinely transport you with their music. They may have stylistic similarities with other neo-classical bands or the more fragrant, richly textured ethereal bands, but there isn't actually anyone else quite like them. I must admit I take great pleasure sometimes in spreading all their CDs out on the floor in front of me, eventually picking one to play the way chocaholics might survey a newly opened box. And the great thing is to contemplate just how many more albums they may create, because why on Earth would they ever stop? It's reassuring to know there is still so much more to come.
When you know their admitted enthusiasms (and thereby influences) include Medieval and Renaissance music, Celtic and Baroque traditions, classical and opera, waltz and flamenco, Oriental or Mediterranean, Gregorian and Darkwave, it might seem hopelessly jumbled, but the magic is that all works harmoniously. I don't know how or why, but when you hear it you can tell it's them bringing a sense of purpose to different styles, and so if several appear during one album you're not thrown and nothing seems like a turbulent clash. And that's bizarre.
They're also all masters at almost not being there, like musical ninja. Songs which seem light and airy are actually filled with the guitar of Vittorio Vandelli, the percussive gauze of Riccardo Spaggiari, and the keyboards of Giovanni Pagliari, along with vocal layers from Francesca Nicoli (who can often present a male or female style). You just don't notice how much is in there until you focus, because the music is taking you away.
Of the seven tracks on the CD, four are new, and three altered in a sensible way. 'Cobalt' is a mellow, mildly exotic blend of delicate, haunting brass and vocals which shift between small and confidential, or plainly confident. 'Astimelusa' from their 'Le Malédiction d'Ondine' album makes the original seem constricted, as a slow guitar trickle works into a very relaxing tune with graceful vocals enlivened by tiny curls. 'Mirsilo' is what they think best represents some of their affiliations with 80's wave music, and it has got dark, spindly passages that glower briefly but overall there's an evocative draught blowing through, where the ticklish guitar enhances its strange beauty. 'Fire In The Wood' is flamenco as frothing lamplight of sorts; musically immaculate, with dramatic vocal outbursts. 'Nossa Senhora Dos Anjos' is slightly warmer than the version on 'Os Cavaleiros do Templo'; a sweetly enfolding, sentimental piece they describe as an 'elevated Ave Maria'. 'De Pourpre Et D'Argent' has ironed out the small kinks (and slender vocals) from its 'Saphir' album origins, and it changes musical style to become a flighty, stirring Baroque piece with vocal fun lurking in the background. Then they highlight their ability to disturb with 'The Island Of Docteur Moreau' which starts quietly but moves into bewitching madness featuring some very odd vocal effects replicating birdsong and animals.
So history twists in and out, on a project sharing its title with an old song from a previous collection. The past reassessed, and the future waiting. A flash file on the Press CD talks of the 'Kremasta Nera' album which deals with nine rituals, the last of which has no name. The book mentions a mini album featuring their alter egos at work, revolving around Baudelaire's 'The Spleen Of Paris'
The book itself is exquisite. You learn a lot about a band who never think in terms of just writing a song but of an overall reason for pieces to exist, and the descriptions, mostly from Francesca, are magical tracts in themselves, with her love of language, although being a mystic the mystery lingers in her descriptions and you grasp for the realities sometimes. No bad thing.
Writer Ferrucio Filippi is a fan, so this isn't a critical work, but simply telling their story in keeping with their central themes, set out here in order as Stone, Water, Passages, Dream, Contemplating and Light, and using the interview format to flesh out the story. (He has Francesca, Giovanni and Riccardo for company, as Vittorio is off in a field somewhere!) The early phase of the bands life, where their sterner records come from, is glossed over, because they don't like discussing it, and he lets them get away with that, but then they want this book to express something the way the music does. Me, I'd have dug deeper there, but he covers all the other bases.
At 164 pages long, with a beautiful photo on virtually every page, including much of the work of their photographic collaborator Livio Bedeschi, it's a sumptuous little thing, and perfectly in keeping with the package overall. There's no input from onstage dancer/mime Lorenzo Busi, but maybe that would shatter his image? (Maybe he spends all his time swearing?)
Until I read this I'd forgotten they'd been going since 1985, so the special bonus issue of THE MICK I had planned for this month, which is devoted entirely to their music, will wait until November, as that's their anniversary. In the meantime I urge you to find this limited edition and revel in it. If you know them already you'll be tempted. If you don't, then a whole world of music exists in this one band alone. Missing out seems like madness to me.

---

Book + CD produced by Ark Records - Italy
Italian & English versions - Release date 1st August 2005

www.ataraxia.net
www.arkrecords.net

12/08/05