---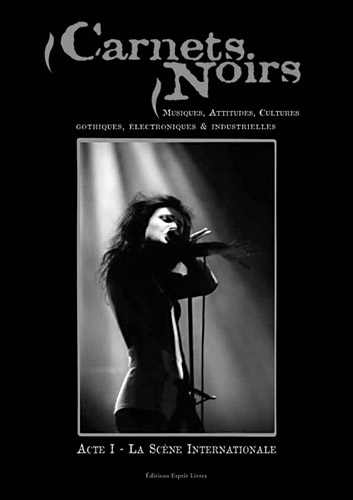 C'ARNETS NOIRS
(Musiques, Attitudes, Cultures Gothique, Electroniques & Industrielles)
ACTE I – La Scéne Internationale
K-Inite
~review by Mick Mercer
CHRIST, but it's beautiful. A big, black book, with a heavy hardback cover, and gorgeous quality printing, in which all manner of thematically linked styles are brought together inside one lovingly crafted project. 256 pages, for 35 Euros – which is a bargain. Once you're over the shock of how thin Siouxsie is on the cover (and actually recognised her!) you notice how it all hangs together, with words by Marion Gléndal, Christophe Lorentz, Stéphane Leguay, Olivier Steing and Alyz Tale and a ton of stunning photographic work, including the ever inspiring Stéphane Burlot's work.
It runs haphazardly through time, being all about the collision and collections of style(s). The sections are easy, the pics delightful. Yes, it's all in French and I can't follow it deeply but you can tell what they're doing and at this price, and being so stunning, who cares if you can't read it?
Post-Punk kicks it off, with Robert Smith plinking away, then we hit Cold Wave. It's funny to notice all of the photos of old names are recent photos, and the fact that Cold Wave includes Cranes, And Also The Trees, In The Nursery and Clan Of Xymox. The 'Batcave' section doesn't have a single photo from The Batcave but a good Theatre Of Hate and Bauhaus shot make up for that. 'New Wave, Techno-Pop et Neo-Romantiques' has Gary Numan in the scary wig, and also Anne Clark looking like Bono. 'Les Scenes Gothiques et Post-punk aux Etas-Unis' also has a great Valor pic where he appears to be Miss Haversham from Great Expectations, balanced by a nice shot of Rozz in Paris in 1994, and Lydia Lunch as your mum in a hippy nightmare (circa 2002). The only thing which spoils the book about talented people is the inclusion of excremental humans Boyd Rice (flaunting Deathshead insignia) and Doug Pearce (flaunting a scared Burroughs-like face several decades too soon).
Musique Industrielle, Gothic-Rock, Electronic Body Music, Metal-Indus (where they have charitably included Manson), Dark-Folk, Dar-Wave, Heavenly Voices, Metal-Gothique, and then 'Electro-Dark / Electro-Pop / Tecno-Indus' to close makes for an exhaustive look at the scene which seems to me to be done purely in the context of rounding everything up. They haven't the space to explore, so I guess that's where Act II, which will be well worth looking out for.
http://carnetsnoirs.free.fr/
http://www.ksociety.com/k-inite/
6/11/05