---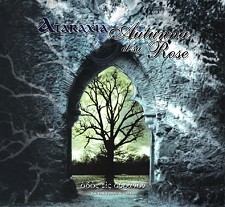 ATARAXIA and AUTUNNA ET SA ROSE
"Odos Eis Ouranon - La Via Verso Il Cielo" (Equilibrium)
~review by Mick Mercer
A rare and beautiful record, conceived in splendour and delivered in an exceptionally attractive 2CD digipack, this project has a troubled past, I gather. Originally a live concert in St. Michele in Rovigo, 2005 one of the musicians with Ataraxia that night later refused permission for the recordings to be used, so their offerings may have been re-recorded. I am not sure, but the end result is still a work of modest grandeur that doesn't set out to impress, just to be, and all you can do is allow it to purge your room of boredom.
Acoustic on the night, given the church surroundings, the strange Autunna et sa Rose have a theatricality which leaves those unfamiliar with their work somewhat baffled, but all should be open to seduction by this mercurial combination of cello, piano and diverting high soprano vocals. I don't understand the male utterances, which have a theatrical intention, which they expound upon in the liner notes, but as music it has an uplifting quality while at the same remaining aloof. The vocals often slide dramatically over gentle piano frills, of rise histrionically over quivering, bouncing bow work. Having skittish vocals leaping around the otherwise moody stillness seems almost cheeky at times, but they consistently draw you into a sepulchral mood, leaving you with a sense of poignancy rather than maudlin regret or doom. It's like a Pina Bausch show, without dancers.
Ataraxia are typically glorious. A simple mix of ancient piano, classic guitar, bells, chime and vocals, they treat us to tracks from early demos to the most recent albums. There is also exclusive material in 'Strange Lights', which sees delicate guitar tiptoeing and swaying, accompanied by sea samples; the serious intonation of Nicolas Ramain, followed by Francesca Nicoli soaring, and 'Seas Of The Moon', a sonorous esplanade on which she lolls.
The other tracks just grow gently in the sombre light, and come to life in a unified sense of enchantment. 'Shelmerdine' is graceful, 'Tu Es La Force Du Silence' evokes stern drama with the vocals/piano interface, 'Ophelie' has th woody flute twittering with relaxing guitar and plaintive, reassuring piano, but 'Faust In Una Sala Maledetta' is boosted by strident vocals over hasty piano. 'Les Tisseuses Lunaires' flows gently, 'Veules Les Roses' is seriously uplifting, 'Fuga Trionfale' has slightly demented vocals with the piano working close up with a prancing accompaniment and 'Medusa' is as enigmatic as it is disturbing Ataraxia are my favourite band, and it's not just because of the gracious nature of their beautiful music, it's because they can also bewilder. You always know roughly what to expect, but then they turn up sweeter, or determinedly out there, but the magic always remains, and they have already created an astonishing body of work, all of which will be reviewed over the next few issues of THE MICK. It might sound daft but sometimes I like to lay all the CDs out and just look at them! And why? Because these are the sort of records you will treasure for the rest of your existence, they're that special.
The great thing which makes this project so easy for people to start investigating them is that some of their finest songs through the years are here, and the eras are harmonised by having this simple approach. 'Bonthrop' is amazing. One of their most immediate songs, it has Francesca rising high, then dropping deep within the same line, creating a real sense of mystery, and 'Oduarpa' is another classic suffused with warmth which everyone should have in their collection. If you like haunting, mellifluous music they have that. If you want a slightly different take on macabre passion, they have that too.
Anybody who can mix the modern with the ancient and make it sumptuous and audacious has to be worth your time, so please, if you haven't tried them yet have a listen.
Tracks:
Strange Lights *
Shelmerdine **
Bonthrop **
Tu es la Force du Silence
Ophélie
Faust in una sala maledetta
Seas of the Moon *
Les Tisseuses Lunaires **
Veules Les Roses **
Fuga Trionfale
Oduarpa
Medusa
* exclusive tracks
** tracks belonging to limited edition releases
www.odos.equilibriummusic.com/
www.odos.equilibriummusic.com/od_order.html
www.ataraxia.net
12/08/05