---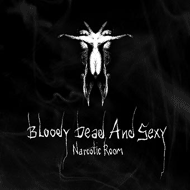 Bloody Dead And Sexy
Narcotic Room (Dark Dimensions)
~review by Uncle Nemesis
A surprisingly cerebral album from a band which, I confess, I'd previously marked down as more or less a flamboyant deathrock riff machine. Which, of course, is a fine thing to be in itself, and Bloody Dead And Sexy certainly know how to deliver in that department. But I'm intrigued to find that there's another side to the band. There's a certain flavour of mondaine, recusant, raised-eyebrow art-rock to this album, as if the band took a jaundiced look at the human condition and are now setting out their findings with an air of wry resignation. And some flamboyant deathrock riffs.
The vocals - sometimes defiantly declamatory, at other times dry, world-weary, and almost conversational - do much to create the atmosphere. Rosa Iahn is clearly not much of a singer in any conventional sense - his range is limited, and he always stays within those limitations. But, of course, it's possible to be a good vocalist even if you're not a great singer, as anyone who's ever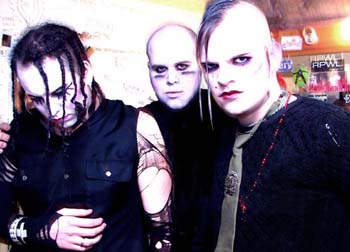 heard John Lydon or Yello's Dieter Meier in full flight will agree. Rosa Iahn's voice is, perhaps, most akin to Jonas Almquist of The Leather Nun (it's those precisely enunciated syllables in that bone-dry mittel-European accent that does it), and he delivers the words with a droll, sardonic intimacy, as if he's propping up the bar in some murky dive, relating his troubles, misadventures and misanthropic conclusions to anyone who'll listen. 'I bring a bottle and the whole chicane/Is the fact that I once drowned Cain/In Champagne', he declaims on 'Sweet Is Evil', as if he's telling the story of a country house party that degenerated into a very odd orgy.
The music powers everything along with a low-slung swagger, the guitars hammering out those no-shit riffs which are the building blocks of the Bloody Dead And Sexy sound. It's a very Iggy Pop experience, in a way. The churn and grind of the band reinforces the feeling that we're in a drinking den on the bad side of town, as exemplified by 'Around & Around'. Here the band lock down a sepulchral blues behind some surreal lyrics - 'Around, around crawls the baby on its knees/With a picture in its mouth of a round faced man/I press myself to the plexi plastic wall/with the fingers of my hand going round, round'. Well, that's the last time they'll be asking Bloody Dead And Sexy to do the babysitting, that's for sure.
'My Secret Gardener' wraps up the album with a narrative piece that's more of a story than a song, the last tall tale our man at the bar takes it upon himself to tell us before weaving his way out into the night. 'You've got your dreams, well so have I,' he insists, before launching into yet another story of another night, another...party? 'The others suddenly stop talking and look at me. I feel I'm invited to join them. They are very nice. suddenly, I feel guilty because of my boyfriend downstairs. But I haven't done anything...yet...'
Strange tales from the darkest corners of the city, set to the bump and grind of low-rider rhythms and dirtied-up guitars. Hidden breadth and unexpected depth from a band which is clearly capable of delivering far more than the usual deathrock moves.
The tunestack:
A Friend In Mescalin
Sweet Is Evil
Cheeks
Slow
4th Coma
The Crystal Clear
Narcotic Room
Suitcase Men
Around & Around
Find A Clean Needle
My Secret Gardener
The players:
Rosa Iahn: Vocals
Bjorn Henningson: Guitars, drums
Tim Schande: Bass
With:
Thomas Erkelenz, Boris Hack: Guitars
Sarah Para: Vocals
Stevyn Grey: Drums
The website: http://www.bloodydeadandsexy.de
01/01/06