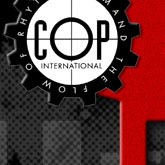 Various Artists
Dark Awakenings Vol.3 (COP International)
~reviewed by Stuart Moses
In the days before the Internet, downloading and MP3s I relied on compilation albums to discover new bands. There was no chance of the sort of bands I loved being played on mainstream radio. Sometimes these compilations were made by friends, but before I even made the sort of friends in the position to make such compilations I'd buy ones such as Mick Mercer's Gothic Rock and Gothic Rock 2 CDs. The latter in particular introduced me to a whole wave of then contemporary bands that I would not have otherwise discovered: Die Laughing, Big Electric Cat, The Shroud, Love Like Blood and London After Midnight. With the exception of The Shroud all these bands have since disappeared so it's time for a new crop of bands to get the compilation treatment.
I've always found the idea that 'gothic' music and 'electro' music exist in the same scene a curious one. But that belief is reflected in the way in which these two CDs are separated. I fall definitely into the former camp. The test of a good compilation is whether it inspires me to go and buy the CD or attend the live show of a band featured. What counts against this compilation compared to Mick Mercer's, for example, is that my knowledge of the goth scene is so much greater than it was in 1995, so no compilation is ever going to introduce me to as many new bands.
The tracks I already know on this compilation include The Ghost of Lemora's "Dread The Day" which is one of their stronger songs. I've seen them play it many, many times live and my enjoyment never wanes. Scary Bitches' "Lesbian Vampires From Outer Space" is their funniest moment. Hearing a song rather than a whole album by Scary Bitches is the way to enjoy them best. That way there's little chance for the humour to wear thin. Audra do their Bowie-influenced melancholy in the form of "Midnight Moon Swing". The Last Dance offer us "She's Dancing" in remixed form which unfortunately sounds like two songs playing at the same time. A great band that are let down by their love of producing alternative versions.
Elsewhere there are the bands that I've only ever encountered on other compilations: Judith with their enjoyable Chameleons-esque "Play of Light" which sounds more relevant than ever and Paralysed Age with "Into The Ice". I enjoy these bands on compilations but they've never inspired me to investigate further. It's a similar story for "Pleasure and Pain" by Avaritia, who could be a female-fronted Passion Play.
Bands I had not heard before but that I am now keen to investigate include The Awakening who have a traditional take on things gothic. Cold sound like The Cure with Robert Smith with a blocked nose and Duran Duran's Nick Rhodes on keyboards. If "Summernight" is representative of their work then they've won another fan. Hopefully not all their songs sound quite this much like The Cure though. I thought I'd heard New Days Delay before, but I must be mistaken if "Tiny Monsters & Furry Little Creatures" is representative of their material. It's as much fun as The Horatii doing "Island of the Zombie Women." Not normally my sort of thing, but this is so full of life it catches the attention. It's a genuine pleasure to hear a classic song - "Never Take Me Alive" by Spear of Destiny - round up this compilation. I'm not quite sure how it fits with the other songs here, but it is such a good song I'm not to question its inclusion.
I should warn you that I'm less into the electronic side of things, so songs on the 'Electro' CD will have to be something special to impress me. Not listening to lots of this stuff means everything sounds like inferior copies of Kraftwerk or Depeche Mode to me. Having said that, I enjoyed this CD more than I thought I would, at least at first. If a man growling over the Bladerunner soundtrack sounds appealing then may I recommend Marian Joy's "Last Kiss In Heaven". I like the early 80s synthesiser work of The Rorschach Garden's "Far Away From Paradise" even though I think I'd enjoy it more if I was actually a robot. Tactical Sekt's "Cold Victim" has the stage whisper vocals of someone who can't sing properly. Things get too bleepy for me when Assemblage 23 turn up with "Drive". It sounds like an inferior copy of Depeche Mode.
I've never quite seen the point of listening to dance music when you are at home. Surely dance music is supposed to be danced to rather than listened to? Offerings from NamNamBulu, Flatline and Nebula-H all pass in a blur of beeps that sound out of place as I balefully gaze out of my window on a wind-swept Monday morning. I get so quickly bored with distorted/FX-treated male vocals and samples from films. I truly do not understand how anyone can enjoy the noise of Xotox's "Eisenkiller" which I wasted five minutes of my life listening to in the hope that it might get better. It got quieter after two minutes, but not really any more enjoyable. The only thing that makes me wish to hear this song again is the aptly named "Assault" which follows. I truly hope that Stainless 4571 never move in next door. This is the sound of them demolishing the communal wall using broken TVs playing static really loudly. Shocking.
If you are new to the goth (or electro) scene then compilations like Dark Awakenings Vol.3 are a good place to start. Chances are you won't like everything, but it will act as a good signpost to future discoveries. No doubt my 1995 incarnation would have rushed off to buy lots of CDs, so from that point of view this compilation is a success.
Tracks:
Electro CD 1
Marian's Joy - "Last Kiss in Heaven" (exclusive)
The Rorschach Garden - "Far away from Paradise"
Tactical Sekt - "Cold Victim"
Assemblage 23 - "Drive"
NamNamBulu - "Memories" (KMS-Remix)
Flatline "Virus" - (previously unreleased)
Nebula-H - "Twilight Zone"
Mindware - "On Earth" (hi jack-Mix by :S.I.T.D:)
The Fair Sex - "The Now and Here" (Endless Moment) (unreleased)
Zentriert ins Antlitz - "Genozid" (extended max dynamic version)
Interlace - "Stone Mirror"
Object - "Rapid Decline"
Noise Process - "Betrayed"
Xotox - "Eisenkiller"
Stainless 4571 - "Assault"
Gothic CD 2
Razor Skyline - "Corporation"
Audra - "Midnight Moon Swing"
Reptyle - "Descent to Heaven"
Paralysed Age - "Into the Ice"
The Ghost of Lemora - "Dread the Day (the cities rise) "
The Cascades - "Red Stars"
The Awakening - "The Dark Romantics" (single mix)
Scary Bitches - "Lesbian Vampyres from outer Space"
Avaritia - "Pleasure + Pain"
Judith - "Play of Light"
Cold - "Summernight"
The Last Dance - "She's dancing" (95/02 Remake)
Pronoian Made - "World Bizarre"
New Days Delay - "Tiny Monsters + Furry Little Creatures"
Bloody Dead and Sexy - "Sick Six Minutes"
Spear of Destiny "Never take me alive"
The website: http://www.copint.com/
12/08/05