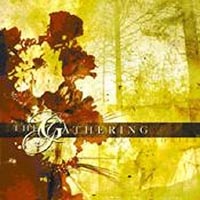 The Gathering
Accessories (Century Media)
~reviewed by Stuart Moses
I love The Gathering. They make great atmospheric songs, with heavy but melodic guitars and powerful female vocals. Lyrically they deal with relationships, the sea and time travel, just a few of my favourite things. There's something about the emotional intensity of singer Anneke van Giersbergen, mixed with the trippy-prog backing that could so easily become self indulgent, yet never does. While the band can write three-minute pop songs, more often they take the listener on sonic adventures of a much longer duration.
To be more precise I love the Century Media years of The Gathering. Before joining this label they made a couple of albums without Anneke, which I can't bear to investigate as she is an integral part of the experience for me. Post-Century Media The Gathering have released an album and an ep on their own label. The album Souvenirs is enjoyable, but demands more of the listener than the glory years when they still knew how to rock. Context is important too. I first truly understood the Mandylion album – considered by most to be The Gathering's classic album - and Nighttime Birds – its unfairly overlooked sequel – while walking along the seafront of an English seaside town. It was cold, in the early morning and the sun was reflecting from the sea - these albums suddenly made so much sense.
B-sides and rarities are often a mixed bag, so what has Century Media's cupboard rummaging to offer? Starting with the b-sides we have straightforward live versions of "In Motion #1", "Leaves", "Amity" and "Frail" which are fun, but not radically different from their studio incarnations. There are orchestral versions of "Strange Machines" and "Leaves" both of which are brave experiments. It took me a while to accept these versions, both are slightly ridiculous, but I've grown to love the former and admire the latter, though neither will replace my affection for the originals. There are alternate versions of "Third Chance", "Confusion" and "Shrink". These will only be of interest to fans that enjoy hearing slightly different variations on a theme. These won't convert the floating voter though. "Shrink" is presented to us in a more acoustic fashion, with atmospheric samples of children playing and sounds of the sea. At least I presume they are samples, possibly it was recorded in a playground by the ocean?
What makes the CD essential is "Adrenaline" written around the time of Mandylion. It's the type of song that The Gathering don't seem to make anymore. Written to be played live, the excitement and momentum is maintained on CD. I'm not usually fond of cover versions but The Gathering provide two of my favourites: Dead Can Dance's "In Power We Entrust The Love Advocated" and Slowdive's "When The Sun Hits". While remaining the same songs The Gathering add their own magic and make the songs even better. I never thought I'd want to hear anyone but Brendan Perry sing the former but Anneke gives him a run for his money. Interestingly both originals feature male vocals. Elsewhere there are a couple of oddities: an instrumental "Theme From 'The Cyclist'" and a cover of Talk Talk's "Life Is What You Make It".
The second CD is billed as The Rarities and predominately features demos from the Nighttime Birds album. I have great emotional attachment to these songs, so even if the differences are cosmetic, as they are in the case of "New Moon, Different Day" then I am still entranced. For those with ambitious natures, an instrumental version of "Kevin's Telescope" offers the opportunity of karaoke. It's a diversion rather than an alternative destination though. It's interesting to hear the musicianship here and previously unreleased instrumentals "Diamond Box" and "Hjelmar's." Both are interesting, but neither are essential.
The version of "On Most Surfaces" is as thrilling as ever, but the musical variations are slight and only revealed on close listening. There are no insights into The Gathering's creative processes. There are some attractive keyboard swells just past the seven-minute mark though. Five songs from the How To Measure A Planet? sessions bring the CD to a close. The version of "My Electricity" is ironically more acoustic and quieter than the final version. This is as close as I will ever get to imagining The Gathering sitting around a campfire singing songs. The version of "Probably Built In The Fifties" has a rougher feeling than the final version, though the FX on Anneke's voice obscures its natural beauty. At least it sounds different from the album version. "Illuminating" gets a new instrumental passage around three minutes in, which gives the song a different feel. Anneke sounds like she's singing in a cave, which is novel, but again not essential. Some peculiar clunking noises around four minutes mar my enjoyment of "Red Is A Slow Colour". I'm glad they didn't make the final mix. "Travel" brings things to a close with what is the first radical reinvention of the whole compilation, but as neither version is The Gathering's finest moment it's a moot point whether this is a good thing.
Ultimately if you are a fan of The Gathering then you'll want a copy of Accessories, especially if you haven't got all the b-sides already. There are some transcendent moments, particularly the Dead Can Dance and Slowdive covers and "Adrenaline". Unfortunately the alternative versions are too similar to the 'real' versions to casual listeners. If you aren't already a fan then you should investigate Mandylion and Nighttime Birds first. The Gathering are a magical band, but this compilation offers little enough that is new.
Tracks:
Disc 1 – The B-Sides
In Motion #1 (live)
Leaves (live)
Adrenaline
Third Chance
Strange Machines (live w/Orchestra)
In Power We Trust The Love Advocated
When The Sun Hits
Confusion (demo/eroc mix)
Shrink
Frail (live)
Theme from 'The Cyclist'
Leaves (live w/Orchestra)
Life Is What You Make It
Amity (Live at "Isabelle")
Disc 2 – The Rarities
New Moon Different Day
Kevin's Telescope
Shrink
Earth Is My Witness
Diamond Box
Nightime Birds
On Most Surfaces
Hjelmar's
My Electricty
Probably Built In The Fifties
Illuminating
Red Is A Slow Colour
Travel
The current players:
Anneke van Giersbergen - vocals
Hans Rutten - drums
René Rutten - guitars
Majorlein Kooijman- bass
Frank Boeijen - keyboards and programming
The website: http://www.gathering.nl/
11/23/05