---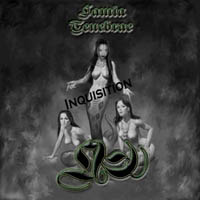 Lamia Tenebrae
Inquisition
~reviewed by Matthew J.
Judging by their website, Lamia Tenebrae (who have changed the name of their band to Lamia Cross since the release of this album) see themselves as a dark metal act, but between the mythological and horror film themes, church organs and drum machines, there's plenty for goths on this CD as well.
To start with, there's the fact that at least half of the songs on Inquisition are based on various figures from mythology and dark fantasy. "Lamia," for example, is not only the name of the band (and its lead singer) but also a reference to a monster from Greek legend, while "Space Vampire" is…well, pretty self-explanatory, actually, but not nearly as corny as you'd expect. Lamia – the lead singer – is originally from Japan, while Lamia – the actual band – is based in France, so the lyrics can be expected to be a bit awkward at times; lines like "Feeding human flesh/My dinner is you" raise eyebrows during the otherwise memorably melodic "Lamia." More often than not, though, the effect is actually kind of cute, like the shout-along outro of "Fuck off your accusations" on the charmingly raucous "Fake."
Musically, this definitely has its metal moments, but these songs are more akin to '70s glam than the blast beats and bellowing that typify Europe's more recent metal offerings, and there are some bouncy piano lines mixed in to mitigate the melodrama of synthesized organs and choral effects. "The Cage," for example, is full of upbeat power chords and easy to sing along to, provided that you can decipher the thickly accented lyrics. Likewise, the album's overall energy is more in-your-face punk than black metal solemnity, with "No More Lies" and "Fake" being particularly good examples of furiously fist-pumping fun, while the wailing guitars and cavernous keyboards of "Drakul" give the song an appropriate air of gothic atmosphere.
Lamia's music is campy yet sincere in a way that few native English-speaking bands have been able to pull off; think a female-fronted punk rock version of Type O Negative crossed with the sound – but not the fashion – of Japanese visual kei. It's a disconcerting blend at first, but ultimately Inquisition is a surprisingly enjoyable listen, and the French-language tracks previewed on the band's website show even more potential.
Track List:
Inquisition
Ashra
Lamia
No More Lies
Drakul
Space Vampire
The Cage
Fake

Band Members:
Lamia, vocals, keyboard and programming
Fabrice, guitar and bass
Druid, lead guitar
Website: www.lamia-cross.com
MP3s and song samples: http://www.lamia-cross.com/audio.html
Label: (self-released)
12/30/05