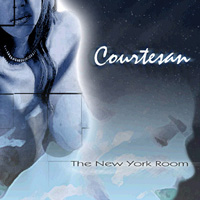 The New York Room
Courtesan
~reviewed by Matthew J.
As the band's promotional material states, fans of This Mortal Coil and the Hope Blister will probably also enjoy the New York Room. Matthew Ervin, the composer behind the project, has his own Ivo-Watts Russell thing down pat, layering sweet female vocals from a number of contributors over synthesized piano and string arrangements. While the New York Room's sound is a bit more stripped than This Mortal Coil – not to mention less dependent on obscure '70s folk tunes – there are more similarities than differences.
"Chasing the Horizon" is particularly lovely from a vocal perspective, with Amy Kozack's voice harmonizing with itself on at least three or four separate vocal layers. The medieval-flavored "I Wear Your Ring" takes the opposite approach, emphasizing Cara Leiurence's soprano by adorning it only with a deep droning synthesizer. Instrumentally, there are hints of jazz on the languidly sensual "The Thistle In the Kiss" and the more brassy "Frost At Midnight," while fans of the Cocteau Twins and Love Spirals Downward will swoon with delight at the dizzy honeyed strums of "Baby Blue" and "Floatful & Remembering (The Scarlet Hours I Was A Rose)." Giving a hint of edgier fare, the bristling guitar of "Cuts Through the Skin (Down to the Bone)" and tinkling keyboard of "When I'm Broken" take things in more of a conventionally gothic direction, not quite upbeat enough for club play, but reminiscent of Black Tape For A Blue Girl's less ethereal moments.
If there's any fault with this album, it's that it can occasionally get too pretty, sinking from airy bliss into sickly sweetness. Still, Ervin's arrangements and adornments are usually enough to make up for this. "Breathing Farewell's Sigh," for example, adds a sampled saxophone and an Italian spoken outro, taking things from borderline cloying to insufferably cool. What could've been the weakest track on the album ends up being the best.
Courtesan aims for prettiness over power, and succeeds admirably. Listen to this one when you're in the mood for something delicate, bittersweet and not unbearably taxing.
Track List:
I Wear Your Ring
Baby Blue
Chasing the Horizon
Cuts Through the Skin (Down to the Bone)
Floatful & Remembering (The Scarlet Hours I Was A Rose)
The Thistle In the Kiss
Breathing Farewell's Sigh
Frost At Midnight
When I'm Broken
Inside the Dream
In Spite of Everything
Gymnopedie #1
Dies Irae
I Wear Your Ring (Remix)
Band Members:
Matthew Ervin, keyboards
Matt Lund, guitar
Derek Menchiger, guitar
Amy Kozack, vocals
Tanya Smith, vocals
Leslie Boughton, vocals
Cara Leiurence, vocals
Website: http://htdconnect.com/~nyroom/
Label: (self-released)
12/30/05