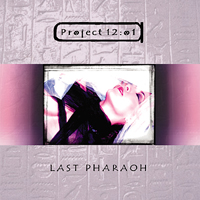 Project 12:01
Last Pharaoh
~reviewed by Matthew J.
Colorado's Project 12:01 doesn't have the slick production values of similar acts like Collide or Hungry Lucy, but Last Pharaoh has a palpable enthusiasm that makes this album just as appealing. Coquettish vocals, laid back electronics and a smooth trip-hop groove give this one a contemporary feel, and lyrical themes from Egyptian mythology that fall just on the right side of the line between cool and corny help bring everything together.
Opening track "Last Pharaoh" is the most over-the-top from the lyrical perspective, but though the incessant references to "the living Horus" can be a bit much, the chorus is so catchy the words don't really matter. Besides, vocalist Melissa London has a surprisingly versatile voice. While her voice is so girlish that you'd think she'd be hard to take seriously, she makes up for her high-pitched wispiness with a tremendous range of expression. On "Taste" she's a sultry seductress, on "Love" an angel, and on the excellent "Beyond These Streets" an achingly vulnerable waif.
As far as the music itself, Last Pharaoh has some wonderful moments, like the techno influences and panning vocal effects of "Lucid" or the delicately ethereal layers of "Bluish Jewel." There are also some less impressive moments, like the jarring samples that mar "Just As Sound" or a tinny quality that detracts from the otherwise pleasant trip-hop of "Shut the Door." It's clear from the instrumental track "Crook and Flail" – perhaps the band's best and most subtle use of the Egyptian theme – and the chopped up drum 'n' bass remix of "Taste" that Project 12:01 have talent and studio experience, so the occasional sour notes don't seem bad so much as lazy, which is worse in its own way.
Still, there's far more good than bad on Last Pharaoh, and when you throw in a cover of Front 242's classic hit "Headhunter" that's not only faithful but fun, you end up with a real winner on your hands. Though Project 12:01 still seem a bit like amateurs at times, you get the sense that they'll only be getting better.

Track List:
Last Pharaoh
Taste
Beyond These Streets
Just As Sound
Are There Angels?
Lucid
Crook and Flail
Cleo Kisses Caesar
Bluish Jewel
Spill
Love
Shut the Door
Headhunter
This Heaven
Taste (AI: Android Infatuation Mix)

Band Members:
Melissa London, vocals, lyrics, arrangements, synths, etc.
nOel Johannes, synths, samples, programming, electronics, etc.
Website: www.project1201.com
MP3s and Song Samples: http://project1201.com/music/music.htm
Label: (self-released)

12/30/05