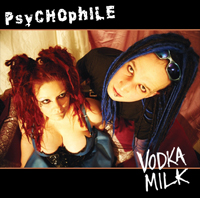 Psychophile
Vodka Milk (novaDIEM)
~reviewed by Stuart Moses
I've seen Psychophile play live a few times. I've always been caught up with singer Lucy Pointycat's enthusiasm. On CD she sounds much sterner than her stage performance might suggest. It is perfectly possibly that she is a strict person in real life. I'll leave you to imagine what that would be like.
Opening song "All In The Mind" starts in a bleak electronic manner, then changes to light and electronic. It's easy to imagine this working in clubs or live. This ability to change gear greatly elevates Psychophile in my opinion. There's a harshness to their sound, though it never descends to discord. "Naked" is more of the same, with extra waves of distorted noise. It's as if guitarist Smogo were hammering on dustbin lids in a backyard, while Lucy is practising for her classical music recital from a nearby window. It's not without charm – and will no doubt delight fans of The Wasp Factory record label roster – but it's the sort of thing that gives me a headache if I'm not careful. Lucy sings: "I'm naked… I'm naked… I'm naked…" but I'm not sure whether she considers this a good thing or not.
We're in more melodic waters for "Cracked". The verse has some gentle guitar, making the noisy chorus eruption more effective. This is a good example of the shading and texture that was lacking in the previous song. A distorted guitar smothers the climax, but in a good way. At under three
minutes, Psychophile know it's best to leave 'em wanting more. There's a gentle melancholy that permeates the verse of "Isolation". I wonder if I'm listening to a Die Laughing outtake. Even on first listen I know that there will be noise to disrupt the pleasant piano-led ponderings. But when the deluge comes it complements rather that disrupts what has come before.
There's no gap between the end of "Isolation" and the beginning of "Is This Real?" which briefly makes me wonder if the former song has taken off in a completely unexpected direction. This song mixes keyboards and hard rocking guitars. "Waves" has cheesy 80s synths plus more FX-laden guitars, though these are stripped back to let Lucy sing with just a simple drum machine backing. There's a harshness to the sound, though it is still catchy.
"Sussurus" is a calm in the storm, no doubt inspired by the sea near Psychophile's hometown of Brighton. It's a synthetic piano-led instrumental. Not being such a huge fan of things distorted and electronic I'd like the band to develop this side of their sound. The fake strings sound particularly evocative, helping the song to sound like a b-side by The Gathering. We're back with the noisy electronics for "The Otherside" which reminds me of The Chaos Engine, circa Angel of Ruin but with just the noisy bit rather than the quiet bit that sounded like Brendan Perry. It's interesting to hear Lucy sing in a higher register, it all adds variety to the sound. Next song "Circles" continues this trend. It adds a warmth to Lucy's voice, she sounds more feminine. There's an electronic current in this song, but it's smoother than elsewhere.
"Gentle" lives up to its name. Lucy implores "Be gentle with me" over some subtle electronics and sound effects of rain and storms. In a weird way it reminds me of the sort of atmosphere created by Depeche Mode in their quieter moments circa Black Celebration. I like the fact that it doesn't erupt into an electronic and guitar assault. It does progress, but it's more effective because Lucy and Smogo know when to restrain things. The cheesy 80s synth of "Waves" returns for "Not Listening" which starts slowly, luring the listener into a false sense of security. It creates a feeling of alienation, which is no doubt the intention. Lucy sounds like she is singing down a well around two minutes in. I'm not really a fan of too many FX on vocals as you can probably tell.
The album comes to a close with the curiously-titled "Pigs Pots and Pans", which running six minutes I expect to be an epic. However the first half of the song is made of quiet synth-based noodlings. Then we get industrial clanks and beeps. Things kick up a gear three minutes in and we get the sort of instrumental you'd expect if Pink Floyd listened to Kraftwerk. The experimental nature of the song makes it a curious coda to the album. I wonder if it heralds the direction of future releases? This is how the CD will end, not with a bang, but with a crunch.
There's a lack of warmth to Psychophile on CD. Lucy and Smogo's human presence make up for any coldness in the music when they play live. Part of this bleakness may be due to the negative subject matters, part of it is due to the band's obvious love of harsh musical textures. This CD is not unremittingly abrasive, Psychophile do mix moods, but I think I'll stick with the live incarnation for now.
Tracks:
All in the Mind
Naked
Cracked
Isolation
Is This Real?
Waves
Sussurus
The Otherside
Circles
Gentle
Not Listening
Dreams in Vain
Pigs Pots and Pans
bonus Darklight video
The players
Lucy Pointycat – vocals and programming
Smogo – guitars and programming
The website: http://www.psychophile.co.uk/

---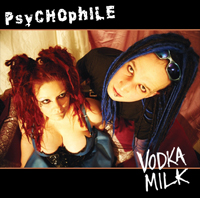 Psychophile
Vodka Milk
~reviewed by Matthew J.
Psychophile's second full-length album is an appealing mix of bouncy dance floor material and prettier, more delicate pieces. Sure to appeal to goths and synthpop fans alike, Vodka Milk's mixture of bass-heavy drum machines, electric guitars, and flamboyant vocal work is as thick and overpowering as the cocktail ingredients it's named after.
At her most outrageous, front woman Lucy Pointycat has all the delicate femininity of Alison Moyet combined with the vocal precision of Marc Almond, which is to say that she can be kind of butch and flat, but in an enthusiastic British New Wave kind of way that's indisputably cool. It's a vocal style that serves her best on the more upbeat tracks like album opener "All In the Mind," the darkly funky "Dreams In Vain," or the irrepressibly perky "Waves."
The surprising thing, though, is that when she tones herself down a bit, she's got a very pretty voice, and the band's softer moments are some of their most dramatic. "Circles" is gorgeous, ethereally floating pop, and "Gentle" is a beautifully minimal ballad, just voice layered over subdued ambient synths. "Isolation" starts similarly quiet with a touching piano melody, then builds up into a dramatic guitar-driven rocker, while "Susurrus" highlights the band's instrumental abilities, adding a lovely cello piece (provided by guest musician Jo Quail of Earth Loop Recall) to Pointycat's piano arrangements.
Psychophile have a unique sound that combines the emotional edge of goth with the booty-shaking impact of really well-crafted EBM. Good stuff from start to finish, this album has all the sweetness and sting of a Stolichnaya milkshake.
Track List:
All In the Mind
Naked
Cracked
Isolation
Is This Real?
Waves
Susurrus
The Otherside
Circles
Gentle
Dreams in Vain
Pigs Pots and Pans

Band Members:
Lucy Pointycat, vocals and programming
Smogo, guitars, programming and bass
Mat Hook, additional guitars and programming
Website: www.psychophile.co.uk
MP3s and song samples: http://www.psychophile.co.uk/downloads.html
Label: NovaDIEM Records (www.novadiem.co.uk)
01/01/06