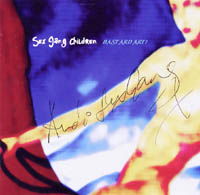 Sex Gang Children
Bastard Art (Magicavern)
~reviewed by Uncle Nemesis
Well, who'd have thought it. Twenty years after they first emerged, all of a sudden we have another album by the Sex Gang Children. Except it's not really the Sex Gang Children in any 80s-vintage sense: this is not some sort of reunion album, a bunch of old muckers getting together for old times' sake. It's essentially Andi Sex Gang himself, plus a band assembled from some of the musicians who've backed him on his recent solo outings. Only guitarist Kevin Matthews - a long-time collaborator with Andi on both SGC and solo material - is present from the early incarnations of the band. Whatever we're going to get here, it's clear it won't be a rehash of 'old stuff'.
So, what *do* we get? In a nutshell, a swaggering, cinematic journey through Andi Sex Gang's peculiar glam landscapes. The music covers all bases from mad-bastard glam-punk guitar-workouts, to lilting semi-acoustic ballads. Along the way there are odd, almost spoken-word interludes, and some moments of sheer electronic weirdness, old-skool industrial noise. Anyone coming upon this album in the belief that they'll get some straightforward 'old goth' stuff will be extremely confused. Anyone listening with open ears and an absence of preconceptions will be entranced.
A few highlights. 'The Bormann Chain', a big, bad, glam-stomp. Granite-hard slabs of guitar, drums that wallop you around the head, Andi's voice close in your ear, with lyrics that manage to be both forboding and utterly baffling: 'Oh, the bright young things go apeshit crazy/Drink black water and always malpractice'. Then he takes off on one of those classic Sex Gang screams: 'I took you for a kiiiiiillaaaaaaaaaarrrrgh-ha! Ha!' Now that's one of those moments when you *know* you're listening to Andi Sex Gang. Nobody else does *that*.
'Saraband For Dead Lovers' could almost be a long-lost T-Rex track, a haunting, swaying ballad. Nick Drake's song 'Black Eyed Dog' (the only non-Sex Gang original here) is transformed into another of Andi's epics - a song that embarks upon a long, strange, journey, driven along by some impressively layered and intertwined guitar, and a lyric that's declaimed in dramatic tones yet still manages to be oddly wistful: 'I'm growing old and I want to go home/I'm growing old and I don't want to know...'
'Propaganda' comes in on a mutant-orchestra sound, swooning strings that manage to convey a threat even as you think, 'Oooh, this is nice'. Then Andi's voice comes in, and leaves you in no doubt: 'In the Fatherland....in Disneyland...' And the beat kicks off and it all starts motoring forward. I particularly like the way Andi throws in little Jefferson Starship references: 'Feed your head!' along the way. 'Circus Days' has the feel of an old vaudeville number, except no vaudeville song had a wail of almost-feedbacked guitar running through it...nor a lyric that speaks of '...the devil in your head.' 'Joy' is an epic pop song, rattling along on a clockwork-toy beat, and yet with a splendid to-and-fro melody which reminds me of 'The Whole Of The Moon' by the Waterboys...but in a good way.
'Sensual Heart' is built upon a squall of Daniel Ash-style guitar, a stark blue light of a song, while 'Romeo Gazing' is another epic glam-ballad, all guitar, guitar, guitar - and a nimble, dancing bassline. If you're into guitars, this is an album that'll be right up your street. It's a pleasure to hear such an uncompromisingly guitar-oriented album that nevertheless uses electronics and effects so creatively. The production is warm and deep and three-dimensional throughout: you really get the feel of a *band* doing their stuff in a studio, and that's such a pleasant experience after hearing so much music that has that 'home computer in the corner of the bedroom' feel to it. I want that sense of space - that sense of place - that you just can't get in the artificial confines of a virtual studio, and it's here by the truckload.
Andi Sex Gang is probably more of a maverick artist now than he ever was in the past. Certainly, as the goth scene of the mid 80s-onwards found itself nailed down to the standard rock moves of the Mission, Nephilim, and latter-day Sisters, the patent Sex Gang mix of glam-punk weirdness and a left-field, cerebral 'art' approach was, alas, pushed to the margins, where it's been, more or less, ever since. But anyone who still hankers after cool, physical, inventive rock 'n' roll, with a certain element of out-there 'otherness' to it - damn, anyone who's bought 'The Astonished Eyes Of Evening' by Cinema Strange - should certainly investigate Andi Sex Gang's Bastard Art.
The tunestack:
Bastard Art
The Bormann Chain
Home
Freedom Street
Slave
Saraband For Dead Lovers
Politik Is Dead
Dead Mans Hill
Black Eyed Dog
Propaganda
Circus Days
After The Fall
Joy
Sensual Heart
Romeo Gazing
Ariel
Reprise
The band are credited thus: 'All music and noise generated by the Sex Gang Children':
Andi Sex Gang
Kevin Matthews
Carl Magnusson
Matthew Saw
Martin Olofsson
With additional musicians:
Ian Billis: Guitars
Billy Page: Spanish guitar
Al Nalder: Bass
Anna McElligott: Violin
Sacha Ker & David Baer: Voices
The website: http://www.andisexgang.com
09/09/02