---

see all the photos from this concert here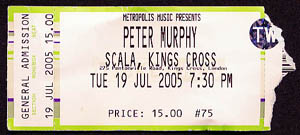 Peter Murphy
Sarah Fimm
Scala, London
Tuesday July 19 2005
~ review and photos by Uncle Nemesis
Peter Murphy is a star. That's not the fan in me speaking, and it's not just hype. It's a fact - although I suspect it's a statement that might cause an eyebrow or two to be raised quizzically in the UK. I mean, Peter Murphy? Surely his heyday was back in the 80s, when he first emerged as the lead singer of Bauhaus? Sure, he's done a few solo albums, but nothing much came of them, right?
Except, of course, that's all wrong. It's true that Peter Murphy has never really caught fire as a solo artist in the UK, where his time with Bauhaus does indeed tend to be regarded as his career peak. But elsewhere, and
particularly in the USA, things are very different. Peter Murphy commands a massive US fanbase which has put his singles in the charts and sent his albums into the platinum zone. And these are very definitely Peter Murphy fans, rather than superannuated Bauhaus fans hoping to recapture at least a quarter of the old spark, for Bauhaus were never hugely successful in the USA in the 80s. Strange though it may seem from a UK perspective, in America Peter Murphy is bigger than Bauhaus ever were. His tours are lengthy, and effortlessly sell out - and his new album, Unshattered, boasts a roll-call of superstar collaborators (from Madonna's producer Gardner Cole to assorted musicians from Jane's Addiction and Porno For Pyros) which suggests that here's an artist who can confidently dine at the top table.
But this is the UK, where we have to cut our coat from a slightly more economical cloth. This is the first of just three UK dates on Peter Murphy's latest world tour, and the venue, while being well equipped and impressively classy compared to most of London's rock 'n' roll holes, is distinctly medium-size. But the place is sold out, and the fans are crowding to the front. This may not be the Enormodome, but the atmosphere suggests it'll be a good show.
First, we have a support act. The ethereally-named Sarah Fimm was apparently Peter Murphy's own choice as tour support, and it's encouraging to think that he takes this kind of personal interest in new artists, rather than just letting the booking agents hand the slot to whichever random band can convince its record label to stump up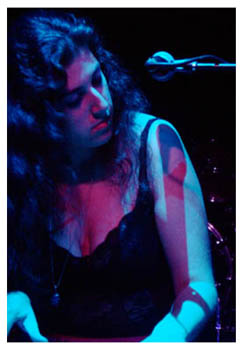 the buy-on. I've never heard of Sarah Fimm before, and her website is mysteriously short on basic biographical detail, which means I can't even tell you where she comes from, aside from 'somewhere in the USA'. (As if to make up for this dearth of hard information, her on-tour journal is full of inconclusive hippyish ramblings). But she's self-released three albums, which hints at a certain hard-nosed independent drive, and I spy a few people in the crowd singing along to her songs, which suggests that she's carved out a certain presence in the UK even if she's never come to my attention before.
Sarah Fimm's music comprises, by and large, sensitive, heart-wrenching piano pieces, toughened up with bass and drums. Sarah herself simply sits at her keyboard right at the front of the stage while the rhythm section - two dressed-down blokes in black - maintain a discreet presence further back. This means that we don't get any showbiz pyrotechnics: it's all very low key. Perhaps a bit too low key, for most of tonight's crowd is psyched up and excited to see Peter Murphy, and Sarah Fimm's relaxed, jazzy, ballads tend to damp down the atmosphere just when it should be warming up. As if the band belatedly realise that they'd better give it a bit of welly, the set powers up a bit towards the end, with the drummer piling in to his kit as if his energy pills have just kicked in. Sarah hollers out an impressively strong vocal, and, in the end, it all works effectively enough, even if I can't quite rid myself of the notion that Sarah Fimm's natural habitat is a cocktail bar in a hippy commune.
Peter Murphy strides on stage without ceremony, and definitely without any kind of dramatic intro tape. But then, he doesn't need any such artificial aids to build up excitement. His presence is all that's necessary. He's one of those select few performers who can command attention and dominate the stage simply by standing there, gazing out over the crowd. He's lithe and glamourous in a glittery shirt; the famed Murphy cheekbones catch the light. He's every inch the rock star. I'm a little bemused by his hairstyle, which seems to have been modelled on a haystack after a hurricane, but for all that we're instantly aware that we're in the presence of a real showman. His

band are a trio of implacable rockers, with Mark Thwaite, ex-of The Mission on guitar. The show begins, and of course the show is good.
Before you ask - nope, there are no Bauhaus songs in the set. With six solo albums under his belt, Peter Murphy has a more extensive catalogue at his disposal than Bauhaus ever did, and no need to delve into his previous incarnation. Instead, we get a selection from his solo songbook, with new numbers like 'Idle Flow' and 'Emergency Unit' cropping up early in the set. It's a typically flamboyant performance from Mr Murphy, who swirls and prances around the Scala's stage as if he owns the place. He'll throw a shape at the drop of a hat, striking poses and angles under the lights, obviously aware of his visual impact and unashamedly playing up to it. But the real proof of Peter Murphy's prowess as a performer is, of course, barrelling out of the PA stacks at 100 decibels. The Murphy voice is in fine shape, as strong and expressive as ever, and so too is the Murphy microphone technique - those subtle movements of the mic he makes, the better to deliver that voice. He plays his Shure SM58 like an instrument, shifting it closer and further away, even wagging it up and down to create a vibrato effect on a sustained note. Verily we are in the presence of the master.
The band hang back and allow their leader the limelight, but the music, gritty, punchy, and defiantly stripped down compared to the more elaborate sound of the recorded stuff, asserts their presence. Mark Thwaite in particular demonstrates that he knows what to do with a Les Paul and a Crybaby, and although the music never quite takes on the mad-eyed rampage of Bauhaus at their most unleashed, it nevertheless slices its way into the air with a confident swagger that echoes the demeanour of the man at the centre of it all. Peter Murphy's solo material has always tended towards a certain accessible, conventional, structure, which is probably a large part of the reason for his great success. The gleefully weird tangents of Bauhaus give way to an authoritative take on classic rock songwriting, but it's played with a strut and a swash that wouldn't disgrace the New York Dolls - and that's the essential factor that makes it work.
'I'll Fall With Your Knife', an old favourite among the Murphy Barmy Army, gets a rousing reception, as does 'Huuvola', rendered as a duet with Sarah Fimm, who displays a talent for leather-lunged vocal force that is seldom in evidence on her own material. There's an acoustic interlude, just Peter and a 12-string guitar, and a very fine rendition of 'Marlene Dietrich's Favourite Poem'. And then, as if to confirm the source of all this, the wellspring from which it all comes, the band whack out a riotous rendition of Iggy's 'Lust For Life', with Peter shakin' his booty on the drum riser like he's just invented rock 'n' roll.
The big finish, of course, has to be 'Cuts You Up', the all-time classic Peter Murphy song, the signature tune, the anthem, and tonight it's virtually carried by the crowd, which sings along with such gusto that the band are almost rendered superfluous. And then, finally, that's it. The show's over, and as the band acknowledge the applause and walk off, there's an almost palpable sense of a journey completed, that we've reached some kind of destination. Outside, under the blue glow of the venue's neon sign, the tour bus is manoeuvering. Peter Murphy's next destination is Nottingham, as his tour continues. But tonight, it was good to ride with him as he took us to a place far less tangible.

---
see all the photos from this concert here
Peter Murphy's official website: http://www.petermurphy.info
Livejournal community for Peter Murphy fans: http://www.livejournal.com/community/peter_murphy
Sarah Fimm: http://www.sarahfimm.com
12/26/05