---

see all of the photos from this concert here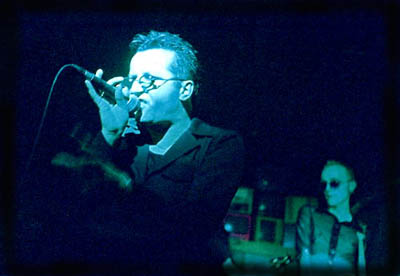 Sex Gang Children
The Ghost of Lemora
Slimelight, London
Saturday July 27
~review and photos by Uncle Nemesis
It's bargain night at the Slimelight tonight. It's free entry to members before 11.30pm, and the club has re-arranged its usual interior layout to provide three separate dancefloors: bangin' Techno on the ground floor, EBM/synthpop in the middle - and Goth at the top. This turns out to mean a playlist which runs from vintage Christian Death to classic Nick Cave; Engelstaub to X-Mal Deutschland, all of which sounds good to me. I supply myself with a beer, and sit down to listen to the DJ's selections.
The goth floor just happens to be the location of the Slimelight's stage and live PA. These are rather rudimentary facilities by the standards of most full-time live music venues, but for any band which is prepared to wing it, the Slime offers a rare (for London) opportunity to play a late-night slot right at the heart of things. And tonight there's a live music line-up that has a distinct air of quality about it. The Ghost Of Lemora, London's archly humourous glam-goths, opening up for the latest incarnation of one of the scene's early pioneers - the Sex Gang Children. All this and you get in free? Now that can't be bad!


The main drawback of the Slimelight is the total lack of anything resembling proper stage lighting. One or two of the dancefloor lights are turned towards the stage, and these have to suffice as illumination for the bands. It's woefully inadequate - the entire stage-right area is in darkness throughout, while the rest of the stage is swept randomly by ever-moving scanner-beams.You don't really *watch* a band play at the Slimelight - it's more a case of catching random glimpses of shadowy figures on stage as the lights flicker over them.
Still, The Ghost Of Lemora clamber on stage gamely enough, and wallop out a set of their half-camp, half-sardonic songs. Twinkle is wearing what looks like a long, pencil-cut dress of some sort of sheer material. With his mop of artfully-teased hair, he looks like a paintbrush. He struggles to adjust the mic stand, and the bass player, wearing a resigned 'Let *me* do it!' expression, comes to his aid. 'This is Stuart, our bassist,' explains the keyboard player. 'He's quite hard.' All the Lemoras seem to have their own personas, their own quirks and foibles, and, for all I know, their own superhuman powers. The action figures will be great. For now, we'll just have to watch them acting it all out on stage, to a soundtrack of robust glammed-up gothpop. Good stuff in its own right, and a perfect foil for the Sex Gang Children - for, like The Ghost Of Lemora, Andi Sex Gang has always had at least one foot in glam, even if the rest of him has been somewhere quite different.
The Sex Gang Children were one of the very earliest bands of the goth scene, when goth was nothing more than a weird offshoot of punk. Their early music made quite an impact. Songs like 'Mauritia Mayer' and 'Sebastiane' were scratchy, unsettling, fractious things, which bore no resemblance to the portentous, clumping, four-square rock which came to be the soundtrack of late-model goth. Andi Sex Gang himself has had a lengthy and diverse solo career - recording with David Bowie's Ziggy-period guitarist, Mick Ronson, covering Marianne Faithful songs,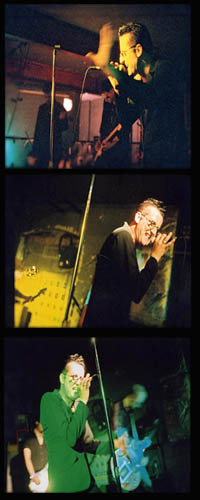 shooting off on all kinds of tangents - but always in pursuit of his own visions, his own art. Becoming a rock star was never really on the agenda. Mind you, I always got the impression that Andi wouldn't say no if fate happened to bring rock stardom within reach...
To find the Sex Gang Children revived and gigging again - with a new album out and all - is a bit of a surprise. On closer inspection, it appears that it's the *name* which has been revived: the motley assortment of black-clad figures who troop on stage tonight essentially comprises the musicians who've been backing Andi on his recent solo stuff. This is not a Bauhaus-style 'original line-up' reunion: it's more of a progression from previous stages of Andi's career. It's as if he's travelled so far from the original, 80s-vintage, Sex Gang Children that he's come upon them again, like a sailor who's been around the world and arrives back at his starting point from another direction. The crowd which gathers hopefully at the front as the band prepare to begin expects to hear some classics of yesteryear - speculation abounds as to which old-skool tunes we'll get tonight. Me, I say nothing. I have a feeling that Andi himself doesn't regard *this* incarnation of the Sex Gang Children as anything remotely old-skool. I'm willing to bet he'll play *new* stuff.
And...he does. The set is drawn entirely from the new Sex Gang Children album, 'Bastard Art' - and therefore it's all unfamiliar material. I can't even give you song titles. I can, however, describe the sound and the show. The band - a collection of stick-thin, cadaverous rock-reprobates, with two guitarists, a bassist, drummer and violinist in their ranks - play a well-drilled, precise yet dramatic brand of rock, which - yes! - sounds distinctly glammy at times. Other times, it sounds uncannily like Cinema Strange, although I quickly catch that thought and turn it round the other way: it's Cinema Strange who sound like the Sex Gang Children (C'mon, admit it, gentlemen: *we* know what you've got in your record collections!)
Andi Sex Gang himself is wearing a black suit and spectacles, and seems both manic and expansive, coming on like a funeral director who's mischievously decided to floor the accelerator next time he's out in the hearse, and is gleefully anticipating the expressions on the faces of the grieving relatives as the deceased shoots off at 90mph. He strides the stage, making grand gestures as if he's trying to sweep the entire audience into his arms - and there's a fan club at the front who wouldn't mind that a bit. A girl just behind me leaps forward and reaches up to kiss Andi, mid-song. He doesn't miss a beat. Some of the material seems almost spoken-word: Andi declaiming bizarre mantras over relentlessly circulating guitar-figures; then he suddenly takes off into a raging storm of freaking glam-anthems. The sound is rich and full, the tempos generally slo-mo and swinging. It's captivating stuff, and Andi is a hypnotic performer. He commands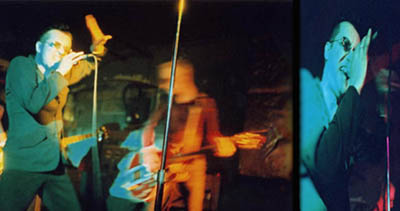 attention: you simply can't look away. Even the old-skool fans at the back, who are still holding out for the hits, seem impressed. This is a man who's honed his stagecraft over years of performing, and it shows. His sheer presence is electric. The crowd is lost in Sex Gang world.
The set is short. Suddenly, without warning, it's over. The band vanish from the stage, and the audience just stands there, nonplussed. Will there be an encore? We wait...and wait. Nobody comes back on stage, although there are random comings and goings in the backstage area. Eventually the DJ makes the decision for everyone, and starts up 'Lagartija Nick' by Bauhaus. I can't help feeling the show wasn't supposed to end that way - but it's over. The crowd wanders off, and the floor fills with whirling dancers. I'm left feeling we've been given a tantalising hint of great things...but the feast is yet to come.
---
see all of the photos from this concert here
Andi Sex Gang's website: http://www.andisexgang.com
The Ghost Of Lemora: http://www.geocities.com/theghostoflemora/
The official Slimelight website: http://www.slimelightlondon.com
An unofficial Slimelight site, put together by long-standing Slime-DJ Steve: http://www.slimelightdj.com
Reviewed by Uncle Nemesis: http://www.nemesis.to
08/05/02