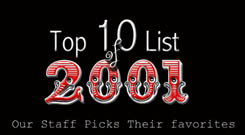 Short Cuts to lists by: Anthony, Blu, Catherinna, Eric, Jezebel, Kevin, Matthew, Michael Johnson, Mike, Psionic, Sonya, Steph, Uncle Nemesis
---
Blu's Top Ten CDs
1. The Empire Hideous - Victim Destroys Assailant (self-release)
My absolute favorite over everything else I've had my greedy hands on this year. It's not a new CD, but one that didn't get NEAR the attention it deserved when it was released in '98. Led by the extremely charismatic Myke Hideous, the band's making a comeback in January and I expect a great buzz to resurface on these guys. Amazingly talented from musicianship to Myke's dramatically powerful vocals; this band melds the best elements of gothic rock and even some metal with roots based heavily in punk/hardcore giving them the ability to span many different genres at once. THIS is what gothic music is about - this is raw, real, sincere, soul wrenching, thought provoking and sometimes even a little scary but always entertaining. The CD hasn't left my CD player rotation since I got it. Heart felt thanks to Myke for putting up with my questions and for being such a gentleman...
http://www.empirehideous.com
http://www.middlepillar.com
2. Sumerland - SIVO (Middle Pillar Presents)
Ah - the long awaited first full length CD from a North West band that had been captivating audiences under its spell at live shows for years was finally made available to the world this year. Picked up by Middle Pillar Presents, Sumerland's debut CD is something quite unlike any novice release. It's smooth, professional, seamless and more over, simply breathtaking. The psychedelic~spirtual tones under ride a world of ethereal music, ambient soundscapes, and dramatic tribal drumming highlighting deep, resonating vocals.
http://www.sumerland.com
http://www.middlepillar.com
3. Funhouse - Oceans of Tears (Neue Asthetik)
Another band like The Empire Hideous that I didn't catch the first time around; this Swedish band was all the rage in Europe in the 90's and are in the studio now finishing up a new CD. This CD - a "best of" from the last five years is their first ever U.S. release and I must say, it was about time fellas! Finally the U.S. can sink its teeth into good gothic rock - driving rhythms, gritty guitars, dark, masculine vocals: this is the stuff goth dreams are made of.
http://www.cherryfields.nu
http://www.aesthetik.com
4. The Deep Eynde - Suicide Drive (self-release)
Having been in existence for over ten years, their eclectic mix of goth, rock, psychobilly, punk and certain cabaret elements defy specific classification. Having been called "Romantically Wicked" and "an eccentric lifeform that holds such an elegance of dementia," lead singer Fate Fatal is worth a book in his own right, his physical appearance morphing nearly from show to show and his intellect something most journalists would love to have an hour or two to pick at... Overall a CD worthy of club play be it a goth club or a psychobilly/punk bar -- guaranteed to up the energy level in any room.
http://www.deepeynde.com/
5. Cinema Strange - Cinema Strange (self-release)
I'm breaking one of my own rules for this top ten list. I told my staff they couldn't pick any CDs they picked for their top ten last year, unless they just really really had to do it. And well, I really really have to do it. (Its not my fault they don't have a new CD out yet!). Cinema Strange continues to rock my world. One of the most original and interesting bands that I encountered last year, they continue to amaze me. I am still addicted to their self-titled CD a year later. They remain, the number one modern deathrock/batcave bands I know.
http://members.theglobe.com/nardugan/index.html
http://www.trisol.de/
6. Clan of Xymox: Notes From The Underground (Metropolis)
Another solid CD from the living gothic legends. Clan of Xymox can do no wrong in my opinion... every song that spins itself out of Ronny's head and into my head phones purrs with perfection and balance. Never repetitive, always growing and testing new sounds, I expect CoX to be around for years to come.
http://www.clanofxymox.com
http://www.metropolis-records.com/
7. The Brickbats - Monster Party (Neue Asthetik)
3 years in the making (or something incredibly torturous like that), The Brickbats finally got the long awaited Monster Party CD wrapped up and out. They've been called everything from Deathrock, goth, pyschobilly to gothabilly -- The Brickbats make fun, danceable music with smart, humorous lyrics usually about monsters and fiendish things. They are very creative and highly imaginative - they are my stress break when the world is too serious and too hectic.
http://artists.mp3s.com/artists/245/the_brickbats.html
http://www.aesthetik.com
8. SPF10000 - demo (self-release)
Representing the very best of LA's goth scene, SPF1000 is almost too pretty to be a band. But don't let that fool you, they play as well as they sport the latest fashion. The only band that's incorporated quite a bit of electronics into their sound that I can stand, their music is gritty and fun and built like old fashioned rock and roll with a touch of glam. Their "Haunted House (Mansion Mix)" was all the rage on Halloween. And this was just a demo - they haven't officially put out a full length yet -- hold onto your pointy buckle boots boys and girls....
http://www.spf1000.net/
9. A Midnite Choir - You Have Been Warned (self-release)
The strangest band I've heard this year - and they're not even goth. ;) Like some twisted combination of Tom Waits, Nick Cave and Danny Elfman lost in a Tim Burton film, lead vocalist Greg Adair narrates, inspires and conjures a nightmarish cartoon world (think Jack from A Nightmare Before Christmas when you see the word "Greg" and you'll be close).
http://www.mp3.com/A_Midnite_Choir
http://www.amidnitechoir.com
10. Sunday Munich - Vinculum (self-release)
A brilliant release from a band that's too different to pigeon hole in one genre. Their mixture of traditional organic goth rock with electronic trip-hop beats was simply amazing to listen to and was done so seamlessly and professionally that you could have sworn it was put out by a big label. I don't usually go for female vocals all that much but this was the one great exception for me this year. Completely captivating and beautifully sad.
http://www.kyan.com/sundaymunich

---
Eric Rasmussen's Top Ten:
1. Devin Townsend - Terria
This is one of the deepest and most emotive albums I've ever heard. It easily ranks at the top of my all time favorites list, and you're doing yourself a disservice not to check it out (or at least read my full review in the December '01 issue).
http://www.mp3.com/devin_townsend
2. Solefald - Pills Against The Ageless Ills
Solefald have continued to impress me with their unique take on metal. This release is more typically "metal" than the past releases (as far as the guitars go), but lyrically and conceptually it's evolved beyond any typical labels. This is a must have album for fans of more creative metal.
http://www.solefald.org
3. Ulver - Perdition City
Garm can't seem to release bad material. Although this isn't the black metal he once did, the darker ambient aspects of the sound may just appeal to metal fans into other types of dark music. Everything here is composed with a feeling of musical honesty making it one of the most unique and emotional releases of the year.
http://www.lostinmoments.cjb.net/
4. Bernd Steidl - Burnt Steel
I don't know if a lot of you listen to classical guitar or not - but if you do, this is one guy to pay attention. Bernd Steidl's playing is so far beyond the word virtuoso that you'd think he was born with a guitar grafted to his hands. The compositions are elegant and emotional; and anyone into music of any sort should find something to love about this release. Definitely worth looking into.
http://www.bernd-steidl.de/
5. Maudlin of the Well - Bath / Leaving Your Body Map
Now here's a unique band. Comparisons are going to be made to groups like Arcturus and Ulver, but that's just because when no true comparisons exist, we lump all the oddball groups into their own category. Maudlin of the Well provides a really unique experience unlike, well, just about anything, and it's all composed and played with exceptional ability.
http://www.maudlinofthewell.com/
6. ...And Oceans - A.M.G.O.D.
This album is one of my favorite "metal" albums from 2001. Although more firmly rooted in metal than anything listed above, it has a very strong artistic element and mixes trance/techno with black metal. It's an interesting mix, to say the least. Unless you're one of those metal fans who think all keyboards are "gay" then you'd do well to give this a listen.
http://www.blackmetal.com/~mega/AO/
7. God Forbid - Determination
This is perhaps the most surprising metal release of the year. Having been referred to as "hardcore metal" or "metalcore" I certainly wasn't prepared for the devestating live show these guys put on. After seeing that, I had to go buy the CD, and I wasn't in the least disappointed. They've managed to package up aggression and dynamic energy onto a CD like I've scarcely seen before. They mix melody with the harshness and talented playing ability - making this a must have metal release.
http://www.godforbid.com/
8. Soilwork - A Predator's Portrait
Soilwork sure have come a lot way since their debut album. A Predator's Portrait shows a great maturation in sound, and it's their most emotional and creative release to date. If you like Swedish melodic death metal, you'll probably like this. But you won't be getting anything generic or typical of the style - Soilwork are definitely their own band.
http://www.soilwork.com (if this isn't online yet, try the official fan site: http://www.soilwork.cjb.net/)
9. Emperor - Prometheus - Discipline of Fire & Demise
I'm sad to see Emperor leaving the scene once and for all, but this is one hell of a parting gift for their fans. This album pretty much defines symphonic black metal, and owning it should be a pre-requisite for claiming to be a black metal fan.
http://www.emperorhorde.com
10. Abigor - Satanized
This has to be the most thoroughly creative hardcore black metal album I've never heard. Abigor haven't let up on the raw production or intensity here, so true black metal fans don't have a lot to fear (except for maybe the ambient keyboard stuff). Yet at the same time, it remains interesting the whole way through and the varied guitar work will keep even the most ardent black metal fan on his toes.
http://www.infernalhorde.com/abigor
11. Hollenthon - With Vilest of Worms to Dwell
It was a mistake that I didn't pick up this album sooner. For those of you who have yet to hear Hollenthon, you're missing out. Their music spans epic action-packed orchestral metal with bombastic choirs and mixes it all with a lighter folk sound (did that have enough buzz words for you? How's this - they're all accurate!). It's the perfect soundtrack for when you're out fighting huge battles against hoards of orcs, and then want to sit by the fire and sing about your exploits. You know, since people do that stuff a lot, these days.
http://www.hollenthon.com/

---
Top Ten from Jezebel:
10. Inkubus Sukkubus – Supernature (Resurrection Records)
It's a formula that works. It's a formula that keeps me interested. And they are the some of the nicest people in the business.
http://www.inkubussukkubus.com/
9.JUDITH - Play of Light (Neue Asthetic Records)
I may not like this new offering from the band as much as Blu, but I think this CD stands out as a new direction for the band and the songs individually are amazing – although perhaps a bit too overwhelming as a package of songs.
http://www.asthetik.com/judith/judithhome.html
8. Faces of Sarah – 24
These guys are making the scene in the UK buzz with their evolved goth rock sound. I think they are fab and are going to kick techno right out of the goth clubs (we can only hope and pray)
http://www.thefacesofsarah.com
7. This Burning Effigy – Descent (Grave News)
Not new, and the band has since broken up, but still one of the best goth rock albums out there. Julianne Regan (of All About Eve fame) joins the boys and gives the music a whole new dimension. Ger Egan may be off to Dublin, but Stephen Carey is hard at work at new projects…look for new stuff from him in 2002.
6. Faith and the Muse - Vera Causa (Tess Records)
Once again they make you move, make you swirl and make you believe in it all. There is no one to compare them to.
http://www.mercyground.com
5. Curve – Gift
What a gift given to us this year by these absolute gorgeous and ever developing artists and musicians. Toni's voice is one that cannot be compared or emulated.
http://www.curve.co.uk/
4. Nick Cave and the Bad Seeds – No More Shall We Part (Mute Records)
The King of Goth (at least in my opinion) still has the magic. A must for every fan and for anyone who wants to learn more about the goth music genre.
http://www.nick-cave.com/
3. All About Eve - Fairy Light Nights No.1
A compilation of some of their live shows since reforming, they are truly lovely.
http://www.julianneregan.net/
2. All About Eve - Fairy Light Nights No. 2
Um…another compilation of the live shows…truly enchanting.
http://www.julianneregan.net/
And the number one for me for the year 2001
1. All About Eve - Live and Electric at the Union Chapel
The absolutely most gorgeous and enchantingalbum of the year. It touches and it moves. Amazingly beautiful.
http://www.julianneregan.net/

---

Here are Kevin's Entirely Subjective Top Ten Picks for 2001
2001: 10 Best From a Year of Blood and Fire
The Chinese curse about interesting times comes to mind when reviewing 2001: so does the line about rough beasts slouching toward Bethlehem. For much of 2001 world events made it difficult to concentrate on silly things like music and entertainment. Still, there were some excellent releases this year, as Gothic and Industrial Music lurched into the 21st century.

10,9 Tie) Lovespirals - Ecstatic (2001, Projekt) and Claire Voyant - Time Again (2001, Metropolis)
As synthpop's rise led inexoribly to its decline, some Gothic-Industrial artists have started looking toward other avenues of inspiration. On these releases, Lovespirals and Claire Voyant provide tasty illbient and triphop-influenced grooves and give us a harbinger of Goth's Next Big Thing.
Official Lovespirals website: http://www.lovespirals.com
Official Claire Voyant website: http://www.clairevoyant.com

8) Emilie Autumn - Chambermaid (2001, Seraph)
Emilie Autumn's musical skill and presence is undeniable: if this extended-play CD single was at times unfocused, it was due mainly to an excess of riches, not laziness or sloppiness. I'd love to see Emilie collaborate with Ryan Lum of Lovespirals: I'd also love to see Emilie try her hand at musical theatre.
Official Emilie Autumn Website: http://www.emilieautumn.com

7) Lamb - What Sound (Mercury Import, 2001)
Lamb's "Angel Gabriel" is everything that Goth music ever aspired to be, complete with some of the best erotic-religious imagery to be found outside of a Catholic church. Lamb may not wear eyeliner or quote Poe, but they're well worth a listen.
Official Lamb Website: http://www.lambstar.net/

6) Unto Ashes - Saturn Return (2001, Projekt Records)
Beautiful and brilliantly crafted Gothic/ethereal music, combining classical and world music flourishes with operatic female vocals. The Crowleyan and Paganic themes call to mind World Serpent; the harmonies and musical skill are pure Projekt.
Official Unto Ashes Website: http://www.untoashes.com/

5) Dreamfield - Take Me With You (2000, Mp3.com)
Dreamy, catchy trip-hop that seeps into your subconscious and won't let go. Mazzy Star meets the Sneaker Pimps.
Dreamfield on MP3 - http://artists.mp3s.com/artists/62/dreamfield.html

4) Acts Magdalena - Hunters and Spinners (to be released in 2002, Zombie Florist Records)
Christian Merry's Drano-and-lace voice has to be experienced to be believed, preferably in a stage setting. If you want to get some idea of the power and beauty of this lady's singing, you can check out some of the tracks from the upcoming "Hunters and Spinners" at http://artists.mp3s.com/artists/280/acts_magdalena.html ... but don't say I didn't warn you. Astonishing stuff.
Official Acts Magdalena Website: http://www.actsmagdalena.com

3) Lovesick - 3 Song Demo (2001, Idiom Records)
Jeran Dahlquist's "Sometimes" has been echoing in my head since the first time I reviewed this CD: this guy can craft a hook like nobody's business. If this demo was any indication, I'm betting Lovesick lands on quite a few Best of 2002 lists.
Official Lovesick Website: http://www.lovesick.net

2) Sabrina - Euphoria (2001, Sabrinamusic)
Many musicians use "commercial" like a dirty word. Sabrina's debut release is commercial in the best sense of the word: easily accessible and
professionally produced. Sabrina is what AOR music could be if AOR had a heart; her songs are timeless, touching and universal. If it weren't for (1), this would be my pick for Best Debut of 2001.
Official Sabrina Website: http://www.sabrinamusic.com

1) Charlottesville - The Shark Who Pulled a Mussel (2001, Streetlight Farm Records)
If Paul Simon had released this CD, critics would be calling it his best work in thirty years. Miles Fender's melancholy acoustic release reminded me at various points of Van Morrison's "Astral Weeks," Frank Sinatra's "Only the Lonely" and old lovers I'd long since lost touch with. A much-needed highlight to Fall 2001, definitely the year's best debut.
Official Charlottesville Website: http://www.streetlightfarm.com
---
Matthew's Depressive Dozen for 2001
In no particular order:
Lacrimas Profundere - Burning: A Wish (Napalm Records)
Brooding, moody, and melodic... Smooth male vocals, catchy melodies, but never loses sight of emotion. True Dark Gothic metal at its finest.
http://www.lacrimas.de
http://www.napalmrecords.com
Evoken - Quietus (Dwell Records)
Essential, funereal DOOM. Thick guitars ringing over dirge-paced rhythms, capped with unholy guttural vocals. A warm production with loads of eerie reverb drenching everything! This is uncompromised emotional desolation...for the whole family!
http://www.evoken.com
http://www.dwellrecords.com
Mira - Space (Projekt)
Mopey, romantic shoegazer - perfect for rainy Sunday afternoons. This CD was addictive. A dense, full organic sound, fantastic drumming, hypnotic guitars, and alluring female vocals. One of the best concerts of the year as well!
http://www.mira.nu
http://www.projekt.com
Maudlin Of The Well - Bath/Leaving Your Body Map (Dark Symphonies)
Thoroughly mind-blowing dark, progressive metal...complex, emotional, epic, mysterious, and vastly intelligent - there is simply no band in the metal scene that can hold a candle to these guys.
http://www.maudlinofthewell.com
http://www.darksymphonies.com
Sopor Aeternus - Songs From The Inverted Womb (Apocalyptic Vision)
Perhaps one of the most purely Gothic musical outfits in existence...this album is 70+ minutes of dreariness, melancholy, terror, mischeif, and Romantic decay. Organic, Neo-classical backdrops and goblin, banshee-like vocals. Sopor Aeternus are unparalleled.
http://www.soporaeternus.de
Unto Ashes - Saturn Return (Projekt)
Pagan, medieval Apocalyptic Folk. A variety of dark moods and styles. Some of the most haunting and fantastic melodies of the year appear on this disc. And covers of Coil and Current 93! What more could you want?
http://www.untoashes.com
http://www.projekt.com
November's Doom - Amid Its Hallowed Mirth (Dark Symphonies)
Though originally released in 1995, the album was re-released this year, so it still counts. This is one of the absolute BEST albums I own. Its dark, heavy, cold, depressive...everything a Death/Doom release should be. A tasteful and cautious use of operatic female vocals, monstrous male vocals, and awesome guitar riffs. A genuinely suffocating and perverse Romanticism colours the entire album.
http://www.novembersdoom.com
http://www.darksymphonies.com
My Dying Bride - The Dreadful Hours (Peaceville)
No yearly top ten list of mine would be complete without My Dying Bride. While their contemporaries continue to stray and change into bands that can barely be recognized as metal, My Dying Bride remain loyal to their fans and continually churn out some of the heaviest, most depressive, atmospheric metal around. A band I can always count on.
http://www.mydyingbride.org
http://www.peaceville.com
Neurosis - A Sun That Never Sets (Relapse)
Oppressive and extremely dark, Neurosis blend elements characterizing all the genres I love: Doom, Classical, and vintage Industrial. Though this CD is probably the band's mellowest and least aggressive, it still crushes and flattens most competition. A raw, yet passionate release.
http://www.neurosis.com
http://www.relapse.com
Moonspell - Darkness & Hope (Century Media)
A bit different than I had expected, but I still loved this album. The more I listened to it, the more I began to enjoy it. Perhaps this decades closest torch bearer for the Fields Of The Nephilim and Gothic Rock in general?
http://www.moonspell.com
http://www.centurymedia.com
Eisheilig - Eisheilig (Napalm)
German Gothic Metal with flashes of darkwave, a fantastic release. Sort of like a hybrid of Type O Negative and Das Ich. I could not spin the track "Vater Unser" enough when I DJed. And The Doors cover is splendid!
http://www.eisheilig.de
http://www.napalmrecords.com
Current 93 - I Have A Special Plan For This World (Durtro)
Even though this didn't come out in 2001, I finally was able to buy it this year. It must be mentioned as it defined my summer in many ways. It is easily the most frightening and unsettling album David Tibet has ever done and I HAD to mention it.
http://www.brainwashed.com/c93
http://www.durtro.com
And if you like 'Gothic' music, you must take...
The Archive Dive:
And Also The Trees - The Millpond Years (And everything else)
My further discovery and love affair with this UK band continued into this year. They are without question my all time favourite Gothic Rock band.
http://www.andalsothetrees.co.uk
Xmal Deutschland - Fetisch / Tocsin (4AD)
Awesome old school death rock! Sort of like an angrier German Siouxsie. Eerie guitar discord, those bass lines we all love, and angsty female vocals.
http://www.xmal.com/main.htm
http://www.4AD.com
Echo & The Bunnymen - Heaven Up Here (Sire)
I discovered the importance of this band about 8 years later than I should have. Their early discography is absolutely essential. "Heaven Up Here" was released in 1981 and is the band's gloomiest and most angst-ridden release.
http://www.bunnymen.com
The Birthday Party - Hits (4AD)
RELEASE THE BATS! I have always liked Nick Cave & The Bad Seeds, but this is so much more colourful, bitchy, dark, and violent. "Mr Clarinet" rules, and "Junkyard" is one of the greatest death rock tantrums ever caught on record.
http://www.4AD.com
http://www.evo.org/html/group/birthdayparty.html
Red Lorry Yellow Lorry - The Very Best Of...(Cherry Red)
Over 20 tracks spanning the career of this formidable Goth rock act. A vastly underrated band. For every Sisters song played in a club, there should be three Lorries tracks played instead. Outstanding stuff...
http://www.multimania.com/goth/lorry.htm
---

Mike V's Top Ten List 2001
Compiling 10 Cd's that merit a top ten mention for the Starvox end of the year issue has frequently been daunting. From the start of any given year, CD's are demarcated for this, only to be replaced along the way when something else is released. All items are actual music purchases and not demo submissions, for those interested in the goth consumer bent. All of these items are available from Middle Pillar ( www.middlepillar.com)

If it were up to me, this would be a top 50 list, but since it isn't, here are the choices that would have worn out a turntable needle had we not invented the CD player. I attempted to at least cover something from goth, darkwave and synthpop/EBM simply because the work is still very much underground and highly worth the purchase price and support of the fans and consumers.

1: The Empire Hideous: Victim Destroys Assailant ( www.empirehideous.com)
Certainly not new, but pretty much new to me as a purchase this year. The Empire Hideous provide the type of goth rock roots that made this scene great to begin with. Now with their come-back tour, one can only hope that they garner even more fans for a follow up album. THIS is what the scene was about. Lyrically, the album is almost chillingly prophetic about the sign of the times we are living in, especially in light of the 9/11 World Trade Center tragedy.

2: Various Artists - Sex, Death & Eyeliner: The Soundtrack ( www.darkfuturemusic.com)
Some DJ's pissed and moaned about the spoken anecdotes between some of the songs, making it difficult for club play. However, this CD helped to propel a number of sales for the artists that are included on it, demonstrating that it IS resonating with the stay at home goths on a large scale. In essence, it offers a taste of some of the most desirable and brilliant dark music in the scene. At a time when money is tight for everyone, this CD whets the appetite to further explore the work of the featured artists. The film of the same name is also quite a bargain and rather well done even if it pushes the envelope pretty far over the edge. No matter how you look at it, this CD and film will remain as a part of goth history.

3: Midnight Syndicate:Gates of Delirium (www.midnightsyndicate.com)
While some artists are seeking ways of making their music more club and mainstream oriented, Midnight Syndicate continues to create soundtracks to our own nightmares. The music continues to have haunted atmospherics that are particularly great when you want something dark but not necessarily ethereal. For those with a taste with high spook factor, you just can't go wrong with this group!

4: Mors Syphilitica: Feather and Fate (www.morssyphilitica.com)
There is a reason that this duo remains a NY phenomenon. They pour their heart and soul into each recording, and marry operatic vocals to some of the most intriguing compositions. Special mention is also given because just when we thought we heard every range that Lisa Hammer could achieve, she shatters the image and goes even further. Eric Hammer is commended for being able to constantly come up with fresh and new sounds while still providing that distinctive Mors Syphilitica guitar sound and trademark. (Also available from Projekt Records www.projekt.com)

5: The Azoic: Forward (www.nilaihah.com)
When darkwave was in its infancy, this band was at the forefront, creating some of the most chilling songs with sampled sound effects and dialogue. The songs were some of the most nightmarish style music which wasn't quite goth, definitely not mainstream, and seemed to define a parameter for darkwave at its best. Since their inception, they have indeed moved forward, towards a more EBM style but maintaining elements of the dark sound which are woven through the fabric of the songs. Old fans will not feel abandoned simply because they maintain their dark roots in full view while offering club friendly songs for those who just want to dance in the dark.

6: Clan of Xymox: Notes From The Underground (www.clanofxymox.com)
Back in the 80's, my late friend Phil introduced me to the music of this band when Twist of Shadows was first released. Needless to say, I have been hooked on their work ever since, including their side projects and name changes. Thankfully, I don't have to choose a favorite album of theirs, because it would not be an easy choice. Phil passed away in the early 90's, but this music will manage to keep him alive in my memory as a wonderful soundtrack to those times.

7: Faith & The Muse: Vera Causa (www.mercyground.com)
When I first bought this, I figured it was going to be something like a greatest hits type of retrospective. It is that and much more. Anything put out by this band, Mephisto Walz or Clan of Xymox is immediately purchased without even hearing a track off of it simply because the integrity and quality of music is always evident. This 2 CD set includes compilation appearances, covers, acoustic versions and rarities on The Morning Cd, while The Night CD offers Live versions and some remixes. In addition to the great music, we also get a booklet insert which details their history thus far. Depending on one's age and duration in the goth underground, one or the other disc will appeal to a wide group of fans. We are enchanted with more somber versions of some tracks while some of the familiar standards are revamped to entice a club going crowd.

8: Various Artists - Beauty In Darkness Vol. 5 (www.nuclearblastusa.com) (www.nuclearblast.de)
I have this thing for compilations and can never seem to get enough. This CD from Nuclear Blast demonstrates the company's ongoing penchant to be a musical entity to reckon with. Artists included are The 69 Eyes, Dimmu Borgir, Lucifire, Therion, L'ame Immortelle, Project Pitchfork, Theatre of Tragedy, Amorphis, Nevermore, Lacuna Coil, Entwine, Crematory, To/Die/For, Love Like Blood, Silke Bischoff, Mandragora Scream, Tapping The Vein, and Within Temptation. Buy it because a few names are familiar to you and I can almost guarantee that you will find a host of other new artists that you will become a fan of in short time!

9: Escape With Romeo: Come Here White Light (www.ewscape-with-romeo.de)
My friend Kim kept insisting I listen to this band and she managed to sit me down long enough in my hectic schedule to get the headphones on my ears. As another band who has been around for quite a long time, the accolades heaped upon this Cd are worth every ounce of it. It is dark pop but with enough darkness that it won't offend a goth audience, and just enough of a synthpop element to cross over into mainstream if necessary. The songs, vocals, choruses, and overall atmosphere are addictive unlike much of what is being churned out these days. They rank up there with the phenomenal band Behind The Scenes. Many folks at the job have asked about this particular Cd because they heard it while I was playing it and just had to have a copy.

10: And One: Virgin Superstar (www.andone.com)
After being around for about 10 years or so, this underground band was signed with Virgin Records. There is a high level of pop elements to this CD, however they do maintain a sense of dark humor in their lyrics. This is the type of CD for those who like their music with a bit more synthpop. My favorite tracks are the anthemic "Wasted" and the tour de force EBM/Industrial track "Panzer Mensch". The latter song recently had the floor erupting into sheer madness when Ian Fford played it one night at Albion Batcave.
---

Psionic's Top Ten of 2001
~My top 10 was easier this year than last year. Here's my 2 cents worth:

1. Lustmord - Metavoid
-What more can be said of Lustmord? 'Metavoid' is a stunning release. Get it. Get it for your friends. For your family. Get as many as you can, c'mon folks.. Lets make Brian Lustmord a rockstar.
http://www.lustmord.com
http://www.nextera.cz

2. Ohgr - Welt
-The sleeper of 2001. We all know and love Ogre from his work with Skinny Puppy, but who knew his solo material would be such a stunning mix of industrial grooves with pop sensibilities?
http://ohgr.net
http://www.spitfirerecords.com

3. Converter/Asche/Morgenstern - Erode
-A recent addition to my Top-10 list, and a suave playa in the powernoise/dark ambient field. I still recomend this as -the- answer to the naysayers of the rythmic noise genre.
http://ant-zen.com

4. Vidna Obmana - Tremor
-A georgeous journey into Vidna Obmana's interpretation of Dante's Inferno. Calm, and introspective.
http://www.vidnaobmana.org/
http://www.releaseentertainment.com

5. Chris Vrenna - American McGee's Alice, soundtrack
-The game was a spinemelter of dark surrealism, the soundtrack a glorious complement to the images spewed forth by American McGee. Like the game? Then this is a must-have. Never seen the game? Doesn't matter, it's still a great cd.
http://www.tweaker.net/
http://www.sixdegreesrecords.com/

6. Monstrare - Isfet
-Cordell Klier's menacing statement of malcontent. Dark, malevolent, and spooky.
http://www.dragonflightrec.org

7. various artists - Funeral Songs
-From Crowd Control Activities, we have this salad-of-funerary-dark-ambient. Nary a poor track to be found, which is no small task for a compilation. Please, CCA, might we have s'more?
http://www.releaseentertainment.com

8. Faith And The Muse - Vera Causa
-What the...? This album is amazing!! Goth-schmoth, the songwriting and delivery is top-notch. Like Ohgr, Vera Causa was a -very- welcome surprise.
http://www.mercyground.com/
http://www.metropolis-records.com/

9. Cevin Key - The Ghost Of Each Room
If only for the track 'Frozen Sky' (which shows that post-'Puppy writings are every bit as good as 'Puppy) this album makes my top 10. But the dearth of experimentalism to be found on 'Ghost..' is more than the sum of it's parts, and just goes to show that there is no fear of Cevin and friends' talent/idea pool drying up anytime soon.
http://www.subconsciousstudios.com/
http://www.metropolis-records.com/

10. Front Line Assembly - Epitaph
-Is this really the Epitaph of FLA? Well, if all we have to look forward to is more of the latest Delerium material, then I certainly hope not. Slick, smooth, and dripping with lotion. Everything we expect from FrontLine.
http://www.mindphaser.com/
http://www.metropolis-records.com/
---

Sonya Brown's Top Ten List for 2001
I decided to let my top ten list for 2001 run from one extreme to another - to coincide with my many changing moods. This list contains silly cemetery goth rock, sexy growling "sensual noise", ethereal, industrial, goth metal, goth punk... and so on...

Many of the compilations put out this year were particularly outstanding - so I really had a hard time choosing! So... anyway, this is what I am listening to as we delve into a brand new year -
In No Particular Order!

SUMERLAND - SIVO (Middle Pillar)
Of course this would be at the top of my top ten list! Portland, Oregon's own Sumerland takes us upon an extraordinarily beautiful journey through lush soundscapes and sexy sexy vocals.
www.sumerland.com
www.middlepillar.com

Various Artists - ONLY SORROW (Compilation)
Not only does this compilation contain some of my favorite artists (Tri State Killing Spree, Second Skin, Thou Shalt Not, Faith & Disease, Deathwatch Beetle Repairman, The Cruxshadows, Coven XIII, The Azoic...) but it is for a great cause. Only Sorrow is dedicated to the memory of Ellen Claire Lawrence whose life was tragically cut short. All proceeds from the sale of this CD go to the Ellen Claire Lawrence Memorial Scholarship. I HIGHLY recommend this cd!
http://www.onlysorrow.org
Contact: e.c.l.memorial.scholarship@home.com
ennui@onlysorrow.org
Scholarship info: www.onlysorrow.org/scholar2.html

SHADOW REICHENSTEIN - Self Titled (Self Released)
I picked this one because it made me laugh. Campy Goth-Rock-a-Billy meets Beach Blanket Bingo. Rev up the Munster Mobile and apply your black eyeliner in the rear view mirror - we're off to do some CEMETERY SURFIN'!
www.shadowreichenstein.com

MOONSPELL - Darkness & Hope (Century Media)
This one surprised me, but I think the cover of Ozzy Osbourne's "Mister Crowley" was the deciding factor for this year's Top Ten!
www.moonspell.com
www.centurymedia.com

TORSION - Hardware Sex and Misunderstanding (Mythdemeanor Music)
A well oiled machine, running tight and smooth... humans and hardware working together to create that "sensual noise", the term that describes the sound of Torsion so well. Kathryn's vocals are slithery and sexy as she pours out songs of love, lust, obsession and betrayal.
www.torsion.net
mythdmnr@aol.com

LIBITINA - Weltanschauung (self released)
Weltanschauung contains a little bit of something for everyone. Heavy on synths with a taste of industrial, dance, and a portion of goth rock/punk.
www.libitina.demon.co.uk/

ETERNIA - From Dungeon's Luxury of Doubt (Th Nature of Gothic)
VERY Gothic. The way Goth intended it.
www.eternia.net/eternia
www.gothicnature.co.uk

SONGS OF TERROR: A TRIBUTE TO EDGAR ALLAN POE (Wreckage Productions)
Wreckage (released through Cleopatra) brings together such artists as Kommunity FK, Faith and The Muse, Jennifer Hope, Cinema Strange, and Trance to The Sun (among many others) to interpret the works of Edgar Allan Poe. I particularly enjoyed Cinema Strange, Jennifer Hope and Faith & The Muse - but the entire compilation is full of great surprises and very talented artists.
www.wreckageproductions.com

DISSONANCE - Reincarnate (Nilaihah Records)
I never realized just how goth "Eleanor Rigby" REALLY was until I heard this Dissonance version!
www.dissonance.mu
www.mp3.com/dissonance
www.newdream.net/dissonance
www.nilaihah.com

THE LAST DANCE - Perfect (Mystine Records)
I received this cd just days before compiling this top ten list - and I decided what better way to round off my list than with The Last Dance. I saw The Last Dance for the first time in New Orleans at GothCon 2001, one of the high points of the year. "Perfect" takes me there all over again.
http://thelastdance.com
www.apollynon.de

---

Anthony's Top Ten List For 2001
1. Wumpscut - Wreath of Barbs
Rudy comes through once again with one of the finest industrial releases of the year. "Christfuck' is a standout!
www.insania.com/wumpscut Label: Metropolis

2. De/Vision - Two
You like Wolfsheim? Depeche Mode? This German band has it all. They made my list last year. Highly recommended.
www.devision.de Label: Virgin Schallplatten GmbH

3. Project Pitchfork - Daimonion
PP just continues to get better with each new release. I've played this industrial,darkwave,ebm potpourri all year.
www.pitchfork.de

4. Inure - Seemless
You'll be seeing a review on these guys in the coming new year. They aren't widely known yet, but they should be. They're that good.
www.inure.net

5. Godhead - 2000 Years of Human Error
Their cover of The Beattle's "Eleanor Rigby" is exquisitely creepy. I love this album.
www.godhead.com Label: Posthuman Records

6. Silke Bischoff - Phoenix From The Flames
A new discovery for me, I'm buying all I can get my hands on. Great voice, great music-dark ebm
www.silkebischoff.com

7. Wave In Head - A Time To Speak
Similar to De/Vision, and Wolfsheim synthpop, darkpop-in a word, excellent.
Label: A Different Drum Web Site: www.waveinhead.de/

8. Azoic -Forward
An infectious, dark electronic dance album featuring the always delectable vocal stylings on Ms.krity Venrick.
www.nilaihah.com

9. Fleshfield - Belief Control
Breaking new ground in industrial, presenting things in a fresh way. Dovetails nicely where "Viral Extinction" left off.
http://www.inception-records.com/fleshfield/

10. Leiahdorus - Wake
Beautiful, bittersweet, retro darkpop-wave stylings
http://artists.mp3s.com/artists/147/leiahdorus.html
---

Steph's Top Ten List:
In no particular order cause I'm just not that organized.I blame it on being a free-thinking Aquarian type.

Damned - Grave Disorder (www.officialdamned.com)
All hail The Damned! Full of energy, fun and panache, this CD rocks hard. Dave Vanian's voice is gloriously rich and full, and he still makes me weak in the knees.

DUST - From the Sublime to the Obscene (www.wasp-factory.com)
D.U.S.T. are not pure goth, but who is really? Goth was always a hybrid of punk aggression and new romantic aesthetics, and D.U.S.T. ride that middle ground with grace,style and a joyous overflow of energy.

Michael Gira - Solo Acoustic CD (www.younggodrecords.com)
I picked this up just a couple of weeks ago at Angels of Light's awe-inspiring show. A stark, difficult and disquieting CD -just M.Gira with a single microphone and guitar, creating what is sure to be my sleeper pick of the next few months.

The Damage Manual - The Damage Manual (www.invisiblerecords.com/damagemanual)
This came out in late 2000, but who cares? This is one of the few intelligent industrial acts left on the planet.

Eternia - From Dungeon's Luxury of Doubt
(www.gothicnature.co.uk/www.wternia.net/eternia)
Deep, rich, emotive and goth in the truest sense of the word. A beautiful album from David Quinn, a very promising and committed new artist.

Ghoultown - Tales from the Dead West ( http://www.ghoultown.com/ )
Gothabilly! Woo hoo! A delicious wild west twang mingled with fierce imagery and dancing guitar chords.Music to slam tequila shots to.

The Gun Club - Fire of Love
One from the vaults. I just discovered them this year, and with much delight, I might add. A sleazy, bluesy rockabilly vein runs through this whole album. The Cramps, Ghoultown and The Jesus and Mary Chain owe The Gun Club a huge debt.

Siglo XX - Flowers for the Rebels
A moody Belgian goth band that makes gloomy sound so damn good. Required rainy day listening.

Kinda Honourable Mentions (aka They'd be on my list if I'd heard them yet and I'm sure I'll love them once I do)
Nick Cave - No More Shall We Part
Leonard Cohen - Ten New Songs

---
Uncle Nemesis' Top Ten:
1. Dream Disciples: Asphyxia (Resurrection)
The best thing the Dream Disciples have ever done, and this from a band who have many fine moments in their back catalogue. A sleek chrome-plated
guided missile of an album. Guitars like razorblades, relentless stomping machine-beats, and *that* voice riding the thermals over the top. This isn't just 'a good goth album' - to apply such a qualification to 'Asphyxia' simply doesn't do it justice. This is one of the best rock albums of 2001, full stop. In a decently ordered society it would be topping charts everywhere. Never has the goth-straitjacket seemed so restrictive...
http://www.dreamdisciples.net
http://www.resurrectionmusic.com
2. Mull Historical Society: Loss (Rough Trade)
Just when we all thought the indie scene had drizzled down to failure, killed by umpteen Oasis-wannabes, along come a bunch of mavericks from a remote Scottish island to kick it into life again. A vocal that manages to be both intense and offhand at once, sandpaper guitars, and insanely catchy, uplifting choruses which I was beginning to believe nobody did any more. The lyrics are often obscure, in the way that Frank Black's lyrics have that 'on my own planet' feel. If you can find an mp3 of the song 'Animal Cannabus' (nope, I don't know what it means, either) you'll have the essential qualities of the band neatly encapsulated. An unexpected treat.
http://www.mullhistoricalsociety.com
http://www.roughtrade.com
3. Manorexia: Volvox Turbo (Ectopic Entertainments)
The latest, and somewhat surprising, incarnation for Jim Thirlwell, aka Foetus. An instrumental album that takes in everything from atmospheric sci-fi ambience to manic 60s go-go bar music. The soundtrack to a parallel universe James Bond film. Curious, because if you'd described the album to me in cold blood I'd probably assume I wouldn't like it. But once I heard it, I found myself pulled in to Jim's strange, strange world. Oh, and the Foetus live show in London in 2001 was a mad and marvellous night.
http://www.foetus.org
4. Felix Da House Cat: Kittenz and Thee Glitz (City Rockers)
The history goes something like this. Early European electronic stuff - everything from Kraftwerk to the Human League - found its way to the USA where it was seized upon by club DJs in Detroit and Chicago. They mashed it up with their own soul/funk influences and created House, Techno, and everything in between. This album is a tribute to that old-skool Euro-electro from Chicago house DJ/producer Felix - but if you're shrugging your leather-jacketed shoulders by now, and muttering 'Huh! Dance shit!', stop right there. This is the best slice of left-field electronica I've heard for ages. Sparse, mid-tempo, spacey, and definitely further 'out there' than many supposedly alternative electronic acts of today. Bass-pulses churn deep in the bowels of the music, glorious squelchy analogue sounds bubble and skitter. And then, of course, there's the wonderfully deapan Swiss-accented vocal of Miss Kittin. Her voice, cold as Alpine snow, stalks the album like a refrigerated Grace Jones. Sure, you can play 'spot the influence' (I swear I can hear everyone from Pet Shop Boys to The Normal in this music), but that's half the point and half the fun. Excellent album. Cool as ice cream, but tough enough to bite on.
It's hard to find Felix Da House Cat stuff on the web, but try this on-line press kit: http://www.girlieaction.com/felix/felix-bio.html
Grab the wonderful 'Silver Screen (Shower Scene)' on mp3 here: http://www.mp3mtv.com/dl/81268/
5. Swarf: Fall EP (Wasp Factory)
Swarf come from Brighton, they're a three-piece, this is their debut release, and they're probably the best new band in the UK. Now there's a sweeping statement! Let's see if I can back it up. Swarf create supercool electronica. Head and shoulders above the workaday doof-doof EBM crowd. The music has a sense of space and restraint - they don't make the common mistake of cluttering every last nano-second with tricksy beats and fills. As Jah Wobble said, it's not what you put in, it's what you leave out. Nor do they make the equally gormless mistake of tying everything down to that tedious 130 bpm EBM beat that too many electronic acts use. In short, Swarf understand *rhythm*. Their songs - and they *are* songs, not the will-this-do beat-workouts bashed out by so many other bands in this genre - ebb and flow, build up and break down, in a way that gets me right there. And, of course, Liz's haunting vocal is a real treat after enduring the gutteral monotone chants of far too many male 'singers'. Imagine an electro Suzanne Vega and you'll be.....oh, about a quarter of the way there. For a new band to be so good straight out of the box, as it were, is unusual and encouraging. I expect great things of Swarf.
http://www.swarf.org.uk
http://www.wasp-factory.com
6. Shriekback: Aberrations 81-84 (Mauve)
A new compilation of out-takes by the post-punk supergroup most famous for that splendid anthem-o-doom, 'Nemesis'. Some of the music here is self-conciously cerebral; some of it's just plain weird. But along the way there are unreleased songs easily as good as most bands' high profile crowd-pleasers, plus a live version of 'White Out' that knocks you over with kick-to-the-head bass, and a gorgeous high anxiety take on 'Feelers'. These are worth the price of admission by themselves. Probably not the best introduction for anyone unfamiliar with Shriekback's music (I'd recommend the 'Oil and Gold' album as a suitable entry point) but for a Shriek-obsessive like me, a veritable casket of gems. The Shriekback story continues: the band has a new album due for release...sometime. They just need to raise the money. Which, as ever, is the *big* problem...
http://www.shriekback.com
7. Passion Play:Dreaming Spikes (Perimeter)
Gothic Rock is not dead. It's just been experiencing a few quality control problems recently. We have all suffered far too many bands who can't get further than reheated versions of the tired old Sisters/Mish/Neph sound. It's therefore a pleasure to discover Passion Play, an outfit who are unashamedly goth, most definitely rock - and unquestionably *good*. Solid, driving, music with its own identity, and all based around good songs. Which might sound like a no-brainer, but we all know bands who've got the *sound*, but can't write a song for toffee. Passion Play have the
songwriting thing down to a fine art, and that gives them the essential advantage. Perhaps the production on this album could do with a tweak - the vocals really should be further forward in the mix - but the guitars ring out good and loud and it all thunders along like a truck on the freeway. Encouragingly, Passion Play seem to be notching up a fair bit of success in Germany. Which is good....because that's where the money is!
http://www.passionplay.co.uk
8. Leisure Hive: Spasm (Self-release)
Buncha weirdos. This, of course, is a *good* thing. I have no idea how Leisure Hive view their own music, but to me they connect to that post-punk era where the musical limitations of punk (much of which, after all, was fairly straightforward rock) were thrown out of the window, and the essential rule - that there *are* no rules - was applied to *music*. And we got Pil, Magazine, Wire, uneasy, angular bands with heads full of ideas and no time at all for the dog-eared rock 'n' roll rule book. Leisure Hive tap straight in to this attitude. They're all strange shapes and musical non-sequiturs. This album is not easy listening; Leisure Hive have no truck with the normal geography of rock. But stick with it and the band's peculiar genius becomes clear. Like so many current bands, they're really only in the goth scene by default - because in today's climate, where else can a 'weird' band go to find an appreciative audience? But I for one am glad we've got 'em. Any band that plays effects-pedal solos and comes up with song titles like 'The Envelope Itself' is fine by me.
http://www.geocities.com/leisurehive
9. Seventh Harmonic: The Ascent
For many years, conventional wisdom had it that ethereal bands just couldn't cut it in the UK. We were all far too punk rock for any of that stuff. But things are different now, and I think that's due to a large extent to the efforts of this all-female outfit, who threw conventional wisdom to the four winds and just got out there and *did* it...and discovered, slightly to everyone's surprise, that there *is* a UK audience for lush, swooping, ethereal-isms. It hasn't been an easy ride - the band have suffered more than their fair share of personnel upheavals, and in fact the line-up that made this album has now changed. But even so, as a document of the activities of one of our most intriguing bands in 2001, this is worth grabbing. The music is multi-layered, virtual-orchestral, but always packs a punch. I think the best is yet to come from Seventh Harmonic (2002 should see the first release from the current line-up) but this makes a tasty hors d'oeuvre.
http://freespace.virgin.net/seventh.harmonic
10. The Damned: Grave Disorder (Nitro)
The other day I realised, with a certain sense of shock, that I went to my first Damned gig over 20 years ago. If you'd told me then that I'd be enthusing about a new Damned album in 2002 I would've probably laughed in your face, rude little punk rocker that I was. And yet, here I am, enthusing about the new Damned album. A rumbustious romp in true Damned style, easily good enough to stand alongside such classics as 'Strawberries' and 'The Black Album'. Shot through with glorious psychedelia (as with all the best Damned music), and peppered with little musical jokes - the Beach Boys harmonies on 'song.com' (surfing, geddit?), the snippet of John Lennon's 'Imagine' that crops up at the end of 'Would You Be So Hot (If You Weren't Dead?)'. This is a splendid return to form by a band who've had more comebacks than a bad curry. Nice one, you bunch of dodgy old buggers. Welcome back!
http://www.officialdamned.com
http://www.nitrorecords.com

---

Catherinna's Top 10 for 2001
The following 10 titles are music I found noteworthy for the year 2001. I have put these in the order of like the most down. This is the second year I have had to put together a list of my top favorite artists of the year and both times it has been extremely difficult. So much music worth mention of one type or another, it's hard to wrap that up into a mere 10 artists.

1. Diorama - Her Liquid Arms
This album pleased me the most this year. I discovered the band while reviewing the Accession Records Volume I CD earlier this year. At the time we only had Pale (their first release) in stock at the music store I work at. I really enjoyed Pale, but knew Her Liquid Arms would surpass it in quality and progression after hearing a newer release. Diorama is a dreamy Dark wave group with a small hint of EBM underlying in some of the tracks. This release was produced by Adrian Hates of Diary of Dreams and similar in quality and fluidity. A MUST HAVE!!!
www.accession-records.de/label/index.html

2. Assemblage 23 - Failure
Tom Shear is a genius! I can't really say a whole lot more than that! Buy this CD *NOW* and listen to it repeatedly! Failure is the best EBM album I have encountered! Really, it's amazing! Tom is a madman! This release showed an extremely positive progression from his first release Contempt (which I loved). Expect to hear deep lyrics, mesmerizing male vocals and a bouncy, yet striking EBM style of music only ala A23 (if that makes any sense).
www.assemblage23.com
www.accession-records.de/label/index.html

3. The Cruxshadow's - ECHOES AND ARTIFACTS
The Cruxshadow's were undoubtedly the best live performance I attended all year! This statement says a lot as I saw many fabulous bands last year while visiting Germany. This album was only available on their tour and if you were lucky enough to acquire it feel blessed!! This release has remixed and regular versions of their songs, which appear on their first two albums. Monsters, Here Comes the Rain Again (Eurythmics cover), and of course the classic Marilyn My Bitterness but with a new twist are just a few of the notable tracks on this album. I would be holding back if I didn't tell you that all of the songs and remixes on this album are fabulous and worth mention!! If you aren't familiar with the Cruxshadow's, think, great energy, upbeat, darkwave, with beautiful lyrics/vocals and the most captivating electric violin you will ever hear!
www.cruxshadows.com
www.ferret.com/discs

4. Clan Of Xymox - Notes from the Underground
As if you even have to question why this made it to my top 10 list!! CoX continues to be one of my all time favorite bands. I am always impressed with the sheer brilliance, excellence and progression of their music and have never been disappointed with any of their work. Expect to hear dark, dreamy, dancey, haunting melodies as you get lost and melt away into soul swirling moments while listening to this album.
http://www.clanofxymox.com
http://www.metropolis-records.com/

5. Deine Lakaien - Generators
Deine Lakaien without fail, amaze yet again with their latest release. Although it's not a full-length album, I feel it deems attention. If this release is any indication of what we have in store for us with the full release, it will be a mandatory addition to your collection. There are four tracks on this MCD in its entirety. The most notable is Generators (club mix). Please take a listen for yourself!
www.chrom.de/0_pages/bands/deine-lakaien/lak_home_e.html

6. Cinema Strange - Self Titled
Although I know this album wasn't released this year, it is new to me and definitely worth lots of uber yummy gothy mention J Until last month (when I first listened to this release), if I were asked about any good new death rock/gothic artist over the last 5 years, my response would have been rather limited and somewhat disappointing with the exception of a few (at least in my opinion). I was pleasantly surprised with Cinema Strange as they are able to pull off a classic style death rock/gothic yet still remain unique as if it was being done for the first time. I believe we can be expecting a new album this year, be sure you don't miss it!
www.cinemastrange.com

7. Project Pitchfork - Daimonion
This album was long over due, and well, I suppose well worth waiting for too. At first, I was a bit disappointed with the single "Existence" as I feared they may have been moving into a bit harder style of music, almost on the verge of a guitar metal type sound. The album on the other hand proved that theory wrong. Project Pitchfork worked "Existence" nicely into the layout of Daimonion and once again produced a phenomenal album. Be sure to check out 'We Are One' and 'Time Killer', two of the *many* ear pleasing tracks on this album. PP seems to age like a fine wine in their musical growth and progression.
www.pitchfork.de/

8. T.O.Y. - Space Radio
This album is just plain pretty! As Evil's Toy put it, "We just aren't evil anymore", being the reason they changed their name (or at least that's what I heard ;). And well, that's about the turn around in style of music and progression of this band with their latest release. If you enjoy Synthpop, be sure to check out T.O.Y..
www.evils-toy.de

9. The Azoic - Forward
I first heard a song from this album when reviewing an Accession Records compilation. I was quite intrigued as the style of the song I heard, was quite different from the tracks I had heard in the past. Forward is EBM in style topped with beautiful female vocals. I think the vocals are what make this album so appealing. It's a fresh addition to the EBM music scene. I heart the entire album!!
http://www.nilaihah.com/azoic.htm

10. Helium Vola - Omnis Mundi Creatura
I mention the single hear, only because I haven't had a chance to listen the full length in its entirety as of yet. Helium Vola is Ernst Horn of Deine Lakaien and Q'ntal. This track's sound is more along the same vein as Q'ntal but a little more crunchy with rhythmic, defined down beats and amazing operatic medieval vocals!!
www.chrom.de/0_pages/frame/main_frame_e.html
www.chrom.de/

---

Michael Johnson's TOP TEN 2001
These albums are listed in no particular order.

Maudlin of the Well - Bath/Leaving Your Body Map (Dark Symphonies)
Absolutely incredible musicianship and astounding lyrics quite possibly make these the most important albums of the year. A breathtaking journey
through a spectrum of styles that should not be overlooked or underestimated.
www.maudlinofthewell.com
www.darksymphonies.com

Diabolical Masquerade - Death's Design (Avantgarde)
Master of horror themes Blackheim (Katatonia, Bewitched) was asked to create a soundtrack for a motion picture and the result is nothing short of spectacular. A fast moving epic complete with a live string section and Dan Swano (Edge of Sanity, Pan-Thy-Monium, Bloodbath, etc…) providing clean vocals and drums. As addictive as it is adventurous.
www.katatonia.com/masquerade
www.avantgardemusic.com

Opeth - Blackwater Park (Koch)
It's almost a given that Opeth will get into the top ten somehow. They always manage to equal or better all previous efforts and although I stand by Still Life as their best, this is a masterpiece of technical musicianship. I would highly recommend any of their albums.
www.opeth.com
www.kochrecords.com

Dimmu Borgir - Puritanical Euphoric Misanthropia (Nuclear Blast)
One of the absolute finest black metal albums I have ever heard. The recent additions of Galder (Old Man's Child), Nick Barker (Cradle of Filth, Lock Up), and I.C.S. Vortex (Borknager) shattered all of the high expectations placed upon them. This is essential!
www.dimmu-borgir.com
www.nuclearblast.de

Graveworm - Scourge of Malice (Serenades)
I am still fully convinced that this is the best band no one has heard of. Very melancholic blackened metal and is definitely a worthy follow up to As The Angels Reach The Beauty. Contains an amazing cover of Iron Maiden's "Fear of the Dark" complete with strings and war pipes.
www.graveworm.de

Tristania - World of Glass (Napalm Records)
Tristania took the top spot on my 2000 list and have again returned. Their style isn't as original as it once was but they're easily the best at it combining a perfect balance of soprano female vocals and both clean and growling male vocals with beautiful songwriting and musicianship. I can't recommend these guys highly enough.
www.tristania.com
www.napalmrecords.com

Mortiis - The Smell of Rain (Earache)
Mortiis' dungeon-style ambient music has fallen to make room for Era II. Nostalgic dark synth-pop/dance that I found highly addicting and although many will find this too sharp of a turn to follow, I loved it and still have not grown weary of it. This is a great album from start to finish in my opinion and there isn't one song I don't like on here.
www.mortiis.com
www.earache.com

Slayer - God Hates Us All (American)
The mighty Slayer showed us in this album that they are still the kings of their genre. After the last two albums swerved dangerously close to mainstream, they have reloaded and delivered another high-powered and hate filled opus that any Slayer fan would be proud to own.
www.slayer.net
www.americanrecordings.com

Witchery - Symphony For The Devil (Necropolis)
Old school thrash guitar riffing mixed with a more modern black metal vocal approach is a style that greatly appealed to me from the get-go. I love every one of their albums but this one is the heaviest to date and the songwriting keeps getting better and better.
www.witchery.org
www.necropolisrecords.com

Winds - Of Entity and Mind (Avantgarde)
In short, this is absolutely beautiful music performed with a degree of professionalism that is rarely seen anymore. Metal is an undertone here beneath the clean vocals, dense piano, and soft drumming. I would have never guessed that an EP would make it into my top ten, but I am privileged to own this album and cannot wait for the full length in the spring.
www.winds.nu
www.avantgardemusic.com

---
StarVox is Property of VersusMedia, LLC