---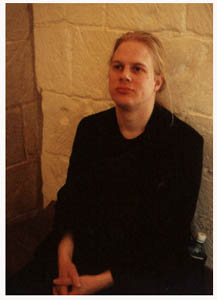 Stuart Moses
writer - UK

Between 2001 and 2003 he was a music reviewer for the Guardian series of local newspapers covering most of Surrey and south London. The editors were open-minded enough to allow him to bring reviews of the following bands to the Home Counties: The Cure, The The, New Model Army, Waterglass, Seventh Harmonic, Catastrophe Ballet, This Ascension, The Gathering, Lacuna Coil, Duran Duran, All About Eve, Flowing Tears, Akumu, The Faces of Sarah, Faith and Disease, Claire Voyant, Emma Conquest, HIM, The Last Dance, Love Like Blood, Burning Gates, Rhea's Obsession, Moonspell, Last Rites, Tiamat, Black Tape For A Blue Girl, The Shroud, Stan Ridgway, Mark Eitzel, The Ghost of Lemora, Lupine, Belisha, which gives you an idea of the sort of thing he likes to listen to.

From Autumn 1999 he has written reviews, interviews and articles for alternative music publications Meltdown, Kaleidoscope and Killing Jar. This has led him to meet people he would normally be too shy to approach. Highlights included interviewing Nod from Fields of the Nephilim, Fernando from Moonspell, The Ghost of Lemora and Waterglass.

People and things that make him happy (in no particular order) include: philosopher Alain De Botton, music journalist Alexis Patrides, DJ Andrew Collins, motivational speaker Anthony Robbins, digital radio station BBC 6 Music, entering competitions, sci-fi series Doctor Who, DJ Gideon Coe, gigs, horror writer HP Lovecraft, fantasy author JRR Tolkien, comics by Neil Gaiman, reading Observer Music Monthly, TV programmes Popworld and Press Gang, fantasy author Robin Hobb, TV programme Robin of Sherwood, roleplaying - though he doesn't get as much time to do this as he used to, spending time with his family, TV writer Steven Moffat, drinking tea and reading humorous writer Terry Pratchett.

Rarely happier than when lying on the sofa, with a good book, new CD and the sun streaming through the window, Stuart sees no irony in thinking that many problems in the world would be solved if people got out a bit more.