---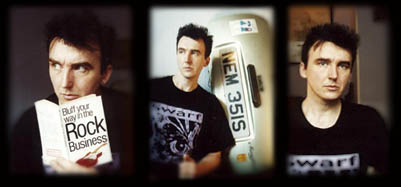 Uncle Nemesis
writer - UK


Uncle Nemesis by Uncle Nemesis.

You see that skinny little urchin with the eyeliner and the pointy boots, lining up outside the Hammersmith Palais in London to see Bauhaus in 1980-something? That was me, that was. I was too young for punk, but when the arty/glam/weird mutatations of the post-punk scene started to appear - the stuff we later came to call 'goth' - I was old enough to take part, inspired by the glorious weirdness of it all, and ready to jump in with both pointy-boot clad feet. And, slightly to my surprise, I've been here ever since.

My Big Project, of course, was Nemesis Promotions. Which started out in 1995 as an off-the-cuff idea to throw together a couple of gigs for a few bands who I happened to know, or with whom I could claim vague aquaintance via friends-of-friends. The UK scene was going through a somewhat dull patch around that time, and there was a feeling in the air that if anything was going to happen, then *we* were going to have to make it happen. OK, then, I thought, I'll organise a couple of gigs, and we'll see where we go from there. And...it just snowballed. Nemesis Promotions grew to become London's principal promoter of live music in the goth/industrial and related areas, and nobody was more surprised by this than I was. The full story is archived on the Nemesis Website [http://www.nemesis.to].

Nemesis Promotions was a rollercoaster ride, and like all the best rollercoaster rides it was exhilarating fun while it lasted - and rather a relief to finally get off. In 2001, after almost 100 gigs, I decided to close down. It wasn't an easy decision...but I felt the time had come to try some of the other rides in the fairground...