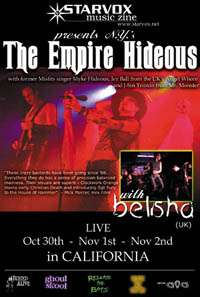 The Empire Hideous
Belisha
West Coast Tour: San Francisco, Paramount, Hollywood - California
Fall 2002
Sponsored by StarVox
~review and photos by Blu
Put together an experienced band from New York/New Jersey newly reformed with a bouncing band from the UK on their U.S. debut and what do you get besides a handful of very interesting regional accents? Magic. Seemingly an unlikely pairing; these two bands put on one of the best shows I've seen this year.
The Dive Bar - San Francisco, CA
First stop on this West Coast Tour was The Dive Bar in San Francisco held at the notorious Cafe Du Nord in the Upper Market district. It was built in 1907 and was at one point a speakeasy. Infact, rumor has it there are still secret passageways the lead from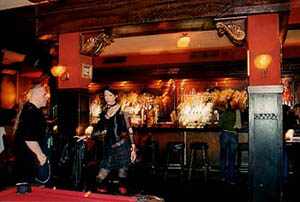 Cafe Du Nord under the street and to the basement of buildings across the way. With much of the atmosphere created by dark mahogany wood and dark red Victorian trimmings, this venue was absolutely beautiful and a fun place to start this adventure.
Both bands ran through sound check with ease and the venue engineers were more than accommodating. Showtime came and Belisha hit the stage and exploded into "Cannibal". Having heard from others in the UK that their live show was off the hook I *was* expecting a lot of energy but they still ended up surprising me with just how *intense* they are on stage. Having had time to absorb their newest CD, People of the Dark, I was familiar with the songs and knew that some would make powerful live sets but I was unprepared for what I saw. Much like Bella Morte, Belisha is like a wild animal set loose on stage. Every band member is head banging and plunging away -- there's so much movement on stage you might get dizzy. Songs are given a whole new feel live and I suspect some of their older songs have been re-worked a bit. For example, "The Hounded" and their closer, "Ball of String" were much faster and more aggressive live. Their angsty punk-like rebellion against things like world government and
religion were something that harkened back to the days of The Sex Pistols and their vocalist every bit as foul-mouthed as Johnny Rotten ever was. And perhaps it's that U.S. goth audiences aren't used to this aggression or perhaps it's that the band was turned on too high by the anticipation of this first show but there was some uneasy silences between songs as the crowd tried to wrap their heads around what they were witnessing. Finally though it seems to sink in and and props have to go out to DJ Rick A Mortis who was down front the entire time dancing and moshing away in full on punk mode. He even shouted a request or two. His enthusiasm was quite the ice breaker and by the end of the set, he had enticed many of the seemingly shy crowd to dance up front with him and everyone was finally getting what Belisha was all about.

"Belisha were good, and they are funny guys...I heard bits of early Black Sabbath and early Damned in their sound... The Empire Hideous were great ...they sounded really BIG and the new material was good" ~ Dire in San Francisco

Afterwards as Belisha entertained blushing girls at the merchandise table, ominous
chords filled the air and the lights dimmed one more time. People made their way back to the stage as if drawn in a trance to see The Empire Hideous. As the band took their places a sense of anticipation filled the room. Wearing his trademark hat, Myke Hideous, clearly a veteran and master of theatrics, is a natural at holding the crowd's attention. It is that same element of charisma that binds audiences to people like Peter Murphy. I watched him be consumed by the crowd before he sang the first note. Then in a bold move they opened their set with a new song called "Logic" and having heard all their previously recorded material, even I was surprised at the power of his vocals in a live setting. Clear and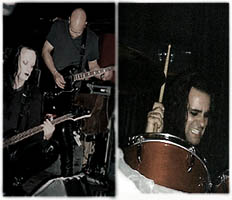 smooth, strong and bold, words seemed to sail out effortlessly. People swayed and moved along to the beats. Other elements of their live show started to stand out as the night went on -- the complex layering of the two guitar players, the steady sure beat of the bass and the dramatic rises and falls of percussion. They played through many favorites like "God & I," "Stealing From the Crow" and "Mr Barnum" and I even caught some people singing along. Indeed there were some old souls there that remembered the Empire. After lots of dramatic gestures by Myke and the active participation of the rest of the band, it seemed it was over all too fast and DJs Rick A Mortis and Sage took over spinning a nice mix of tunes. Afterwards both bands entertained questions from fans at the merch table until it was time to go and they piled their gear back in the van and hit the road.
Buried Alive - Paramount, CA
The next stop would be a couple nights later for the last ever Buried Alive -- an event sponsored by Mark Splatter (Deathrock.com/Ghoulschool) and by Release the Bats that was the only 18+ crowd these bands would play to. Having been plagued with venue problems and a bad location, this final night of Buried Alive was moved to a new location just south of Los Angeles in Paramount at a place called Garfields. Not quite done being refinished, the venue had a new dance floor and stage but make shift lights and no sound system of its own. Dealing with a rented PA proved to be a bit frustrating as both bands had sound problems throughout the night and everyone complained that the bands were just too loud despite repeated requests by myself and others to the sound men to lower the master volume. The microphone provided was broken before Dan from Belisha even picked it up. Having it fall apart in his hands I think he quipped something along the lines of, "I know I'm rough on equipment but I swear I haven't even touched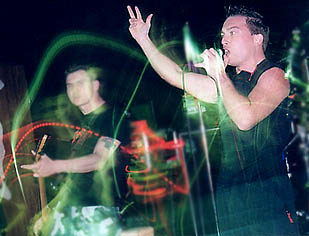 this one yet." A new microphone was found and like race horses with an innate drive to run, they were off once again diving head first with enthusiasm into their set.
"Last night's show was AMAZING. I'm so glad I went. Belisha knocked me out completely. Definitely a new favorite." ~ DivaLux
Seemingly a bit more at ease tonight than in San Francisco, Belisha took over the stage with fierce confidence and instead of uneasy silences, spaces between the songs were filled with banter between the band members and even between bands. The crowd responded well to their strange and sometimes twisted humor and this time when Dan spit out the words "Fuck religion" before the song "Agnostic Jihad" the crowd applauded wildly. Indeed this crowd had not forgotten their roots in the punk scene. The crowd also seemed to respond well to "Into The Casparian Sea" with its seductive, exotic sounds as I noticed several people entranced and swaying to the beat. The bands pogo jumping in the song "Want" was hampered only because there was an odd railing that went around the stage, an aisle and then another railing separating the stage from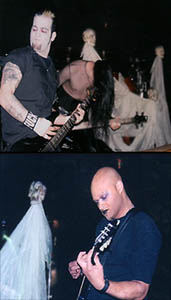 the floor. The crowd was held back from the band by about 6' which is unfortunate because I really think this group of people were more than willing to bounce and mosh around with them.

The Empire Hideous took the stage to an expectant crowd, some of whom had seen them years earlier on their first trip to California. If they were the least bit nervous you'd never know it. They made it look like a walk in the park. The sound of seasoned musicians poured out of the speakers and Myke Hideous worked his magic on this crowd wooing the girls and impressing the guys. New songs like "Two Minutes Til Midnight" were exceedingly fun with heavy guitar driven melodies no doubt fueled in part by the presence of Jsin Trioxin who also fronts the horrorpunk band Mr. Monster. In complete contrast but just as outstanding was their performance of "Stealing From the Crow" with its dreamy atmosphere created by the echoing guitar effects of Jeff Austin.
"I went to Buried Alive last night to see Belisha and Empire Hideous!!! Those two bands kicked ass. ...Last night was my first time seeing Belisha. I really enjoyed it - very heavy angsty, high-energy music and they're all so cute!! The only thing that was missing from their performance was a mosh pit! Empire Hideous was superb! Myke's voice is incredible...! Both bands put on one hell of a show!" ~Michele Mortem
The range and complexity of Myke's voice was very evident that night with songs like "Amazing Murder Machine" which must be one hell of vocal chord work out because of the dramatic rise and fall from verse to chorus. Having recently learned from someone what professional voice coaches teach their students about singing, I noticed all the tell-tale signs as Myke made his way through their set. Undoubtedly he's had some voice lessons at some point and uses his body to push his vocals to more extreme levels than most.

Then at some point Myke's shirt came off and I kid you not the girls screamed like teenagers watching an N'SYNC concert. Ever the consummate showman; he made even more dramatic movements and seemingly stared down
a few would-be admirers. He made full use of the railings -- at one point laying on top of them -- and then tip toed along them with arms stretched to the ceiling until security guards made him get down. The Belisha boys were up front cheering him on and I anticipated more mischief but the clock struck midnight (ok, 2 am if you want to be technical) and the carriage threatened to turn into a pumpkin so after a few bows and thankyous, they were off again and we closed the casket on Buried Alive.
And here I'll stop to thank Mark Spatter who, after seeing the show at Buried Alive posted this to the DeathrockLA list encouraging people to come out for the final event:
I suggest everyone and there MAMA go out to Hollywood tonight to see The Empire Hideous, one of the best live performers you will ever see. The Empire Hideous have been digging graves since the early 90s as a graveyard goth-punk band from the holes of New Jersey, where the toxic waste turns out ghoulish freaks like Glenn Danzig of Misfits/Samhain/Danzig fame, Empire Hideous singer Myke Hideous, and not to mention yours truly, Mark Splatter. Empire Hideous' sound and style captures the whole 'gothic' climate perfectly with songs of oppressive atmosphere, dark moods, fear and aggression. If you like a good guitar hook, you will love this band, as they have those in spades. If you like evocative lyrics sung by a gritty yet masterfully melodic voice, you have no excuse not to kill to see this band. This is their second and final performance in California on this special re-union mini tour.

Appearing with Empire Hideous is Belisha, all the way from the UK. These energetic lads put on a great show as well, and if you go to any clubs worth mentioning, you may have heard their single 'Fall of the Evergreen', a scorching great gothic rock tune along the lines of The Cult but less paisley and more speedy.
The Gig - Hollywood, CA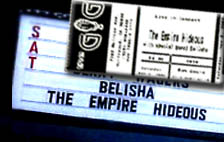 The third and final show of this mini-tour was at The Gig in Hollywood. In this mid-sized stylish venue with a great sound and light system, expectations were high. To add to the tension recordings of both bands were being done that night. Major props to the sound engineer who make quick but thorough soundchecks and was ontop of things all evening long. At this point I think both bands were ready to go on a world tour. Confident and relaxed there was seemingly no stress among any of them.



Belisha thundered onto the stage and tonight more than others, the drumming by Hawl seemed ominous and authoritative. From the start the band was insanely energetic making their previous two shows look like dress rehearsals for a school choir. "Illuminati" had become my favorite song of their set by this point and during this final show, it was just monstrously fierce. The guitar riffs were incredibly tight and precise and the chorus dove in and ripped. By the end of this song, after Dan had spit out their now infamous last words, "Fuck G8, Fuck Rockefeller, Fuck Rothschild, Ruck UN, Fuck Nato, Fuck Bilderberg!" I began to wonder if they could keep up this pace throughout the rest of the set.

During "Into The Casparian Sea" we were treated to an impromptu one-person mosh pit as a rather drunk brunette stumbled up front and began slamming into people standing nearby. After a few disdainful shoves, she decided to dance directly infront of the stage all by herself and obviously caught up in the wave of exotic music, began to um... writhe and wiggle about erotically (or as best as one can when that intoxicated). We were all slightly annoyed to say the least but by the time Dan noticed what was going on and during the next instrumental part of the song, he began copying what she was doing complete with throwing himself over his monitor in quite a dramatic fashion. She was of course, oblivious to the entire thing. It was brilliant.

Pausing only slightly for a breather before "Agnostic Jihad" Dan jokingly said, "Can I shock you? I'm a Christian..." and the audience, many of whom had seen the show the night before at Buried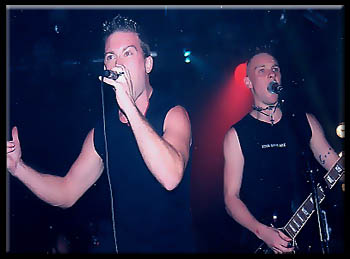 Alive, laughed because they knew what was coming next. After a rowdy romp of criticism against organized religion, they forged straight into "Filthy" and then into a much faster and meaner version of "Fall Of The Evergreen." And finally, as they played the intro to "Ball of String" I almost cringed at the thought because they literally had not slowed down once during the entire set and I knew from watching the previous shows that the end of this song in particular is devastatingly heavy. Somewhere, somehow they found that button that goes up to "11" and managed to push this last song over the edge. Dan was red faced and screaming near the end - a ball of fury on the verge of an explosion. It actually got scary and I wouldn't have been surprised if equipment had started flying. Guitarist Byder reminded me much of Flea from The Red Hot Chilli Peppers as he bounced around, headbanging along. Keyboardist Pit and bassist Elric often bounced in unison on their side of the stage and by the time they reached the final drum solo Dan had thrown the microphone and finally collapsed to the floor. The applause was wild.
By the time the intro music for The Empire Hideous began we were all a little nervous about Myke's voice. That evening he had started to lose it and people had been sent off on emergency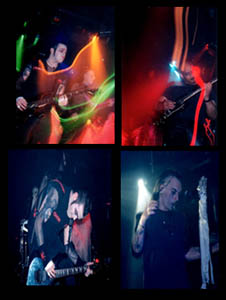 runs to find tea and honey and cough drops and anything else that might save it for one more set. The music for "Logic" started and the band seemed extra energetic perhaps lending their support to Myke. Jsin was every bit the ghoulish psychobilly guitar-weiding fiend you'd expect him to be. Jezz Ball threw his long locks around in sync with his bass rhythms. Jeff Austin was intimidating and stately yet serene as he coaxed wave after wave of magic out of his guitar and Byron was an absolute mad man on drums. Surprisingly Myke sailed through the opening songs with ease and didn't even hold back as I expected he might. Would his voice last through the set?
And then I witnessed what would be a true testament to the vocal talent of Myke Hideous. Knowing his voice would fade if he carried on much further, he made the decision to sing some of the songs differently rather than singing them in their original form and risk butchering the vocal parts. I seriously doubt anyone even noticed that change -- down an octave here, perhaps harmonizing notes there. He sliced it where he needed to and used his knowledge of chords to his best advantage. The band played on as normal, Myke sang clear and loud and not one wrong note was spent. I was amazed: this man could hardly speak between the songs yet musically, he was just as strong that night as he had been at the previous shows.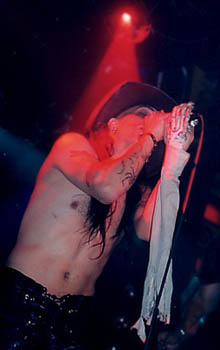 "Parasites Bible" is one of my favorite songs and that night it seemed especially good. It was perfect really - every note, every beat, every gesture just radiated. The band was humming along like a well-tuned machine. They made it look so easy. The guitars buzzed and moved and folded and climaxed and I got lost in the waves and bell tones of the chorus. Parts of it were quiet and serene and others were feverish with drum riffs like bullets. It just confirmed what I already knew - this band has such a mature sound, so much showmanship and class - that I could not believe they were playing for us instead of a stadium filled arena. They deserve an audience that big.
In terms of what each band wanted to accomplish with this mini tour I think it was a success. Belisha was determined to bull doze their way into the U.S. accomplishing what many UK bands have not been able to do in this scene. They managed to impress people every where they went from the sound men to the Djs who, even at The Gig, were asking for their contact info. Rick A Mortis has already picked their new CD, People of the Dark, as one of his favorites of the year. They also learned that they could get away with quite a bit on stage because Americans are suckers for accents and everything they say, no matter how potentially offensive is instead, charming. I've already been bombarded with "when are they coming back?" and from other states "do you think you'll come our way next time?"
As for Empire Hideous, I think they answered the "are they still around?" question I kept getting with a resounding "Yes and better than ever." With a new EP in the works, appearances and mentions in several books on goth culture and music that came out this year and the autobiography of Myke Hideous (available now); this mini-tour may have marked the grand beginning of a new era for a band that is already legend in many books.

---
see also:
All The Empire Hideous photos from this show
All the Belisha photos from this show
The Empire Hideous
http://www.empirehideous.com
Belisha
http://www.belisha.com
The Dive Bar
http://www.divebar.biz/
Cafe Du Nord
http://www.cafedunord.com/
Photos of this show at The Dive Bar
http://www.divebar.biz/Documents/empiregallery.htm
Buried Alive (memorial page)
http://www.deathrock.com/buriedalive/index.shtml
Photos of the Hollywood show by DivaLux and Mark Splatter
http://www.divaluxe.com/personal/thegig.htm
12/14/02