Peel Remembered...
Wednesday morning, 01:00 am. The phone rang. It was my friend from the other side of the country, calling with terrible news.
John Peel was dead.
The news hit me like a cold slap to the face, though it took me a long time to process the words. I had never met him, and suspect I never would have, but the news of his death was like hearing of a good friend's passing. I felt the world would be a little less special for me and, indeed, for all of us.
Peel was born John Robert Parker Ravenscroft in 1939. His passing was due to a heart attack suffered while vacationing with his family in Peru on Monday, October 25, 2004. His career as a DJ on BBC Radio 1 spanned four decades, from 1967 until last week, and during that time he helped bring some of the most influential and interesting musical groups to the general public. His air time was filled not only with the demo tapes of every sort of band imaginable, but also with the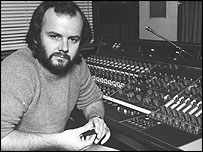 seemingly-infinite library of 'Peel Sessions' – regarded as touchstones to good music. These live sessions were recorded at the BBC or at his own private residence, and encompass some truly seminal works of brilliant performers. For example, when no one in their right mind would sign Siouxsie and the Banshees despite his constant lobbying, Peel recorded them himself for his show. Almost immediately afterwards, they were signed to Polydor. Peel fought hard against the music industry's manufactured pop, because he knew what was good music.
By giving performers a forum to bring their music to the public, Peel helped break many careers. The importance of this contribution is amplified when you take into account the fact that most of what he was playing wasn't commercially acceptable at the time. Peel was a champion of punk rock, new wave, grunge, brit pop, and anything else that he found interesting. Throughout his whole career, he played what he wanted to, not what he was expected to. His good taste and intuition helped shape the face of music.
To try to sum up the man's contribution to the arts in words is a task better left to other, more talented writers. I suspect that one would have a hard time finding a single true fan of music who hasn't been touched in some way by Peel's work. Despite all this, he never accepted the legendary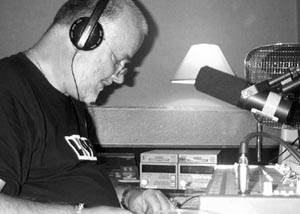 status that others would try to pin on him, humbly stating that "[DJ'ing is] like being the editor of a newspaper - you don't claim credit for the news." In a time where the disc jockey is so highly regarded as a purveyor of music, we all should take a cue from this sentiment.
Personally, John Peel's legacy is responsible for helping me discover countless bands over the years. I remember one evening back when I started DJ'ing. I was preparing for my radio show, flipping through the radio station's vinyl selection, and came across Joy Divion's Peel Session from November of 1979. I had no idea what it was at the time, but put it on to give it a listen. I was instantly impressed by how well done the versions of the tracks on the disc were. I made it a mission to find out more about these "Peel Sessions." To this day, whenever I find one in a store, it's just like Christmas. Peel's other works soon lead me to bands like the Fall, the Durutti Column, Birdland, and the Ruts, along with dozens and dozens more.
He was a champion of the underdog, a purveyor of art, and a class act, in the form of a down to earth, gracious man. What better role model could a DJ hope for?
As a DJ, I always counted myself lucky to be allowed to play in the music world that Peel helped create. As a music fan, I always counted myself lucky to have such a resource as John Peel out there to help me find new material Now, I suppose I will count myself lucky that he has left such a legacy which we might all enjoy.
Farewell, John Peel. And thank you.

Edwin Locke,
radio and club DJ (retired),
currently baffled by why Mondays end up as such blue days
Photos used in this article are from Peel's BBC1 show homepage:
http://www.bbc.co.uk/radio1/alt/johnpeel/index.shtml
"John Peel Passes Away":
http://www.bbc.co.uk/radio1/news/altnews/041026_john_peel.shtml
"Legendary radio DJ John Peel dies":
http://news.bbc.co.uk/1/hi/entertainment/tv_and_radio/3955289.stm
John Peel entry on the All Music Guide:
http://www.allmusic.com/cg/amg.dll?p=amg&token=&sql=11:twanqj2yojja
Peel Sessions since 1992: http://www.vheissu.freeserve.co.uk/

---
by Uncle Nemesis (originally posted to uk .people.gothic)
He wasn't just a DJ. He was a bizarre, glorious combination of a wise and intuitive guru and your whimsically witty mate from down the pub.
I can remember the youthful me sitting up in bed with my headphones on, staying up till midnight on school nights to hear him play all this strange and noisy and weird music that sounded so utterly different to anything else on the radio. It was like a doorway into another world. I felt quite quite alienated and out of place as a teenager, but John Peel showed me that there was *more* out there. You didn't *have* to go along with the mainstream...
I'm sure he's responsible for more than half my record collection. And, therefore, he's indirectly influenced all sorts of things I've done and the places I've been. He opened the door, and I ran through it. He's the reason I'm sitting here now, with this stupid hairstyle and those cacophonous CDs in my player, still as fascinated and as intrigued by this strange and noisy and weird music as ever.
I sometimes used to wonder what I'd say if I ever met him. I felt like I should perhaps express some sort of gratitude for pointing me in the right direction. But what could I possibly say?
'Thanks, John, for....well, for everything, really'.
He would have probably chuckled in a faintly embarrassed manner. And then we would have gone down the pub and talked about obscure Fall B-sides.
--
The subcultural life of Uncle Nemesis
The John Peel made me do it years http://www.nemesis.to
10/27/2004