see all the photos from this event here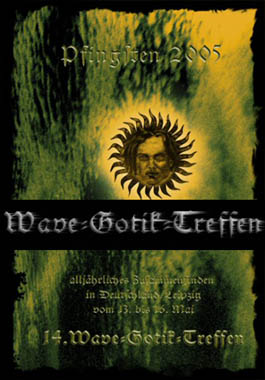 Wave Gotik Treffen
Leipzig, Germany
Friday May 13 - Monday May 16 2005
~ review and photos by Uncle Nemesis
Part one: Freitag
Bands in order of apperance:
Transit Poetry
Nik Page & The Sacrifight Army
Escape With Romeo
Angelzoom
Ikon
Girls Under Glass
Now, here's a confession. I don't like festivals. At least, not the big-stage-in-a-rubbish-strewn-field type of festival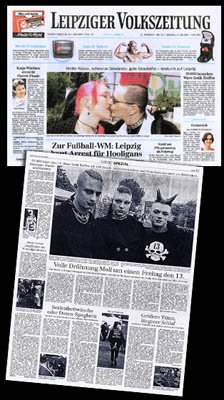 (which is why, much as I applaud its aims and intentions, you won't see me at Glastonbury) nor even the big-stage-in-an-aircraft-hanger variation on the theme (which is why you won't see me at M'era Luna). But the Wave Gotik Treffen is different. Spread as it is over an entire city, in an assortment of venues ranging from huge halls to small subterranean clubs, historic churches to modern cinemas, low-life bars to highbrow art galleries, it's an entirely civilized way of absorbing what this many-headed monster of a subculture we call 'Goth' has to offer.
I'd go so far as to say that anyone who wants to get a handle on what's what in the world-o-goth these days really has to attend the Wave Gotik Treffen - it's the crossroads, the major intersection, the spaghetti junction of everything: the one time and place in the year when all strands of the scene are pulled together. For those of us who come from countries such as the UK, where goth is marginalised and derided, and survives merely as a cottage industry (and a pretty tumbledown cottage at that) it's nothing short of jaw-dropping to experience the level of unequivocal success enjoyed in Germany by the schwarze szene - to use that usefully vague German term that encompasses everything without defining anything. This year, as every year, the Wave Gotik Treffen features over 160 bands; theatre, film, art and trams. Yes, trams - there's a 24-hour tram service laid on for festival attendees, which now even seems to have acquired its own nickname: the Gruftibahn. All-night trams, all included in the price of your festival ticket. You can't get much more civilized than that, now, can you?
And all that, in short is why we're here. That and the schwarzbier, of course. So, let's jump aboard the Gruftibahn and get stuck in. How many of those 160-odd bands can we see before our eyes glaze over and music starts overflowing out of our ears? Let's find out...
It begins. Five o'clock in the afternoon in the stark industrial cavern of Werk II, one of many venues around Leipzig which have been given over to festival events. Transit Poetry, the first band of the day, wander on stage. As so often at the Treffen, they're an outfit I've never heard of before. That's the great thing about a diverse event such as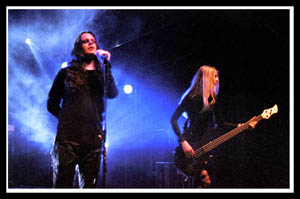 the WGT, of course: inevitably, you'll find yourself confronted by previously unknown bands, some of which will almost certainly prove to be rather good. But are Transit Poetry of that select number? Well, they're not bad. Their music is essentially no-frills alternorock, stripped-down and punchy, and their image is similarly free of extraneous extravagance. They're a straightforward black-jeans-and-black-T-shirts crew - all except the bassist, that is, who has definitely opened the style book at 'Glam'. Curiously, the stage is decorated with flickering candles, an incongruously self-conscious touch of goth style for a band which, in most other respects, doesn't actually seem particularly gothic. Transit Poetry are, in the end, much more of a dark rock band in the manner of Pearl Jam than anything directly related to the Nosferatu-ish tradition, and perhaps we should be grateful for that. A bit of easily-assimilated rock, while admittedly not being my favourite style, nevertheless works well as a means of easing gently into the festival-frenzy that is to come. I don't think I could cope with uber-goth frills and flounces at this hour of the afternoon.
Roadies suddenly swarm into view, setting up a weird tangle of pipes and rods and struts at the front of the stage. This, it seems, is a crazily elaborate microphone stand, although why a humble Shure SM58 requires such surreal scaffolding to hold it up escapes me. Headless shop-window dummies are propped up here and there, and there's yet more scaffolding supporting the keyboards. All this bizarre hardware belongs to our second band, Nik Page And The Sacrifight Army. That's another name that's new to me, although it seems from the sudden surge of eager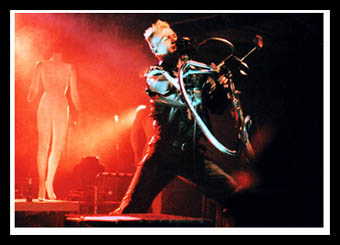 punters there's a healthy contingent of fans in the house, ready to stomp and holler and cheer for their heroes. Judging by the stage decorations and the mad metalwork of the mic stand, it would appear that we're in the cyberpunk zone - an impression reinforced by Nik Page himself, who strides on stage in a heavy-duty leather outfit, like Mad Max emerging from the wreckage. It's a bit of a let down, then, when the music doesn't really match all the car crash imagery. The band makes a fairly predictable full metal racket: it's all stadium-rock bombast and grandstanding poses. Nik Page throws a different shape for almost every line of lyric, hurling himself forward, then staggering back with arms outstretched, as if fighting an invisible enemy. There's one song where the keyboard player steps forward, and waves a banner over the audience - a moment of visual drama which doesn't actually seem to mean anything (the banner, on close inspection, turns out to be blank). In that, you have a pretty good summation of the show as a whole: lots of contrived dramatics, masking a band which isn't really doing anything out of the ordinary in musical terms. When all's said and done, the most interesting thing about Nik Page is his microphone stand.
I last saw Escape With Romeo at the Beyond The Veil festival in Leeds last year - an event at which the band played a set that was impressive in its quality in front of a crowd which was, it must be said, rather unimpressive in
size. Here at the WGT, there is no problem with the numbers. Even though Werk II is not the largest of the various venues around Leipzig at which Wave Gotik Treffen events take place, and it's still early in the evening, I'd estimate that Escape With Romeo have several hundred people eager to see them do their stuff. In direct contrast to the previous act, Escape With Romeo don't go in for visual extravagances. Posin' till closin' just isn't their style. Instead, the band exude a certain quiet authority, preferring to keep it low-key and let their music do the talking - and it's certainly eloquent enough. Thomas Elbern, fronting the band with an almost professorial air of detatchment, leads his crew into a set of poised, confident, post-punk songs which seem to reference all the essential influences of the original era - Bunnymen, Psychedelic Furs, Joy Division - while at the same time maintaining an identity that belongs to the band alone. There's an Escape With Romeo DVD on release, entitled 'Document' (isn't that an REM title?) and this set has obviously been designed to tie in, being a hits 'n' highlights selection from the band's career so far. 'Alaska' and 'This Loneliness' are particular standouts, but it's all good, while at the same time being entirely free of pointless grandstanding. Just goes to demonstrate, if you've got the songs, you don't need the poses.
The show now jumps to an entirely different style of music - a characteristic of the WGT, which very often mixes up bands of wildly differing styles on the same bill. This, of course, is either infuriating or intriguing, depending on your point of view: personally, I rather like the policy. Sure, there have been times when I've suffered through performances which really don't hit the spot for me, but there have also been occasions when I've discovered unexpected delights as bands I would never have thought of watching under normal circumstances sweep me along with their music. Let's see which way it goes with Angelzoom.
Here's a band which combines elements of neo-classical string-sawing - featuring two members of Letzte Instanz on violin and cello - with smoothly danceable electro-grooves, supplied by a head-down-and-anonymous keyboard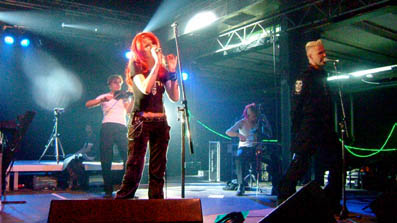 player at the back. The whole package is fronted by the red-haired and amiable Claudia Uhle, who apparently is a bit of a pop star in Germany. She grins cheerfully and seems very happy to be here, and indeed the entire ambience of the performance is one of relaxed good humour. The music is polished and glossy, dreamy and poppy; the strings, played with meticulous attention by the Letze Instanz lads, sit so easily amid the electronics it's disconcertingly easy to forget that they're there. Claudia herself illustrates every song with a bizarre series of hand movements, as if she's trained herself to dance from the shoulders outwards, while her voice trills merrily, sugar-sweet throughout. It's nice...but that's the problem. I didn't come here for nice. Angelzoom smooth everything down into a kind of easy-listening background music, which just can't hold my attention. Small points of interest during the set include a cover of Depeche Mode's 'Blasphemous Rumours' and the re-appearance of Nik Page to add backing vocals (an event which provokes me to groan out loud 'Oh no, not him again!'), but by and large I remain unmoved. We'll chalk Angelzoom up as a no-no, then. The fans are unfailingly enthusiastic throughout, but I can't escape the feeling I've just witnessed a Classic FM version of Swarf. The real Swarf would've been far more welcome.
Ikon are making their second appearance at the WGT; this year they've got a new album to promote and new fans to win over. I'm slightly disconcerted to note that there's also a new line-up. Ikon don't have a drummer any more, and their glam-rock guitarist who so enlivened previous performances has given way to a far less flamboyant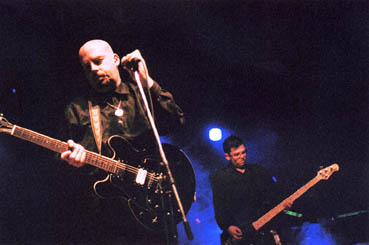 replacement. This means that tonight's Ikon experience is rather more downbeat and restrained than I was expecting - essentially, three blokes in black standing in front of a drum machine. Some would argue, of course, that this represents the classic goth band line-up, and anyway, as we've seen with Escape With Romeo, you don't necessarily need visual fireworks if the music has the right kind of spark. Ikon certainly have their fair share of top tunes, and sure enough favourites such as 'Psychic Vampire', 'Ghost In My Head', and 'Black Roses' are present and correct in the set. So far, so good, but there's still a sense that the performance isn't quite catching fire. Chris McCarter, on vocals and guitar, sings in a voice that barely raises itself above a mumble, and this, more than anything, is the factor that brings things down a bit. The low vocals mean there's a certain lack of force and focus right at the heart of the band's sound: it's hard to get carried away by the music when there's just a rumbling croon at the centre of it all. So, I stand there, appreciative of what Ikon are trying to do, but frustrated that they aren't putting more grit and guts into it. At a high-profile event such as the Wave Gotik Treffen you really can't afford to give anything less than everything, and I fear Ikon never really rose above the seven-out-of-ten zone this time.
Girls Under Glass also have an unexpected new line up, although I'm not sure if it's a permanent change or simply a temporary arrangement for this gig. Axel Ermes, one of the band's founder members, is mysteriously not present in his usual role of bassist. This doesn't seem to have caused the band to break stride, however. They plunge into a frantic, barnstorming set in which the energy level controls are jammed up against the 11 mark right from the start. Girls Under Glass may have started out as an industrial band, of sorts, but now their music is a big, thunderous, dance/rock mash-up which nails insistent, get-on-the-floor beats to towering guitar riffs. That's not a unique approach these days, of course, but Girls Under Glass handle their hybrid monster better than most. Tonight they really let the brakes off and create a careering steamroller of sound, steered on a collision course with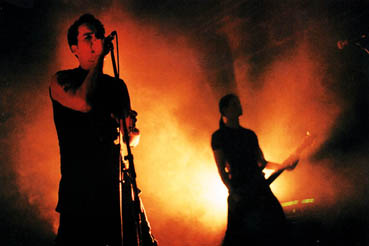 the pleasure centres of the audience's brains by vocalist Volker Zacharias. Working up a sweat like an overclocked Peter Murphy, he hurls himself into the music - and, on occasions, almost hurls himself into the crowd, as he bounds and lurches around the stage. By way of extra excitement, Peter Spilles of Project Pitchfork comes out to lend a backing vocal or two to the general racket, and although this might not seem like any kind of big deal to most of us on planet Earth, here in Germany - where Project Pitchfork are massive - his appearance provokes a veritable frenzy of cheering. He unleashes his trademark gargle-with-gravel vocal, and all of a sudden Girls Under Glass sound exactly like Project Pitchfork. Then Volker Zacharias grabs the mic and the limelight once more, and the band power to a big finish. It's a textbook example of how to put together an attention-grabbing, celebratory festival set, which delights the fans and pulls in uncommitted observers, and a fine climax to this first night of the festival. It's interesting that in the general run of things I wouldn't necessarily say that Girls Under Glass are one of my very favourite bands, and I confess I wasn't particularly expecting to get blown away by their show on this occasion. But they successfully knocked all those preconceptions out of me, and left me feeling decidedly impressed. Yep, that was a good one. Now we really feel like the Wave Gotik Treffen has begun.
And then...more schwarzbier, baked potatoes, jump on the the Gruftibahn, and back to the hotel. Day one down. Days two to four to go...