---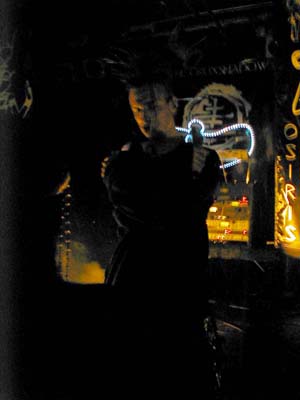 StarVox LIVE V
The Cruxshadows & Bella Morte
Paris Theatre - Portland, OR / Catwalk - Seattle, WA
October 5 - 6, 2001
~review by Blu
(photos by Blu, Rebecca & Jessica)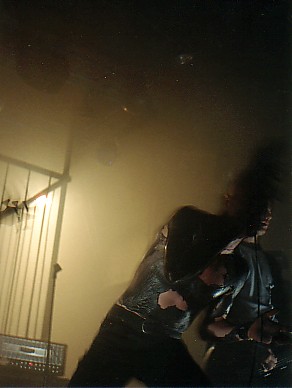 Following up not one, but two tours in Europe that started in June with their Intercontinental Drift Tour; The Cruxshadows came home, rested only a few short days and then headed out to take America by storm with their friends, Bella Morte. Having been a fan of both bands, this was a dream tour for me and I jumped at the chance to have them here in Seattle. Infact, I was so excited and anxious to see them again, I drove down for an earlier date in Portland, Oregon.
Having arrived in Portland, I ran into Andy, Bn and the promoter in Portland, DJ Carrion (Derek) at Ozone Records. We later went and checked out the "city of books" at Powell's across the street where Andy was able to indulge a bit in his fiction collection before heading to the Paris Theatre for the gig. At the door, I met Jett Black, Sonya Brown and to my surprise and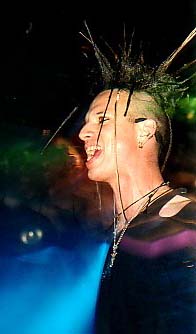 delight, a very beautiful but quiet, DJ Xian who had flown in from LA to spin at the Seattle show the next night. Inside, the Paris Theatre was MUCH smaller than I expected it to be and despite the cool temperature outside, was rapidly becoming a hot box. The bands had set up a merch table in the front lobby, a pop stand was off to the side and inside the main room, a sloping floor led down to a rather small stage. The bands had done the best they could with the small stage, even managing to include the permanent "cage" into their set up. Bella Morte opened to an eager and expectant crowd. Andy's intense energy translated immediately and people, who I assume knew very little about the band beforehand, were soon dancing in front of the stage. Gopal did his wonderful deathrock stare as he plunked out punk-inspired bass lines and Bn amazed me again with his skill on guitar. Andy's "shirt" of liquid latex, which he sometimes ripped at and tore off, caught the eye of many adoring new fans. I haven't seen them perform live in over a year and I must say, they only get better. Despite the sometimes mellow tones of their CD, a live show is exactly the opposite. Ripped with intensity, you cannot help being caught up in the energy this band performs with -- again and again, be it 1000 people or 100, they'll give you all they have to give and then some.

"The Cruxshadows/Bella Morte show was fucking phenomenal. Both bands played high energy shows that were as fun to watch as they were to listen to." - Adrianna

Inbetween sets while everyone took a breather outside, I was kidnapped by some of the boys in Sumerland (a local PDX band) down the street for a drink and they filled me in on their latest projects. (thanks guys!). Back at the Paris, the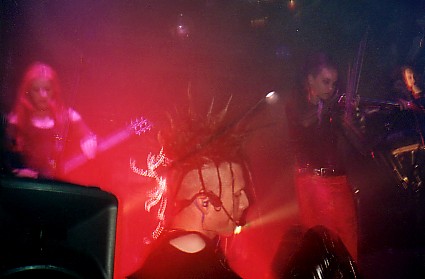 Cruxshadows took the stage, minus Rogue, in front of a packed floor of eager fans. The music started, and to the surprise and delight of all the fans, Rogue entered the music hall from the back, walking through the crowd with hand held flashlights, "By the pricking of my thumb, something wicked this way comes...." It was awesome to see the reaction from the crowd and I was reminded of my own initial enchantment seeing the Cruxshadows for the first time years ago. The set was tight and well done, the band was in top form - gelling on stage more than I had ever seen them before. Stacey's place as their new guitarist appeared solidified and the high stage allowed for several dramatic leaps by Rogue off into the crowd. Rachel's violin playing was concise and very beautiful (so nice to hear a violin so predominately!) and the smallness of the stage put Chris wonderfully closer to the front of the stage than I've seen him before. During the violin solo in "Deception," Rogue jumped down, grabbed an unsuspecting adoring fan and danced arm in arm with him around in circles. I could see the look of shock on the fan's face -- and everyone around them was smiling uncontrollably. True to form, Rogue's dramatic interaction with the crowd is what really wins people over with this band time and time again.
The next afternoon, after a nice lunch with Jett and Sonya, Xian and I met the band at their hotel for the 3 hour drive back to Seattle. (Lucky me -- I had my own personal DJ in the car! Xian played song after song of cool stuff - many things I've never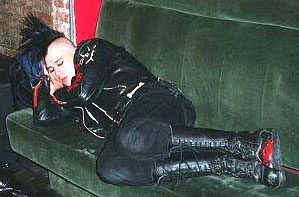 even heard before!). The band's two vans were crammed with people, equipment and clothes. The Bella bus had a bicycle strapped to the front of it (clever boys!) and I had to laugh at their personalized licensee plate..."WOEISWE". Note to traveling bands out there -- walkie talkies are invaluable for communication between vehicles when you're on the road (smart idea no?)

"I wanted to tell you what a great time we had at the show. I ABSOLUTELY LOVE the Cruxshadows. It was one of the best shows I've seen in a long time and I was totally inspired by them. I really appreciated the effort the lead singer put out to the crowd (I definitely learned a lot!)--and I'm so happy that everyone responded so enthusiastically" - Susan, Luminous Flux

We arrived in Seattle barely in time for soundcheck so the bands immediately began loading in all their equipment. There
wasn't any time for eating or resting and I experienced first-hand how tough its got to be going from city to city on tour, busting your ass on the road to get somewhere, unload, play a show and do it all over again the next day. I don't know how they've done it this far along...it has to be exhausting. While the bands were doing soundchecks, I was busy making sure vendors were ok setting up and my wonderful group of volunteers put out promo materials on the tables. I had made the Seattle show a StarVox LIVE in order to attract people who haven't heard of either band before (you'd sometimes think Seattle was on a continent all its own -- it takes a while for bands to catch on up here. Huge thanks to DJ Catherinna and DJ Slowdive for really pushing the bands in their set lists prior to the show). All in all, we had a great turnout. There were a few people who had moved here from the East Coast that had seen the Cruxshadows before but I'd venture to guess that the majority of the crowd had never seen them before and had only heard them at clubs recently. To those people, I am profoundly grateful they took a chance a came out for the show. I am positive both bands won many many new fans that night. I couldn't travel very far without hearing exclamations of "Oh my god, they're awesome!" or "Wow.. look at that!" I was like a proud mother.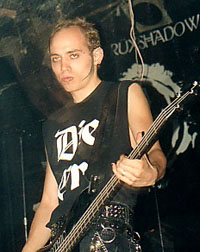 Back to the details of the show, DJ Xian entertained the masses before the bands got started with a creative combination of goth/industrial and had the crowd on its feet and dancing before midnight (quite an accomplishment!). Bella Morte took the stage at 10:30. Andy, blue mohawk perched high on his head, thrashed about like a mad man possessed and immediately caught everyone's attention. I don't think anyone expected so much movement and energy. Occasional smiles from Gopal to Andy during the set were tell-tale signs indicating how much they enjoy playing live. Lighting the band brought with them streamed up from the floor and added to the energized feel of their show. The strobes, especially, gave the club a new intensity. They played a few new songs and most of the ones I love off of their Where Shadows Lie CD plus some older material. Their cover of Berlin's "The Metro" was met with enthusiastic applause and dancing and I was most happy to hear "Where Shadows Lie" with its harder punk edge. Absent from the set list was their comedic interpretation of Celine Dion's "My Heart Will Go On" which had been done as a "punishment encore" in the past. Incredible music and stage presence aside, the most complimentary thing I heard about Bella Morte all night from various guests was their surprise at how accessible the band was. They were hanging out and chatting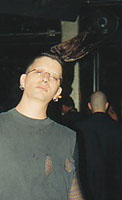 with people whenever they could - always with a welcomed smile and a handshake. There are no egos to cater to here, just down to earth musicians who are grateful and love when they get to entertain an audience. Their Tour Journal on Bellamorte.net stands as a testament to that fact. They truly do appreciate and love their fans.
"What I did NOT count on seeing, though, is the band members wandering around the club before and after their sets. It was really fun - I did a double take every time one of them walked by." - Adrianna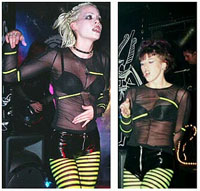 Between bands we had a "Who's sportin' the best Mohawk" competition and then Mistress Catherinna spun some more great hits to keep feet happy while they waited. It wasn't long and the Cruxshadows were ready to go. Again, the band took the stage, the music started and Rogue magically appeared wandering through the crowd from the back, making his way to the stage. The crowd, just like at the Portland show, was immediately enchanted. Along both sides of the stage, Beth (Gopal's girlfriend) and Jessica (Rogue's girlfriend) added to the eyecandy as they danced for the entire set. Lights, backdrops and Egyptian symbols added to the stage setting. For Rogue, a former Art Major, creating an atmosphere for their show is definitely a priority for the Cruxshadows and something new bands could learn a little from. It definitely adds to the experience of seeing a lie concert. The crowd was mixed with people who knew their songs and those new to them. Irregardless, I was AMAZED at how people danced enthusiastically through the whole set. Rogue's departures from the stage down into the crowd definitely served to encourage people to participate. I heard several people comment that it was like he
was singing "to you" not "at you" and that it made the show more personal and exciting.
Highlights included their version of Poe's "Annabel Lee" (which has improved since I saw them perform it last with Stacey adding eerie vocals in the background), their cover of Pet Shop Boys "Its a Sin", the romping, upbeat fun of "Deception" and the sing-along Rogue induced with "Eurydice" getting the crowd to echo "Don't follow me" during the chorus. There were times I almost fainted witnessing the unexpected participation of the usually hard-to-arouse Seattle crowd. It went better than I could have dreamt. Several times during their sets, Rachel stole the show with her excellent violin solos showing just how much an electric violin can add to contemporary dance songs. And here again, Stacey wowed the crowd with her guitar playing while Chris kept everything in line with his keyboards. People later commented to me that it was really great to see a girl guitar player kicking ass on stage. Two rockin girls and two gorgeous guys -- what more could you ask for in a band ?
"It was a great show! wow! both bands were wonderful! so much energy and good audience interaction. and the violinist! she was amazing! i'm so glad we decided to go. I don't think i've danced like that in a while either. I sure was surprised when i got pulled up on stage towards the end of the show. eek!" ~Ethel

With energy riding high, on the last song, Rogue pulled the one trick out of his hat that first endeared me to them long ago -- he pulled people up on the stage to dance along with the band. You should have seen the crowd's wide-eyed amazement as mass chaos broke out - people were EVERYWHERE dancing like I've never seen! New to the band's antics, Chris stepped out from behind the keyboards to the center of the stage to sing along with fans during the chorus. It was exceptionally nice to see him front and center and the additional vocals added alot to the song as Rogue made his way through the crowd dancing with people. Even the dancers - Beth and Jessica, pulled people up onto the podium with them and let the fans take the spotlight. For many, it was the first time they've ever got to be on a stage under the lights and for a moment, entertained the fantasy of being a performer.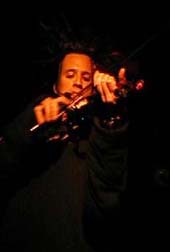 The crowd would not accept that the show was over and demanded an encore not once, but THREE times. The band, appreciative of the crowd, indulged them with some of their best songs including old favorites of mine, "Marilyn, My Bitterness" and "Sympathy for Tomorrow." Rogue even picked up the violin himself proving his musical talents go beyond vocals. At 12:30 DJ Xian then took over the airways feeding the crowd's frenzy with a danceable set of hits and even managed to get Andy from Bella Morte out on the dance floor with "Human Fly" by the Cramps. DJ Mistress Catherinna took over at 1:30 and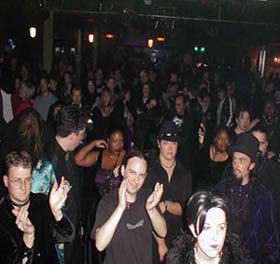 kept the tunes coming for a packed dance floor until 3:00 am. Members of both bands hung out at the Merchandise table and around the club, talking to people and relaxing in the club environment. I thought for sure we'd have to usher people out of there that night - they simply could not get enough and I couldn't have been more pleased. The bands definitely made an impact on the crowd here and due to the demands that they "come back soon," I expect their next concert here to be even bigger. Their show was truly an example of getting what you put into it. They gave 110% and the crowd ate it up and gave it back.

Many thanks go to the following people for making this event possible: both the Cruxshadows and Belle Morte including the folks behind the scenes -- James, Beth and Jessica, Venus Clothing, ADSR/Musicwerks, DJ Xian, DJ Mistress Catherinna, DJ Slowdive, DJ Peter, the owners and staff at the Catwalk, Luminous FLux, John and Emily from Tragik Records, Gollum from Acid Ice Flows, Neue Aesthetik, Bare Wire/Eristikos Records, Dancing Ferret, Obrien from Kontrol+alt+delete, Paul at C89.5fm, StarVox volunteer staff, Anthony and Jessica, Flaming Angels and NIN from Mr Underhill from driving all the way down from Vancouver, and especially everyone that made the effort to come out for this event - you rock my world!
---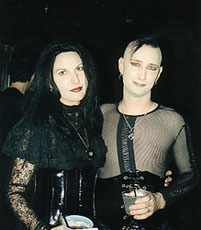 Starvox Live Event @ the Catwalk Playlist
Seattle, WA
October 6, 2001
Featuring The Cruxshadows & Bella Morte and Guest Dj's Xian and Mistress Catherinna!
!! Denotes Interest in song
** Denotes Requests
9 - 10:30
Guest Dj Xian from L.A
Stiff Miners - Giselle
Rhea's Obsession - Between Earth and Sky
Dead Can Dance - The Ubiquitous Mr. Lovegrove
Malign - Skin & Lye
Diary of Dreams - Blind in Darkness

The Creatures - Pluto Drive
Cocteau Twins - Lorelei
Oneiroid Psychosis - Tristesse
Skinny Puppy - Worlock
Wumpscut - Wreath of Barbs (Album Mix)
Project Pitchfork - Temptation
Apoptygma Bezerk - Near (Banilla Dream Mix)
Coil - Loves Secret Domain
Juno Reactor - God is God
Era - Ameno (Remix)
Arzt+Pfusch - Boneloc (Delights of Friction)
Belle Morte Live Show 10:30 - 11:15
Dj Mistress Catherinna 11:15 - 11:30
!!Behind the Scenes - Flowers
!! Kramm - Muse
And One - Secret Boy
Cruxshadows Live Show 11:30 - 12:30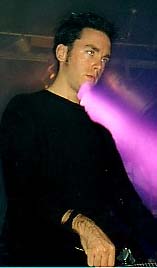 Dj Xian 12:30 - 1:30
Powerpuff Girls - Intro
Nine Inch Nails - Closer (To Mario)
Wolfshiem - Touch
Depeche Mode - Lie To Me
Covenant - 2D
Gruesome Twosome - Hallucination Generation (Symantec Nightmare)
The Cramps - Human Fly
Echo & The Bunnymen - People Are Strange
QNTAL - Ad Mortem Festinamus
PAL - Gelobnis
Tumor - Come To Daddy
Mentallo & The Fixer - Decompose
Alien Sex Fiend - I Walk The Line
Dj Mistress Catherinna 1:30 - 3:00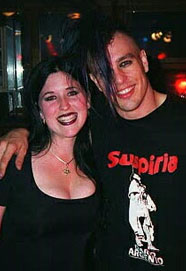 **Einsturzende Neubauten - Salamandrine
Collide - Wings of Steel
**Creatures - Exterminating Angel
!!Helium Vola - Ad Mundis Creatura
Apoptygma Berzerk - Love Never Dies
**Deine Lakaien - Into My Arms (Rmx DVK)
Yendri - Inside the Machine
Diorama - Advance
Cassandra Complex - Twice As Good (APB rmx)
**SPF 1000 - Haunted House
Thrill Kill Kult - Devil Bunnies
Beborn Beton - Another World
System Syn - This Time Next Week
Bella Morte Official Websites:
www.bellamorte.com
www.bellamorte.net
The Cruxshadows Websites: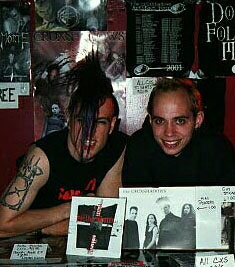 www.cruxshadows.com
Dancing Ferret Label:
http://www.ferret.com/discs/
Cleopatra:
http://www.Cleorecs.com
The Catwalk Club:
http://www.catwalkclub.net
DJ Xian:
http://members.aol.com/djxian/
DJ Catherinna:
http://www.the-catwalk.net/home.htm

11/08/01