---

see all the photos from this event here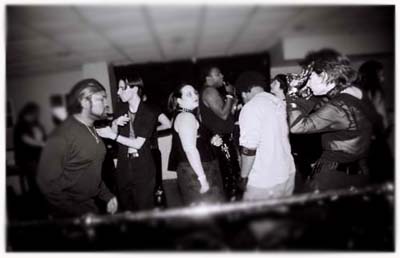 New to DC? Head to Midnight
~review and photos by Kimberly Nicholls
I first became aware of DC Gothic Nightlife about a month ago, when I appeased my curiosity by posting to a website called DC Freaks.com. My answer came in the form of an invite to Midnight, a Saturday night event from Scott Royce, its head promoter and co-founder. I later found out that personal invites are all part of Royce's routine of openness that continually rakes in new faces and keeps them coming back. After four weeks of escorted introductions and hanging out at this one club, I've become an
integrated part of the family of Regulars, DJ's, and helpers addicted to the warm, friendly atmosphere found only at Midnight.
Midnight's unique format allows its patrons to shop different local vendors, dance to a mix of music, and socialize with scene veterans and newcomers alike in one forum. The diversity of activity and crowd keeps the night fresh and tantalizing, and each new flavor is given lots of attention. Slyx Fashions one of the many rotating vendors, features latex clothing as well as offering patrons the chance to lie in a rubber bed that is vacuumed sucked around their entire body, while Stark Raving Mad offers girls the change to pick up hair barrettes, purses, corsets, and shirts to make their gothic wardrobes glitter and shine. The party vibe is carried on by the rotation of hand selected DJ's hand picked by Royce from his days partying in the scene. " There's a Good group of people here", states Royce. " A calm scene, diversity, and people respect each other. It all just seems to work. Helps mix things up with Vendors and DJs…. Everyone finds something they are into eventually."
Midnight entered the DC Gothic scene in November 2002 taking over the old Catacomb space at The Meeting Place on 17th and L Streets, and also inherited Catacomb's old Saturday night. "There was a crowd at the door before we officially opened," Recalls Royce, "it grew as the evening went on, feedback was terrific, and we knew then that Midnight was going to be a success." It was Royce's intention to create an informal and friendly gothic hangout, trying to add in small things that were missing from other club venues in the area. A year and a half later, Midnight has played host to live bands like Bow Ever Down and Dharmata 101, and has become a popular place for Guest DJ's to spin. Recently featured guests include Saint Matthew of Kommencement in Baltimore, DJ Danny Red, and DJ Paul Hart.
Nowadays, Midnight is promoting itself by running ads in Magazines such as Gothic Beauty, although Royce and his assistant promoter Sandra Taylor still chat with people in clubs and online. "Nobody told me that when I came a promoter that is would be a glamourous life of looking at the computer screen four to five hours a day" Royce chuckles, proud of creating the club Scratch Magazine called a Gothic Version of Cheers. Perhaps the only thing he would change is the smallish size of the dance floor which hasn't changed since its days as Catacomb, but you can't argue with a format that pleases a large crowd and draws them back every week to talk with their friends, pick up new clothes, and dance with the DJs everyone knows.

---
see all the photos from this event here
DC Midnight's site can be found at http://www.dcmidnight.com where links to area vendors and DJ's can be found
Midnight's New Picture gallery is located at http://dcgothic.gpox.com
To get in contact with the vendor coordinator email belladonnas_web@yahoo.com