Starvox Live in Pittsburgh
March 3, 2001
~by Matthew
(All photos courtesy of Kelly Ashkettle of The Night Shift and Night-sky Productions.)
A Poetic Observation by Benjamin Stauffer:
Club Laga, March 3 2001
(For Matthew)

Soon after I negotiated four flights of stairs
someone stamped my right hand "past due"
and I continued on
to the steep stairs of the DJ booth where
a young gothic man
hugged me
and I felt as if I were at last accepted
into a black church by the charismatic head priest

In near darkness with
rotating beams of purple orange red (etc.) light
an upper dance floor where a
black man in a trench coat and outstretched arms
looked like jesus
in front of a flock of sheep pregnant with oblivion

There was also the ringleader, (I assumed because of
his top hat and cane), swirling with an
obese biker in a harley-davidson shirt
to the house-metal discordia the priest offered
as if it were his blood and body

and behind jesus were three raver apostles with glo-sticks
who seemed to be confused and unsure of
themselves
elegantly flailing in uncalculated choreography
as if they were trying to guide a ghost plane
into a hangar writhing with wingless bats

ajna
from overhead transparencies
.030301

The fourth Starvox Live event was held Saturday, March 3, 2001 in Pittsburgh at Club Laga. Every Saturday night, Laga houses Ceremony, Pittsburgh's longest running and largest Gothic/Industrial night. Dark dance music is supplied weekly at the club by a DJ team known as The Night Shift, who also regularly invite guests to hit the decks with them.


One quarter of that team is Starvox staff writer Matthew Heilman, aka DJ Imperium, and he and fellow staff writer Michael Johnson organized the event, setting up three tables of promotional items supplied by such notable record labels as Dark Symphonies, Napalm, ADSR, Projekt, Seraph, Middle Pillar, Metropolis, and Neue Aesthetik. Also, bands such as Collide, 3KS, Die My Darling, Trespassers William, Glampire, The Night Eternal, Godhead, Thorns Of The Carrion and Twelfth Of Never contributed stickers, videos, posters, and glossy postcards/flyers to be given away to Ceremony patrons.
The night was an overall success, with an attendance of around two hundred dark souls, a little over the average weekly turnout. Michael (who drove all the way from Detroit to Pittsburgh to 'help a brotha out') manned the promotional table while Matthew split the evening's entertainment with special guest DJ Cable from Cleveland.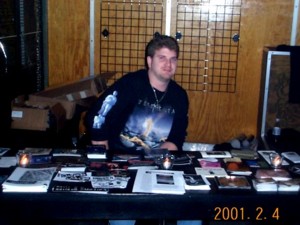 Local experimental/noise mavens Parvulus Infectus set up shop and sold copies of their latest release "The Mark Of Force Unspoken." Parvulus Infectus are a young act that take the organic metal-clanging roots of Industrial and fuse it with the today's harsh electronics to brew a frighteningly intense concoction. We were proud to have them among us, as they are surely one of Pittsburgh's most interesting acts.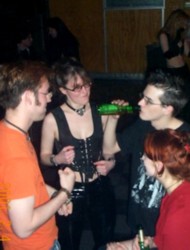 Jordan Harris, of death rock spooksters Carmilla's Dress (R.I.P) was on hand and contributed several copies of the classic "Of Passion And Remembrance" compilation. OPAR is an East Coast Gothic/Darkwave compilation featuring such notable acts as Gossamer, Vehemence Realized, Bella Morte, Vampire Nation, and Rapture. It was released in 1998, just before these bands began to establish a wider fan base and it is a wonderfully punctuated collection of the finest dark music to have emerged in years. And it is of course, for sale through Starvox.
Fredrik Von Hamilton, mastermind behind the infamous Vampire Nation is a local as well, and hung out and chatted with us. He also contributed a few limited edition videos to share with the crowd as well. Reports from this year's Goth Con have been extremely positive about VN and it looks as though Fredrik is embarking on a possible West Coast tour. Nonetheless, VN is an extremely under appreciated project that is deserving of the spotlight that is slowly starting to shine upon them.
Benjamin Stauffer, neoclassical pianist and dark techno wizard embarked on a last minute road trip and drove across the state from State College, PA to finally meet up with Matthew and the Starvox Staff in person. Benjamin, who as mentioned has a dark techno project known as Ajna, is signed to a subsidiary label of Chicago's Seraph Records known as Somnimage. He has a second neoclassical CD planned for release later this year, as well as plans to relocate to Pittsburgh (and wreak musical and social havoc with Matthew). To learn more about Benjamin, please see our interview with him this issue.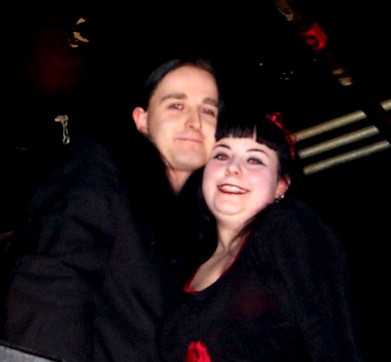 A few guys of Dark Martyr, an atmospheric blackened metal act stopped by as well. Along with the newest member of the band drummer Doug Schrekengost, bassist Dean Galitsis was pleased to receive goodies from Napalm records and insisted on buying Michael a drink.
A relatively silent newcomer to the Pittsburgh underground scene Jay DelGreco passed along a copy of his project Need, a lengthy demo of his complex and frantic Industrial experiments. Need is a band still crafting its emergence into the Pittsburgh scene, but the Steel City definitely has another promising industrial musician to add to its roster.
The evening's playlist began with the supremely moody Museum, a lesser known act featured in Starvox last summer and segued into an ultra frightening offering from Lycia to set a stark mood for the evening. Vampire Nation's "Craft Of The Union" was the first track to draw a large crowd to the dance floor and Attrition's classic "Acid Tongue" prepared the floor for DJ Cable's sneaky rivet attack, which included the immensely popular and crowd pleasing sounds of VNV Nation, Beborn Beton, and Delirium.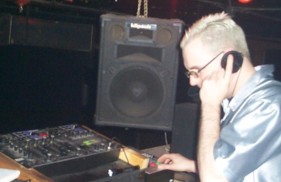 Other musical highlights of the evening was a revival of the mid-nineties darkwave hit by Malign, entitled "Skin & Lye," a truly eerie apocalyptic danse macabre that never ceases to result in a packed dance floor. An extremely stark and haunting Godflesh number (it's about time these legends start receiving some club play) set up a short Goth metal set with Moonspell, Kovenant, and Tristania, culminating in an explosive Goth rock set by Judith, Autumn, and Faith & The Muse.
Cable kept up the apocalypse with the bombastic "O Fortuna" by Apotheosis and went out with a humourous bang via a remix of Isaac Hayes' "Shaft." DJ Imperium "dug up" some old school Puppy and dove into the archives to come up with a somber offering from Clan Of Xymox's "Medusa" album. The depressive tones of Sunday Munich and Nick Cave whittled the evening down to a lush finale by the desperate doom metal romanticism of Virginia's Necare.


The night was a huge success as DJ Imperium was pleased to have incorporated so many new and lesser played bands into his DJ set and the crowds were very responsive the fresh sounds they heard. People were friendly, and a few kind souls even took the time to wish Michael a safe trip back to Detroit. People responded very well to the promotional goods and were very respectful of one another, sharing items and exchanging things with their friends. In terms of spreading the word about new music and the magazine, Michael was amused to find a Starvox flyer under his windshield wiper after he left the club. And a great many Metropolis stickers have been popping up on telephone polls in the Oakland area…


A special thanks goes out to Wolf for designing the flyers for the event; to Kelly Ashkettle, fellow Night Shift DJ who was on hand to take photographs and help run lights; DJ Cable for being incredibly patient and for delivering an awesome set. Without him to balance the evening with club classics, it would have been impossible to get away with so much new and rarely played music. And most importantly, a big thank you to the bands and labels that contributed to the evening's festivities. It is our duty to get you heard and thank you for being generous enough to help us be your spokesmen.

The complete playlist is below, as well as several links pertaining to the bands, labels, and Ceremony @ Club Laga.
---

The Night Shift's playlist for March 03, 2001:
R = request

[Imperium]
Museum - Forgotten Library
Lycia - Excade Decade Decada
Audra - In Hollywood Tonight
Vehemence Realized - Prayer
Stare - A Grey Sunrise
Mephisto Walz - Eternal Deep (Original Version)
Sopor Aeternus - The Feast Of Blood
Autumn Tears - The Dance
Butterfly Messiah - The Strong & Silent Type
R Vampire Nation - Craft Of The Union
Attrition - Acid Tongue

[Cable]
R Nine Inch Nails - Something I Can Never Have
R VNV Nation - Tempest
Delirium - Innocente
R The Cure - Lullaby (Ext. Mix)
Falling You - Mercy
Numb - Blood
R Leather Strip - Carry Me
Pulse Legion - Panic

[Imperium]
R Malign - Skin & Lye
Godflesh - Descent
R Moonspell - The Butterfly Effect
R My Dying Bride - All Swept Away
R Kovenant - Mirror's Paradise
Tiamat - Brighter Than The Sun
Tristania - Angellore
Judith - Succession (II)
Faith & The Muse - Scars Flown Proud
Paradise Lost - How Soon Is Now?
Autumn - How It Came To Be This Way
R Assemblage 23 - BiPolar
R Theatre Of Tragedy - On Whom The Moon Doth Shine (Unhum Mix)

[Cable]
Frontline Assembly - Plasticity
Flesh Field - Inside (Covenant Remix)
R VNV Nation - Standing (Still Mix)
cut.rate.box. - Behind The Wheel
R Depeche Mode - Enjoy The Silence (Ext. Mix)
R Beborn Beton - Another World (Remix)
Rob Zombie - Dragula (Remix)
New Order - Confusion (Remix)
Delirium - Silence (Remix)
R Apotheosis - O Fortuna
Isaac Hayes - Shaft (Razor & Guide Remix)

[Imperium]
Soil & Eclipse - Lycanthropy
The Azoic - Progression
R Tear Garden - Hopeful
R Skinny Puppy - Dig It
Clan Of Xymox - Louise
Sunday Munich - Expose
R Nick Cave & The Bad Seeds - The Weeping Song
Necare - Juliet Consigned To Flames Of Woe
---

Ceremony @ Club Laga:
http://ceremony.pghgoth.com

Pittsburgh Goth Information:
http://www.pghgoth.com

Labels:
Dark Symphonies:
http://www.darksymphonies.com
Napalm Records:
http://www.napalmrecords.com
Metropolis Records:
http://www.metropolis-records.com
Middle Pillar:
http://www.middlepillar.com
Neue Asthetik:
http://www.aesthetik.com
Projekt:
http://www.projekt.com
Seraph:
http://www.seraphonline.com
ADSR:
http://www.adsr.org
i.d. Entertainment:
http://www.idrecords.com/
Somnimage:
http://www.somnimage.com

Bands:
Parvulus Infectus:
http://www.parvulus-infectus.com
Dark Martyr:
http://www.darkmartyr.com
Vampire Nation:
http://www.vampirenation.com
Carmilla's Dress:
http://artists.mp3s.com/artists/94/carmillas_dress.html
Collide:
http://www.collide.net/
3SKS (Tri-State Killing Spree):
http://www.3sks.com/
Trespassers William:
http://www.trespasserswilliam.com/
Glampire:
http://www.glampire.com/
Godhead:
http://www.godhead.com
Thorns Of The Carrion:
http://www.geocities.com/carrionthorn
Twelfth Of Never:
http://www.twelfthofnever.com
Die My Darling:
http://www.diemydarling.com

4/01/01