---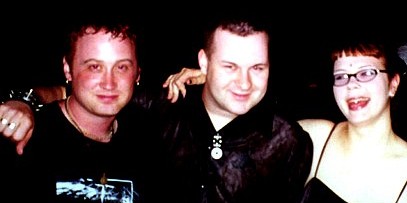 StarVox LIVE
at Underworld
in Numbers Nightclub
Thursday, July 27, 2000
~ reviewed by ::CyBeRiNa FLuX:: and photographs by Dana Dark
After the first StarVox LIVE's success in Atlanta last March, StarVox was invited by Underworld Productions to do a similar event at their night at Number's Nightclub on July 27th. Number's is Texas's oldest alternative music dance club, having opened in the late 70s. Its the oldest, and largest, dance club of any genre in the city of Houston. Since Numbers and Underworld have promoted underground scenes for such a length of time, we couldn't have been more flattered nor could we have found a better venue in Houston to come and introduce people to the newest of underground music.
The night started out right with a small group of people dancing, and greetings being made. There was even one girl who obviously came prepared to dance her heart out, as she had worn kneepads underneath her dress! As she swooped down and pranced across the dancefloor to Underworld's regular DJ, Hideous Jeff, StarVox staff began passing out CDs to the patrons looking on.
In short time, the club filled up, and a wealth of new faces as well as regulars had made their way to the club. Many local bands were present to socialize get their music out to their peers including a great electronic Industrial act by the name of oRdnance, an equally talented electronica act called Equals the Raven, and the members of the locally infamous EBM act U-N-I.
Promptly at 10p, a very special guest took to the DJ booth. DJ Shiva, the newest of the StarVox staff has been quite active in the Dallas scene as a DJ. Consistantly a progressive DJ, Shiva showed his true skills by mixing a combination of Industrial, powernoise, and goa that took the club by storm.
As patrons danced and listened, one gentleman broke out a set of glowsticks on strings making a ghostly glowing globe around him as he swung them and danced, and Cyberina Flux continued around the club making sure that everyone had their fare share of the goodies that StarVox brought. CDs, videos, posters, stickers, flyers, postcards, keychains, and t-shirts for all!
Somewhere around midnight, Cyberina then took to the DJ booth to spin her blend of industrial, synthpop, and gothic tracks for all to hear. Setlists for both Shiva and Cyberina's sets can be found at the end of the article.
After Cyberina ended her set, DJ 7x made it up into the booth for a short set before the club closed, but it was amazingly difficult to filter people out. Many folks had said that they had never seen people stick around the club so late as they were approaching both of the StarVox DJs asking questions, and picking through the few remaining stickers. They were talking about tracks, and generally socializing not wanting the night to end.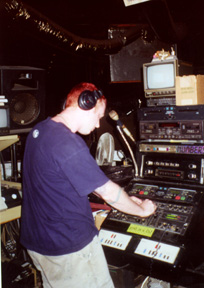 All in all, it was a very successful evening. StarVox truly hopes that we have introduced some folks in Houston to new and exciting bands that they enjoyed. If you were at the event and picked up a CD, we'd very much like to know what you thought of them, and the bands and labels are looking forward to your feedback as well. Please email cyberina@starvox.net with any comments you may have.
StarVox Music Zine would like to extend special thanks to the following bands, labels, companies, and individuals who helped make this night a possibility:
3 Shot West, Accession Records, Adastra Records, All the Pretty Horses, Ant Zen Audio and Visual Arts, Attrition, Bare Wire, Broken Men, Carmina and the Underworld Productions staff, Chiasm, Cleopatra Records, Cut.rate.box, Digital Apocalypse Studios, Dissonance, DJ Shiva, Eleven Shadows, Eristikos Records, Falling You, Final Exit Records, Gashed Records, Ghost in the Machine, Glampire, Hexenhaus, I Spy Graphics, Imminent, Luna Productions, Middle Pillar, The Mirror Reveals, Nocturnal Movements, Noizguild, The Numbers Nightclub Staff, P A L, Possessive Blindfold Recordings, Projekt Records, Pseudocipher, Razed in Black, Replicate, Twine, Vehemence Realized, VOID II VOID, and World Serpent Distribution.
The setlist for the night is as follows:
DJ Shiva:
Bihna - Crescent Sun
Xorcist - Bad Mojo (sacrosanct mix)
Mother Destruction - Hagazussa
Android Lust - Downer
PAL - Gelobnis
Individual Totem - Branching Universe
Hallucinogen - Demention
Blue Planet Corp - Blue Pill
I Parasite - Piety
Covenant - Stalker
VNV Nation - Legion (janus)
Project Pitchfork - En Garde
PsySex- LSDance
1200 micrograms - 1200mics
Deflo - Tio Mate
Biot - Oxygen Orgasm
Wolfsheim - Its Hurting For The First Time
Claire Voyant - Lolite "Trancelite" Francis A Preve mix
Rabbit-in-the-Moon - Out of Body Experience
::CyBeRiNa FLuX::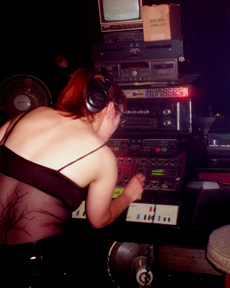 Apoptygma Berzerk - Everything We Know is Wrong
Apoptygma Berzerk - Starsign
Pulse Legion - Torn Within
Collide - Deep (Christ Analog Mix)
Solemn Assembly - Statik Heaven
Soil & Eclipse - Exile (Mix by MO)
Das Ich - Der Schrei
Bio-Tek - Steel Against Skin
Cleaner - Neuromancer
VNV Nation - Dark Angel
Claire Voyant - Mercy (cut.rate.box mix)
Gossamer - Run (Wayne Hussey Mix)
The Cruxshadows - Cruelty
Kismet - Zid
Rhea's Obsession - Between Earth & Sky
Beefcake - Untitled track 15
Pain Station – I Need You
Chiasm - Liquefy
Sabotage - La Lune
Razed in Black – Oh My Goth
Replicate - Slug
Synapscape – So What
Assemblage 23 - Skyquake (Voice of God Mix by Manhole Vortex/ProtocolX)
Cut.rate.box – The_end
Pineal Gland Zirbeldruese - Intro
Underworld Productions
http://www.remarkablegraphics.com/theunderworld/
underworld003@hotmail.com
Numbers Nightclub
300 Westheimer
Houston, TX 77006
Ph: 713.526.6551 fx: 713.522.4501
http://www.numbersnightclub.com
8/18/00