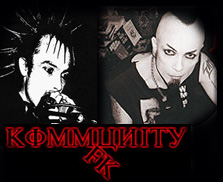 Interview with Patrick Mata of Kommunity FK:
Where Deathrock Has Been and Where its Going.
~interview by Blu
(KFK photo credits: The 'studio' shot by the insatiable Mistress Eva Von Silky, her badass Self and for the 'live' shot - 'Chris Graves/Rozznet.' )
The Past: Know Your Gothic Roots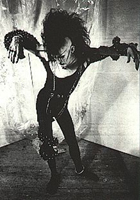 During the early 80's, in a post-punk reaction to New Romantics, an unintentional but powerful "darker" movement in the music underground erupted. Among this creative mass sprung forth the beginnings of a genre called Deathrock -- bands who would later become the template for what's now considered "goth"; bands like early Christian Death, Specimen, Alien Sex Fiend, Southern Death Cult, UK Decay, The Virgin Prunes and Sex Gang Children. By far the most popular place to be and the hot bed of it all was a club night called The Batcave in the UK. Started by the band Specimen, The Batcave, in its surprisingly short-lived life, was the host to outrageous parties and celebrities. At any one time you could find members of The Banshees, Bauhaus, Marc Almond, Boy George, Nick Cave, Gary Glitter or Robert Smith wandering about. Jon Klein of Specimen commented:
We had a 200 metre long queue on our opening night and this queue would become an integral part of the scene. Traveling up four floors in a tiny elevator, you passed through a coffin gateway into a well dressed labyrinth featuring a cinema/cabaret theatre, hybrid disco, live music and an atmosphere of midweek mayhem! The success of the club attracted record companies and it seemed we'd broken the circle at last...Looking back on the early eighties I think the only place to be in London was the Batcave as things seemed to happen fast and it was always full of opportunities to be creative. The first New York Batcave shows were like the Disneyland of Hell - a real mental place to be. Our US motto was "have a truly vile day", accompanied by our tour bus anthem - "The Asshole Family"... 1
The momentum seemed to come to a sudden halt with the closing of the Batcave, and sadly, simultaneously, many bands disappeared from sight. Long gone were bands like The Virgin Prunes, Specimen and UK Decay. Rozz William's death seemed to spike another nail in the coffin for Deathrock; but bands like Christian Death (with Valor), Souxisie and the Banshees (and later The Creatures), The Cure, Bauhaus, The Cult (formerly Southern Death Cult), continued on, adapting their sound to current trends.

Deathrock seemed ironically, dead. Sad yes? But never fear, nothing that dark ever goes away forever.




The Present
Deathrock remained a favorite among the underground masses with bands like Kommunity FK, who was there in the beginning, still touring and making music through out the 90's. More campy but extremely fun bands like The Cramps, Deep Enyde and 45 Grave kept touring and paved the way for yet another genre of music - gothabilly, which grew to include bands like The Brickbats, Ghoultown,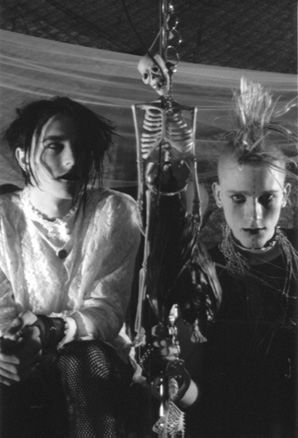 Psycho Charger and Cult of the Psychic Fetus. Most recently, L.A. has seemingly become the center of deathrock activity in the US - and rightly so as its a city who prides itself in outlandish fashion (deathrock is as much about fashion and image as it is music). Clubs like Release the Bats in Long Beach and Coven13 in LA cater to the very same trends and crowds The Batcave used to. New Grave Magazine (created by Fear Cult's Matt Riser) just released their second lovely issue and Deathrock.com, a long time archiver of Deathrock goodies, has announced its intent to start a deathrock label.
There are new bands on the scene too, most notably Cinema Strange who's unique sound, reminiscent of a melting pot of Deathrock bands, are fast making a name for themselves. Gobbled up whole by fans in Germany, Cinema Strange has already been on numerous comps and have been signed to the prestigious Trisol label out of Germany (the same label that carries Die Form). Playing for the first time at Pagan Love Songs (a club in Germany named after the Virgin Prune song), Cinema Strange felt strangely at home amongst a sea of mohawks and torn fishnets. Look for them with DJ Mark Splatter (from Deathrock.com) at the Wave Gotik Treffen festival this year in Germany. Other notable current deathrock bands include: Fear Cult, Thirteen13, Element (who's now latched onto the Deathrock moniker), Die My Darling, and SPF 1000.
The Future
Leading the pack in this Deathrock resurgence is Kommunity FK who will celebrate their 20th Anniversary this year. Just wee lads when it all started and around to see the last night of the Batcave, Patrick Mata and company have held fast to deathrock traditions in attitude and style but have incorporated enough new musical technology to keep one step ahead. After releasing a solo effort and on the verge of a new KFK CD (which has seen Dave Roberts of Sex Gang Children come aboard as bass player), Kommunity FK is poised to put Deathrock back on its deliciously decadent pedestal.
StarVox: For those readers who are younger, tell us when Kommunity FK started and how. This year it the 20th anniversary of the band right?
Patrick: I started Kommunity Fk back in 1979. It was during the 'post-punk' period. We got our first show playing at the now infamous Cathay DeGrande in Hollywood, Ca. Don Bolles, drummer for The Germs and what was the beginning of 45 Grave, respectively, was doing our sound. We were initially called 'Kommunity Fuck.' I shortened it to 'Fk' then the pronunciation changed. I named it such out of frustration because we were met with an almost ostricized reputation. We became alittle confrontational, sometimes questioning the audience's existence, their sincerity. We were originally a 3 piece with a synth that I programmed to just drone in diverse soundscapes as a spirit within the music. Then on songs like "No Fear" I'd just be playing the synth and singing with the bass and drums, no guitar. Most of our set back then ended up on our first ever vinyl lp called "The Vision And The Voice." In 1980, we started being asked to perform at the clubs that at first wouldn't have us. Then, in 1981, we got our first of many honors to come in Kommunity Fk's career; opening for Killing Joke at The Whiskey this being their first ever U.S. tour. In those days, you had to play 2 shows in 1 night, paid only for 1 set. The club would empty out after the first show, then fill back up for another. I got to meet and hang with them. The shows were sold out. We got a killer review. We were then often asked by other great bands to second to them. Now it's Kommunity Fk's 20th anniversary and I swear I never thought I would ever be performing and writing for many new fans in the year 2001!
StarVox: You got a chance to tour UK and were there the last night of the Batcave. Tell us how that happened and what the Batcave was like?
Patrick: Kommunity Fk were touring with Sex Gang Children, this is 1985. I was met at the S.F. airport by the band and they're then manager in a limo. Once inside, we partied quite hard and were becoming good friends. We had opened for them twice the year before and Andi would always ask us to come along. Their manager asked me to come to London and tour over there. I accepted. We had just recorded our second vinyl lp, "Close One Sad Eye." The label sat on the record for 1 year. We created it in 1984. I just needed a change of scene. I've often gone through these 5 year cycles where I need to regenerate my muses. So, I split. I had a band waiting for me to back me up and perform my songs.
There was Cam Campbell, from Andi's Sex Gang, on bass, Then he was later replaced with the brilliant Eddie Branch, of UKDecay and who has played in Peter Murphy's solo group, A Danish Gothgirl named Lone Erikson played synth, and originally it was Andi's Kevin on drums but he was later replaced by someone else. We toured with both The Virgin Prunes and then Xmal Deutchland doing the British college circuit. During a break in the action, Cam and I started going to all of these amazing nightclubs. We went to The Batcave a few times. One of these times just happened to be The Very Last Night. Jonny Slut was the DJ. This sad but special night he had cut off all his hair down to a blonde crewcut! He was dressed like Bowie doing his James Dean impersonation... red windbreaker, Levis, white t-shirt! "It's over!," he yelled and then proceeded to spin every kool dark gothic classic until we drunken ecstatic deathrockers piled out onto Dean Street into the London fog. It wasn't especially decorated or anything. It was the way and style of it's clientelle. I mean, Ollie and The Specimen and Alien Sex Fiend brought alot of the O.G.(Original Goth) style to it by just being themselves.
StarVox: I heard the name of your band was actually after a painting you did? Tell us about that and do you still do artwork?
Patrick: The name 'Kommunity Fuck' came from the then Hollywood 'powers-that-be' not booking us because they didn't understand us at all. And at the time, I was beating the pavement looking for a job as a paste-up artist because I love to make my style of collages and assemblages. I'm to this day still inspired by The Dadaists of 1916 Germany. I had a piece that depicted every kind of zesty sex act dreamed possible being enjoyed by early Roman Empire enthusiasts. I stuck a red penis at the top. I called the piece "Kommunity Fuck."
When Bruce from Independent Project Records asked if we'd record an album for him, of course we agreed. We didn't really care then. He could only press 1000 copies. What perfect cover art should we use? It also turned into a kind of visual pun. That vinyl lp is worth around $250.00 in most prestigious record stores whereas in Germany, someone told me they bought it for $2000! I had licensed back in 1994 to Cleopatra. Now that the contract ran out, I'd love to re-release it with some kool extras. I still continue my anti-artwork.As a matter of fact, I'm working on the cover art for the new Kommunity Fk lp as we speak. I did the entire package design for my debut solo cd called "HYDRO CARBONS FROM A METEORITE(GREEN)." I plan on displaying my art sometime this year.
StarVox: Tell us about the current line up of Kommunity FK... I hear you have some very interesting new members?
Patrick: Having had Kommunity Fk for so many years has allowed me to work with alot of great musicians. But this current line-up remains the best. There's myself performing as the vocalist/guitarist/composer, Sherry Mata, chanteuse/lead guitarist, Jack Atlantis on synth/samples, Mr. Dave Roberts of Sex Gang Children fame on bass, Heather Dunham on bass as well, and I'm deciding who will play drums/percussion for an upcoming tour. I met Dave Roberts on the first Sex Gang Children tour back in 1983 and have wanted to work with him ever since. We've been talking and so I asked him if he'd like to come aboard the Kommunity Fk ghost train and he said yes! Heather Dunham plays bass in Sherry and I's new side-project called "TEXYLVANIA." Jack Atlantis is a godsend. He plays the samples and synth and is a great sound mixer/producer and Dan Reed from the band Overwhelming Colorfast plays drums in 'TEXYLVANIA.'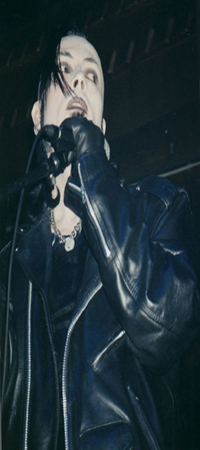 StarVox: Interesting -- what's the new project like?
Patrick: Sherry and I have another project called "TEXYLVANIA." It includes Dan Reed from Overwhelming Colorfast on drums, and Heather Dunham on bass. This band is total kickass blood-drenched high-energy punkrock. It's a visual thing as well as having some real killer songs. Go to MP3.com/TEXYLVANIA We're playing our debut show on March 28th,2001 at Seattle's The Breakroom with The Manscouts Of America.
StarVox: When did you move to Seattle and what prompted the move?
Patrick: I moved to Seattle back in 1999, July. I was recuperating from an accident where I was the victim of a hit-and-run driver. I had some time to reflect upon myself. I needed new surroundings and inspiration. Sherry's from there, so we decided to split.
StarVox: How do you like Seattle so far?
Patrick: So far, I love Seattle for it's weather. It's condusive to the way I write... As far as the scene here, it desires more from it's ghoulish contingent. At this club called The Mercury, they had it's first Batcave-themed night and everyone looked the best that I've seen here in a while. We're in the bloodstream....
StarVox: In 20 years of playing, what stands out in your mind as one of your best gigs?
Patrick: There have been alot of memorable moments and experiences that you wouldn't believe. One time we were performing at this place called Club Lhasa run by the lovable Jean-Pierre. We'd pack that place everytime we were booked and he'd even feed us some of his menu at our soundchecks! The original drummer, Matt, had a friend named Eric who showed up at a soundcheck with none other than Johnny Lydon! He had bright orange hair under a bright blue baseball cap. I took a double-check and then freaked! He later came to the show unbeknownst to most of the audience in his 'disguise.' We later went drinking at The Cat And The Fiddle when it was in Laurel Canyon. One time and this is truth, at the same club, this tart I knew was banging Peter Murphy of Bauhaus and brought him to a show there. Bauhaus were in Hollywood to perform 3 shows at The Roxy on Sunset Blvd. He literally tried to get Kommunity Fk onto the bill but one of The Roxy's co-owners didn't want to book us! Instead, they booked an East L.A. punk band! So, in consolation, he put me on their backstage VIP list for all 3 nights. I saw, what was to be, the very last Bauhaus performances until these latest shows. This was 1983. We later second-billed with Peter Murphy on his first ever solo tour. I could go on&on.....Maybe I should write a book on my Kommunity Fk memoirs.
StarVox: You've played with legendary bands - which ones made the most impact on you?
Patrick: God, that's tough. I'd have to say Killing Joke, PIL, Specimen, and Bauhaus/Peter Murphy. Just to name a few.
StarVox: Any funny stories stand out in your mind about touring back then?
Patrick: Besides what I've already mentioned in answer #6, there have been massive amounts of incredible moments in the last 20 years. I could even incriminate some famous artists but I won't! While headlining The Limelight in New York back in 1994, one of the writers for High Times magazine came to soundcheck then later to the show. We partied like you wouldn't believe! I later ended up with some hashish peanut butter cookies that lasted 2 nights. They were supposedly from Amsterdam. Another time, back in 1984, we were on the road with Sex Gang Children. Andi, Cam Campbell, and their manager invited me to ride with them in their limo from the airport to the venue. We were to play at The Mabuhay Gardens in S.F. We partied quite hard in those days and in that limo. By the time we arrived at the venue, we were high as an apparition! Andi and I wandered around North Beach visiting subversive bookstores and sex joints. No doubt we were late for our own soundchecks!
StarVox: What do you listen to musically? Any new bands out there catch your ear?
Patrick: I like to listen to obscure artists. Morrocan, Middle Eastern, West Indian music. I also love bands like Pigface. Anything experimental and electronic. Early Moog records, Halloween sounds tapes(I collect them). Certain Spoken word stuff. Burroughs is a constant inspiration. As far as new bands, I try not to listen to any so as not to become influenced in my writing. I love Penis Flytrap.
StarVox: You mentioned recently that you've found some of Kommunity FK's stuff (like props and backdrops from old tours) on eBay for auction. That's got to be somewhat complimentary knowing that people would be bidding on it as part of Deathrock history and nostalgia?
Patrick: Yes. It is flattering and even at times unbelievable. It's only a matter of time when the whole kool worlds will know about Deathrock. The real underground is to become rampant and it's in the bloodstream as we speak.
StarVox: I hear you have many new projects in the works, one among them is a solo CD just recently released. Tell us about that and what the plans are to celebrate your 20th anniversary?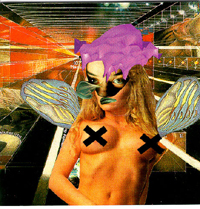 Patrick: I loved creating my first ever solo debut album. I did the entire design. All of the artwork, and all and/or most of the music on it. I hadn't planned on recording one but I was asked by the label, Transparency, to do it one afternoon while browsing in Amok Bookstore. Kommunity Fk performs some songs live from it. Like ''"We Belong Dead," and "Only Child." You can buy it at any Silver Platter storechain, Orpheum Record store, and Cellophane Square, all up here in Seattle. You can also buy it in a package with other KFK stuff off of the official Kommunity Fk website. As far as the celebration of Kommunity Fk's 20th anniversary, we're planning a tour in conjunction with this magazine, StarVox, and will be playing alot of our klassix material with our new material. Keep your eyes on StarVox for more information. This will be this coming summer. I'm also going to announce in this magazine first, news on an upcoming and long-awaited Kommunity Fk full-lenghth cd album.
StarVox: Actually- I just picked up a copy of it at Musicwerks in Capital Hill too here in Seattle - you're spreading amongst the masses!
Coming Next Month: Interviews with Cinema Strange and Thirteen13

---

2/01/01