---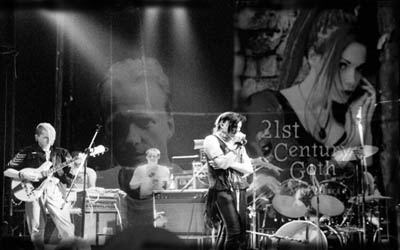 Mick Mercer Part 2:
21st Century Goth
~interview by Blu

A while back I received the Noir photo collection by Mick Mercer on CD. As a huge fan of gothic music and its history - it's an understatement to say I was awestruck by what was included here. Having read about these collections before in no way prepared me for actually viewing them. Included on this disc was an amazing slice of underground music history - forever captured on film, meticulously documented and scanned by band, date and venue. There are photos here from as far back as the late 70's capturing the likes of Adam and the Ants and Siouxsie and the Banshees as they were just starting out - bustling with youth and energy. As I looked through these photos questions came to mind about how they were taken and what it must have been like to be around those people back then. Kindly - Mick agreed to answer my rambling questions.

The month of May also brings about the release of 21st Century Goth - Mick Mercer's 4th book on and latest look into the gothic subculture and more specifically - how the internet has shaped and effected it. Like his previous books - 21st Century Goth promises to include a wealth of information and reference material.
------------------
Blu: First and foremost. I am amazed at the amount of photos on the Noir CD - how many are there exactly?



Mick: There were supposed to be exactly three thousand but there are actually 3017 for some reason that baffles me.
Blu: When looking through these - all nicely divided by alphabet and then by band and then, at times, even by date and venue, I began to wonder what a nightmare it must have been to catalog all these things. You must have kept them very well organized and documented through the years? (you've got photos going back to the 70s!) And at some point someone must have had the tedious task of scanning them all into the computer?
Mick: And that someone was me, I'm sorry to say – but you'd hardly ask anyone else to do that would you? This also coincided with a period when I was doing my new book, and that often required 16 hours a day spent online - I tried to keep to that as a limit, allowing me four hours to do everything else, plus four hours sleep – and if anything needed to be excised from this simple equation it was always sleep that missed out. After a few months I was sometimes sleeping on four days of the week and just staring like a slack-jawed madman at my monitor the rest of the time. In the past 18 months I have somehow managed to scan close on 70,000 pics. Then you also have to edit all the photos to clean up whatever tiny blips and blobs you discover.
I have kept pretty much everything, which is miraculous to me as I often have a thorough spring clean, to keep my possessions to a minimum, dividing everything up. Rubbish goes into some bags, treasured items into others, and then a few days later, after everything has been thrown out, I go in search of something particular and find…several bags of rubbish!!! So along the way I have lost valued stuff but for the most part it's still all here.



One point I ought to make, I suppose, is that NOIR is a budget sampler, with examples of my Goth and Goth-relevant collection overall, but on my website people can see the full range which is available as individual sets (a gig or interview session) on CD – or CDs where I gather together several gigs' worth of one band for a cheaper price, for people to buy. This covers Goth, Punk and Indie, which obviously go back as far as you say, because I started in 1977. Also the jpegs on NOIR open up at a nice size (average size 14 x 10cms) to print out, but if people then buy a full set of a particular band they'll find the pics open at a better size (averaging 28 x 20cms) suitable for framing.
Blu: And let me add - there are some GREAT rare photos to frame. You've got some really early photos of Adam and the Ants from 1978 at the Marquee and Moonlight. It's interesting to see him - pre-Mtv. What were those shows like? Seeing them back then did you have an idea they'd become as big as they did?

Mick: Not initially, although they had this stripped down, jerky sound which was different to anyone else and immediately appealing. By late 78 it was obvious the man had what it takes and it was astounding to see, but also quite revealing, that the music press preferred to ridicule him. That was fine preparation for me having to accept that editorial staff have an agenda you can't affect. Adam & The Ants, by 1979, was the biggest underground band in Britain. They could sell out the main London venues (and elsewhere) several times over, which they would do several times a year, and yet they were getting no coverage and labels seemed to shy away. It was weird. To me, Adam was the biggest 'star' of Punk, waiting to happen, so when he did it was brilliant, but then he went soft and soppy and that was not just tragic but wholly unnecessary.
Blu: You've got pictures of All About Eve dating back to '87 and even some shots taken at their studio and then separately with Julianne? It seems you spent a good amount of time with them. What are they like?
Mick: Brilliant, although I suspect Julianne doesn't like the fact I have a CD for sale which includes pics of her, even though I have actually removed the pics I knew she was would regard as unflattering. Julianne is very bright and now they've had their successful phase, she's got her feet back on terra firma and realises she can have music run alongside a normal career. Too many people assume they can just go back to being well known, and that'll never happen. Andy is a nutter, and agreeable in every sense of the word. He just keeps amiably getting involved with projects which he finds enjoyable, and Tim is a funny character who does Tin Star who seem strangely stop-start in terms of their work. I know there was bad blood within the band but that doesn't affect how they were as individuals. They are all lovely.
Blu: The shots of Andi Sex Gang and Terry are great candid, black and white close-ups. Where were you when those were shot?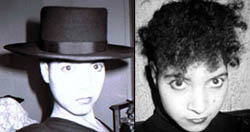 Mick: Nowhere to be seen. Allow to me introduce you to Joan Geoffroy. Some of the great black and white shots you see on the CD are taken by her. We went out together for 16 years and for maybe five years she took photos, and I believe she was the most 'natural' photographer I have ever encountered. I had photographers showing me their work all the time when I was editing magazines so I know who has it and who is going to make heavy weather of something. Joan was brilliant. (The next few questions mainly revolve around her work.) When she got rid of her camera gear she also then gave me her negatives and the copyright and said I could do whatever I liked with them. I hope that one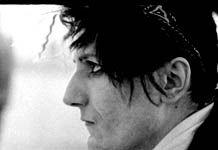 day she takes it up again because it's waste of a superb talent. We didn't split up on bad terms and still keep in touch. Whether she ever gets around to it again is up in the air as she's always doing something new. The last few interests have included tree conservation, Egyptian dancing, studying Gothic architecture, and learning sign language.
Blu: There are 15 pictures of Ausgang from 1984 on the Noir disc that are quite possibly my favourites off the whole disk. Again - candid black and white shots. It looks as though you spent the afternoon with them around town. What was that day like?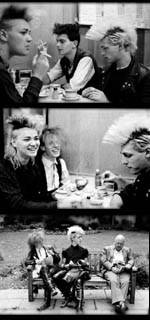 Mick: Classic Joan fare. I did an interview, for Melody Maker, as I loved Ausgang. They were, sadly, too adventurous musically for most people to get what they were doing, but they were consistently imaginative and…importantly, for me, an interviewer's dream, being so funny. Any day spent with Ausgang was a mental experience, as Joan found. She took them off around the Holborn area of London, just on the outskirts of the West End and they tried to find as many locations as possible, although I like the ones where she's captured them sitting down and just talking to each other as they're very different individuals.
Blu: There's quite a good group of shots of Danielle Dax posed in 1985. Interesting background - where were those shot?
Mick: No idea, more Joan stuff, but I suspect at Danielle's house, because the little studio bits visible in some of the more boring shots, imply it's a small home studio. I like the artwork on the walls behind Danielle and imagine those were by her too.
Blu: I have to ask about Fields of the Nephilim. Looks like you tracked them down to a pub in those shots? How were they in person? Does Carl ever smile?


Mick: Those pics are of course pretty boring, by comparison, and taken by me during an interview. God, were they slow. Took them ages to get into conversational activity, and it even took about 20 minutes to walk a hundred yards from their rehearsal room to the pub. The chink of spurs on a cobbled street, the ease with which they got drunk, and the fact Carl is very funny (or was, back in those days) stays with me. They were drunken buffoons, basically, once you got them going. Yes, Carl smiles, leers, and sometimes mutters incomprehensible things.
The Nephilim pics I took weren't particularly numerous, so I have those with all of the smaller sets on one compilation CD, called GOTH GREATS, as I also have with Indie and Punk, with the pics at full size. GOTH GREATS has 348 jpegs from full negative scans – averaging 28 x 20cms which includes Bible For Dogs, Cassandra Complex, Chat Show, Cries Of Tamuuz, Enrapture, Fields Of The Nephilim, Finish The Story, Josi Without Colours, Judda, Lean Steel, Liasons Dangereuses, Manuskript, The Mission, 1919, Nosferatu, Restoration II, Romeo Suspect, Sexbitchgoddess, Siiii, and Southern Death Cult.



Blu: There are incredible shots of Gitane DeMone - both alone and signing with Christian Death. She's certainly a camera friendly person. What was it like working with her?
Mick: She's brilliant, and very easy to work with, and came prepared with ideas of how she wanted to look and what she'd like to do, with several different outfits. This was for Siren magazine, so she knew there'd be colour and black and white, and even worked out how that could be best be played with. She's funny, extremely bright, and imaginative, which always helps. She also scared the caretaker in my apartment block when he came up onto the roof to do something, only to find her bending over some metal poles in her g-string. He backed out and down the stairs again, red-faced.
Blu: The shots of Psychic TV are wonderful. It looks like you did a lot of experimental exposures on those?
They seemed to be having a great time doing them.
Mick: No idea, more Joan trickery. Far too clever for me!!!
Blu: On the disk I got was some sub folders called Things and Weirdness that included various miscellaneous pictures you've taken - churches, graveyards, cats and some very interesting statuary. Are those included on all Noir disks? They're utterly fascinating.
Mick: A few of the statues are actually in my new book, in the foreword. I just fancied popping some of those on because odd things always interest me and as I am now taking a lot of outdoor photographs I plan to find more things of this nature and include them on my website and on CD. I particularly liked the photos of the sculptures inspired by a death festival in Venice that were exhibited locally, in the grounds of Chichester Cathedral and then at a place called Appeldram, an Elizabethan house. Everyone that sees them loves them so including a few on NOIR made sense.


Blu: Have you ever had any plans to set these up in some kind of travelling museum exhibit? Surely they're valuable as a snap shot in time for a musical subculture - I can't imagine that some pop-culture institute wouldn't snap these up - they're marvellous!
Mick: That is a bit too potentially pretentious in my mind. I do what I do and people either like it or they don't, but to go in search of some kind of recognition…it makes me squirm with discomfort.
Blu: I see your new book, 21st Century Goth, can be pre-ordered now on Amazon.com and is scheduled to be out next month - May 2002. Does this mean you've seen the final? Are you happy with the way it turned out? And I know we've touched on this a bit before, but what was your approach on this book - what's it about?
Mick: Yeah, it's done and looks gorgeous. Obviously a few things will go wrong, as sites change their urls and isp's oust hosts etc, but for the most part everything will be worthwhile and of use. There's over 5,500 sites reviewed or listed but there's about 150 photos, and 20 stunning full page pics, so if anyone is unhappy with what they get I think they're pretty strange.
It's all about Goth on the Net and what I've found. I try, by the inclusion, and highlighting of, certain sites, to also throw up certain threads and ideas throughout the book. Some content will be entirely unexpected. Plus I've played around with the layout, throwing in a couple of interviews, as well as details of my future plans.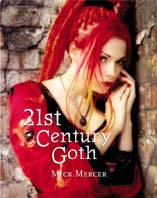 The basic end result is that it should be a better guide to what's out there than on any of the main Net resources covering Goth because it has a more Goth-relevant perspective, and also has a more international feel than many. Look at most big American ones and there's precious little outside of US and UK coverage – just some of the bigger European things thrown in. Similarly, German and UK sites tend to ignore other areas. I've tried to cover the lot, picking the best personal sites, of people, all the band material, weird and sometimes unsettling sites (but disregarding smutty or sordid death ones), and zines, regional guides, clubs,
960 band sites reviewed, with 982 other band sites listed and categorized., 317 Clothes/Goth-related Businesses sites reviewed, and so on: The following list shows the number of main sites reviewed in a category , with the number of other sites listed in brackets:
Clubs 159 (60), People 709 (404), Goth sites 285 (108), Locations 241 (124), Resources 44 (47), Zines 192 (27), Webrings 47 (76), Visual Rock 33 (31), Sites Of Interest (the weirder stuff) 417 (166)
Blu: What's next?
Mick: I'm still recovering from the shock of photographing some of the work my girlfriend, Lynda, does. She is a talented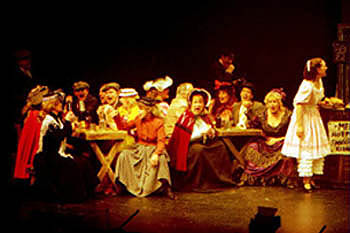 singer, of operettas, but also has involvement with local opera societies where she lives, who do charity shows and so forth. I go along, cursing myself for not taking earplugs, and photograph the dress rehearsals for her. It turns out to be just like gig photography, because I'm still looking at people who are passionate about what they do, so even though it means little to me, apart from enjoying watching Lynda do her stuff, it's interesting. Plus they wear costumes, which is very odd. This pic comes from their performance of Sweeney Todd, 'the demon barber of Fleet Street'. Lynda is second from the right - blonde hair/mauve dress - eating pies containing dead people!
Assuming this book does well then I can maybe do a book a year. More or less. Plus I am doing my website, which should be fully operational by late May - at www.mickmercer.com - so people can either buy pics or books on CD, or read reviews and interviews. I hope to update nearly every day. I aim to release some retro stuff first on CD, of material I have which people won't have seen before. Special graveyard photo CDs will be coming when I have enough images (I'm going to photograph every church with a graveyard in the South of England), and I plan to do a quarterly CD mag which will be unusual and, I hope, distinctive. There's a novel to get to grips with, and pretty much more of just about everything.


Incidentally, money raised from sales of my CDs helps lessen the costs of my graveyard photos, because that's an expensive pursuit, but also I plan to use money to buy up people's negatives/copyright collection to develop the fullest archive possible. You wouldn't believe how many people get bored with photography and actually either throw out or lose their pics because they have their prints and their memories and just ditch the negs! I can't afford to pay fortunes, but if people had a good mini-collection of pics taken over a few years, and they're never going to do anything with them again, then if I bought them for a few hundred pounds (assuming they're decent quality) that's them happy, and I get more names to add to the list.
Can I please add, on 21st Century Goth, that if anyone is involved with mailing lists or have their own sites can they please circulate the news of the book's release and advise people to order through Amazon.com? It comes out in May, with advance ordering from April onwards. It saves them money, after all, and it saves them having confusing, or heated, conversations with people in bookshops. The book is bigger, better and cheaper than my previous ones, so I hope everyone is interested.
Blu: Indeed we are. I've got mine pre-ordered already! Thanks again Mick!
---

Read our first interview with Mick here: http://www.starvox.net/intview/mm.htm
Photo Catalog info: www.mickmercer.com
Order 21st Century Goth here:Amazon.com

5/01/02