Bands and Labels- want to be featured on StarVox? Click Here for Details
---
What are readers, bands and labels saying about StarVox?
To Jezebel on her Belisha feature from a reader and fan:
"Thankyou thankyou thankyou for featuring Belisha. I saw them live a while back and they were superb...Jenn"
From Jeff (Nightmore Boy) from the Sins on their CD review:
"Oh my god! Thank you so much for the review...it almost made me cry with joy...but don't tell anybody that! Thank you for everything you've done for us. I really appreciate it. You've put alot of time in with us and I hope that this will pay off soon. I don't want money and fame. I want people to hear us. That's all I want... I'm just one of those people who needs music. I have to play. It's either that or a life in jail. The guys have seen glimpses of that. They understand that this is the best release for me as well as them. I don't know what I would do without them. Without the experiences of playing live and without hearing the praises for our work. These things fill me up and make everything worthwhile...
Thanks-
Jeff"
An email from a gal named Sarah about Matthew's Black Tape for a Blue Girl review:
"It's nice though that you care enough to meet your deadlines! That was a very detailed and descriptive review. You obviously pay close attention to the CDs you review. I used to work for a music distributor and very much miss being exposed to new music firsthand. Starvox's reviews help me out now!
sQ"
from Cat As Trophy in response to Michael Johnson's review:
"I'm Lady Die from Cat As Trophy and I just read the review you gave us. I want to THANK YOU very very much.That was so fucken awesome. I'm so glad you liked the music and we are forever indebted to you for your kind and elaborate review. You fucken rock!! Hopefully one day you can see our stage show.
once again, thanks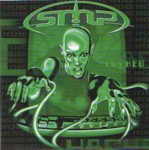 -Lady Die"
StarVox was thanked in SMP's CD HACKED
From Dexter of the Sins on their CD review:
"Thanks very much, by the way, for the awesome write up for The Sins. And yes, I got the hint (you're so cruel to me). I turned up the effect [on "So Many Ways"], not all the way but almost all the way, just for you (Bood the roady thought I did it for him, but I had to saddly inform him that I find excellence in doing the exact opposite of what he thinks is cool, just the odds were with him this one time). Unfortunately, a couple of years of kicking the living beejeezzuss out of that pedal, may have took its toll as last show I stomped on it and nothing came out, so I STOMMPPEDD on it a couple more times and it works intermittently...."
From Myke Hideous on reviews of The Empire Hideous and SpySociety99:
"GREAT reviews. Wow. HOW FUCKING GREAT ARE YOU???? Someone just smack me please!!!.
ThanX so much."
Dan from Belisha writes:
"I...........am..........speechless...............thankyou"
A reader comments:
"I just spent a good 30 minutes devouring starvox (as I do every few weeks) - and damn woman... starvox is incredible." ~ GiGi
From Patrice of Regenerator:
"Hi there Uncle!
Just checked out your review. Thank you so much. Your honesty and attention to detail is very refreshing. Yes, playing at Slimelight was a bit of a challenge. We'll definately hope for larger venues next time around. You're right too about the dance crowd wanting pumping tracks straight through, we'll keep this in mind..."
Synthetic comments:
"Hi Michael,
Cool. Thanks for that. A very thoughful and informed review :)"
Lost Faith says:
"Jezebel...just letting you know that since your review we have had a number of people contacting us saying that they read a review of Dead Roses and want tp give us air time on certain radio stations...............so I would just like to say thankyou again. Thankyou!"
Cryonica Music comments on Uncle Nemesis:
"Hey Michael..
Regenerator just forwarded me your mail link.. Aha.. I did not know you wrote for Starvox! About time they had a descent UK reviewer on board.. Well done..!!"
From Garden of Dreams:
"Mike: WOW! That is one of the best reviews we have ever had! Thank you so much! I am truly pleased that you enjoyed the CD....Thank you for the years of support! - Gene"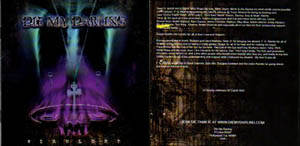 From Sean of Die My Darling:
"WOW!!!!!!!!!! Thank you so much Blu!!!!!!!! I certainly owe you a bottle of wine upon your arrival to LA. The review is just amazing! And aside from obviously helping DMD re: public awareness, your feedback is so needed. I haven't received such an in-depth response from anyone as of yet re: the album, and it really helps me. (We've been so close to it for so long that we don't even know what we are hearing). WOW!!!!!!!!!!!!!!!!!!!!!!!!!!!! Thank you!!!!!!"
From Seventh Harmonic on Jezabel's review:
"Aaaah...thanks so much, that has really made my week! It's so nice to receive such an insightful and thoughtful review - makes it all worthwhile! :-)"
Kian of Kaul said:
"Hello Eric!
Thanks for writing and sharing the review with us. I really like your ideas about the music, and that's a cool policy you have about giving the bands a first look. "
From Desert + Fortune:
"Well, don´t know what to say... we´re very surprised about your review and happy, of course ! I like the style, the rev. is written in – it seems as if you really listened to the CD and – that´s really amazing – also took a look at the style of the CD and the lyrix. The only thing I´ve been a little bit shocked about, that I´m looking like a fascist – I am not ! But after thinking about, I must say, that the pics may give this impression. We tried to build a visual bridge to our music, the differences between love and hate, a taste of erotic and - of course – we wanted to look a little unlovely [don´t know, how describe in a better way]. For now, we´re a bit unhappy with the pics, cause they may be to typical for a Gothband – and I hope we´re not that typical kind of it… so I´ve been excited about the line, you drew to Judith and not to Sisters or Dreadful Shadows – that´s what we got mostly… but we´re influenced mainly by bands like New Model Army, Love Like Blood or Mission. I just felt, I have to explain…Personally, the most exciting lines have been about Lullaby and Kiss Of a Vampire for me, because these lyrix are very close to what I feel.Well, just wanted to say: the review is great – and fair. Thanx a lot for it J...I hope, we´ll play someday in "small town England" as NMA wrote one day.
Love, Hate + Passion
B.S."
From Lost Faith:
"Jezabel,
Just writing to thankyou for the review you gave our EP 'Dead Roses', the whole band is really happy. I found what you said about 'Playing With Angels' very interesting, I had never seen the lyrics objectivly, I read through them after seeing your review and you are right, it does sound as if they were written months or even years after the accident, but in actual fact I wrote the music and lyrics the day after Matthew died. Its wonderful how peoples lyrics can mean so many different things to different people. Anyway, thankyou again for taking the time to listen to our music.
Stuart-Lee
Lost Faith"
From Christopher:
"Well, umm....gadzooks! A lovely review you have posted for me...thank you! A definate `pick-me-up' for a blah week. Any reference to Southern Death Cult/Cult and me in the same sentence always makes me smile. Ian & Billy are heroes of mine. Well...more Ian. The hair sold me on him ages ago. :) I that's about it. Thanx again for the review and support. Though the DJ's don't exactly love me, it's folks like yourself, Mike V, Bob Westphalt, my streetteam and others that have at least put in the effort to get my name out there. I can't thank you enough.
Christopher"
From Bosheeunmay:
"Hi Starvox !
Big Thanks for reviews, even two at once, cool ! We made a link to Starvox, look here under USA http://www.boshetunmay.de/Englisch/ref_mags.html With love from Germany
Siberian-Brothers BosheTunmaY www.siberian-brothers.de"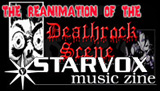 On our Deathrock feature article:
From Dave Skott (Release the Bats):
"WWWWOOOOOOOOOWWWWWWWWW!!!!!!!!!
Love it!
Dave"
From Thomas (Pagan Love Songs - Germany)
" awesome! really awesome... what a good read. ...a really good feature IMHO with lots of interesting information. this is yearning for a second part, isn´t it? ;)
all the best,
thomas"
From Mark Splatter to every deathrock list known to man! heh...
"Starvox.net has just posted an article about the ressurgence of deathrock music as its feature article, with interviews and submissions from Dave Bats, Rick A. Mortis in San Francisco, Ralf Thyssen from Germany, and yours truly, Mark Splatter. It talks a lot about the separation of deathrock clubs from the mainstream goth clubs / electro goth. It came out pretty good, go check it out at"
From Rick A. Mortis in response to one of Mark's posts:
"That article was fucking GREAT!!! Seriously, I'm going to put a link to it on my website, very informative, and great interviews! I'm really glad Blu mentioned some of the other clubs up here as well as Voodoo.
Rick"
From DJ Charlie the Slut in NY:
"Yeah, it's great.... kudos on a good article, and as usual, I'm really jealous of California. At least there's SOME appreciation of what you all do out there.
Charles."
From a reader off the Deathrock LA list:
"Well, congratulations! I think everything you guys spoke about is very accurate and is exactly what's going on in the scene right now. The "good old times" are coming back... You should be very proud of accomplishing all these things and contributing to the life of the scene."
From Greg (Naked and the Dead):
"Hey Blu,
Mark alerted me to the great Deathrock article you put together on your site, and I just wanted to first of all say how much I enjoyed it, and second, to say thanks for including The Naked and the Dead and the other ancient bands I'm trying to reanimate...it is much appreciated.
yours
Greg
P.S. Having recently been put back in contact with Naked and the Dead drummer David through the deathrock.com message board, for the first time in about 14 years, this past Saturday evening, myself and bassist Christopher had a fun "reunion" in NYC with David, reminiscing over a few beers. We discussed finding a replacement singer for some reunion shows, so you never know, it could happen..."
From the Cinema Strange elist:
"Hey everyone!! There's an article about Cinema Strange and the Deathrock scene on Starvox this month!! With photos taken by me. :) la la la la Check it out now at: http://www.starvox.net/crypt/dr/dr.htm Enjoy!
Krissy
Cinema Stranger"
"I really liked that article in starvox! I was very direct and understanable, even if people dont even know what Deathrock is. I live in SLC, utah. I sing for THE ONLY deathrock band out here called Tragic Black, and there is hardly anyone out here to appreciate it, the old school goths like us alot, and so do a bunch of punks. As far as the new goth scene goes, the think were totally fucking out there...Anyway that starvox article is cool, i'm going to be sure to send a link on our SLC DEATH list, I bet somebody will appreciate it.
Derek"
From Johnny Bubonic at Funeral Drive in Dallas:
"I know this is a bit late, but I just wanted to thank you for including us in your fantastic article on the resurgence of the deathrock scene. I haven't scene a piece on the subject of deathrock done so enthusiastically by an independent 'zine in far too long. I was really impressed. Thank you so much for doing it right."
From Corrosion:
"Thanks for the review, Jez. :) Some nice comments and some good points for us to take on board."
From D.U.S.T.:
"Hiya Steph, Just read the interview. Ace!!! Thanks for doing my opinions justice (something I'm not used to!) and actually printing my real thoughts and opinions. I'm sooooo used to journos taking me out of context and making me sound arrogant and discontent with the scene - it's good to see someone who appreciates the actual point of view of D.U.S.T.'s songwriter."
John from Dallas, Tx writes:
"I was just wondering when will the review and pictures of the Jan 19th Empire Hideous show be up on the Starvox site? I can't wait to see them, since I can't be at the show since I'm in Dallas.
Thanks, John- Starvox fan from Dallas,Tx
PS: Keep up the great work at Starvox, the site kicks ass...its a great site, even some of the bands I'm not totally into have great pieces on them"
From The Blue Hour in regards to Matthew's review:
"Thanks for the wonderful review. I read it and found it very insightful, which is a rarity. Even the criticism was very well thought out (and I share the feeling that the ambient pieces disrupt the theme of the album - for slightly different reasons)."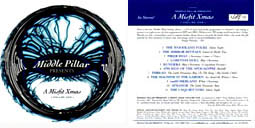 Middle Pillar thanked StarVox and Mike V (Hidden Sanctuary) on their Christmas Comp:
From Belisha on Jez's review:
"Thanks for the glowing review! Loved it especialy as I write the lyrics! I would love to show it to my English teachers at school heh heh."
From Legion on Kevin's review:
"On behalf of the band and myself, thanks for the write up. As they say in the urban vernacular... 'You Rule'."
From Jill Tracy:
" Thank you for the glorious review! I'm glad you were able to include some CD artwork, photos, and especially names of band members. (They appreciate it.) "
Good mail, from Oxygen Law:
"Dear Matthew:
What a sterling review! Thank you so much! And I don't say that because it was a positive review, but because you really did listen to the music, track by track, and really deciphered the songs. We're not used to such in-depth reviews or criticisms--it was a treat, to be sure. (And you got the Brontë reference!--outstanding--no one else would have). Anyway, thanks so much for the review. Much continued success with Starvox. Later for now and take care.
Yours in stygian chaos,
--Viir of Oxygen Law"
Mick Mercer comments on our Empire Hideous feature:
"I enjoyed The Empire Hideous interview. I like his attitude, and it's a perfect example of how things work, or rather, don't...which was also prevalent in the Mortiis piece... The Empire Hideous have attitude, which makes all the difference. The most important difference."
William Faith of Faith & the Muse writes:
"...and what reviews indeed! Yours was probably the kindest and most thoughtful review of F&TM that I've read to date, and it really meant the whole world to me -- I can't wait for Monica to read it. Thank you very, very much for taking the time out to share those feelings with me, and so many others -- I deeply appreciate it.
All the best,
William"
Jan from Funhouse wrote of their review on Oceans of Tears:
"Glad you liked it. Nice words... An (Un)pacific Tour of the Wild West is in its early planning stage, but we'll know if it goes down when we're on the plane on our way back... as Mike likes to put it... Wishing you a swell evening - here it's 2.30am - and may your 'Appetites' never get dry...
/JG"
From the members of A Midnite Choir:
"...I just thought you should know that he [Greg - lead vocals] commented on how well you picked up on very subtle things, things that he figured people wouldn't 'get' on a concise level. He also remarked on how completely you understood not just the lyrics or the sentiment, but the music as a whole. He was very impressed"
Hecate Enthroned feedback:
"Greetings Michael.
Dean from Hecate Enthroned here, how are you? Well, six hundred and sixty six thanks for the fantastic review, we are especially pleased to have created something you enjoy. I am especially honoured that you even felt my lyrics worth of putting up there. Believe it or not all the lyrics for 'New Day Emerges' were written in 10 minutes the night before i was due to record them!"
Lazare from Solefald said:
"It's always nice when people actually take the time to dive deep into our albums like you have done. Excellent language in the review too - most metal-zines lack that! "
From Nim of Mr. Underhill on their first CD review:
"I love you. You are doing so much for music and we NEED you!!!! I think you are very cool. I had heard of you through the deep eynde and through Miriam from Flaming Angels but I am glad to have meet you in person. Since we've met I have told many people about you... People like you make the world."
From Neue Aesthetik on our Judith review:
"Thanks very much for the in-depth review of Play of Light. I am too close to the band to be objective about their material anymore so when I read a review that gets to the heart of what they are trying to do, it really makes me smile."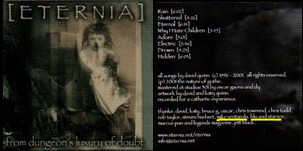 David from Eternia thanks Mike V, Blu and StarVox on their first CD:
From Bernadette McCallion:
"Thanks for the review...I know you must get flooded with material. I agree with you -- it is strange for me to send the CD out to a site that focuses on darker music...the reason though is that I used to be in a goth band (as a matter of fact, the drummer in our band was in Empire Hideous in the middle 90s) and for whatever reason, I still think of myself as being in that vain. I know the music is pop-rock, but there's always some minor / melancholy side to it -- enough that the mainstream people always comment on it and in some ways criticize me for it. Anyway, thanks for taking the time, I appreciate it and will put a link to the review on my site."
From Corey Gorey of the Brickbats:
"...the review reads great great great! Much appreciated! You could throw something in about how this album really sucks next to the new Brides EP but I don't think you've heard that yet (tee hee tee hee it's an actor's life for me).
Sayyyyyyyy Peaches!
Corey Gorey"
On Rachael's.Surrender review, Reuben says:
"Thanks for the review. I appreciate the honest and positive feedback that have provided!"
Jill Tracey comments:
"Starvox is a well-constructed and attractive publication."
From Toby of Maudlin of the Well:
"Thanks so much for the extremely flattering review. Thanks even more for giving so much back to our music itself. Sorry you're still confounded at our evil little puzzle."
About the Maudlin Of The Well Interview:
"Hi Matthew- thanks a million. I checked out the interview, and Christ, we actually sound slightly sane for once. Great job, thanks again. Toby"
Erika from Dark Symphonies says:
"Great, GREAT interview. Best I've read so far. You really got Tob and Byron to talk... I'm finally more enlightened as to what goes on in their naughty little heads. Thank you for giving Maudlin such great exposure."
VLE comments:
"Thanks so much for the great review! I am honored with your praise. Really, you know it means a lot to me that other people can feel this music I create. It makes me feel as if I am actually being understood in some way, for all that you hear is from the depths of my soul... very honest in all its raw energy. And the fact that you actually enjoyed the vocals is amazing to me because I have never considered myself a singer... actually it is the first time I have ever done vocals. I hope that you will enjoy my future works..."
Mick Mercer gives us a nod:
"Thanks for ther interview, I read it last night, and I'll check out the other reviews and such tonight. Thank you in particular for asking pertinent questions which stretched me and made me think."
A StarVox reader says:
"Matthew,
I just read your review of the new Tristania. You (as usual) nailed my exact opinion of "Beyond the Veil." I was going to buy the new album, but wasn't in a rush after "BTV." Now, I am going to get it ASAP! - Derek"
A StarVox reader comments:
"Hello. I just wanted to say you have put together a very professional and excellent 'zine.
Thanks for the hard work. - Brace, Dallas, TX"
A Reader's response to a Paradise Lost Review:
"Well Matthew, I've just read your review of Paradise Lost's latest album, and I would like to thank you for writing the best review I've seen in a long time. Period. I especially appreciated the entire second-from-last paragraph, notably your comment that the band are the composers, and we don't have a right to condescend their direction. They truly do deserve more respect than what they get.
If only everybody could have the chance to hear this brilliant CD. It's the most underrated and over-ignored album I probably own. Why magazines haven't given it more than below-average scores frightens me, especially if good records like this sell largely on what reviewers of various mainstream genre-specific magazines have to say (UK press anyone?). Not only is "Believe In Nothing" the best new album I've heard all year, but I also consider it to be every bit of the praise you give it, only tenfold. Whereas other "reviewers" (notice the quotes) use the space they have simply to criticise the band for not being what they used to be etc., or to write something other than what the review is essentially supposed to be about - the album.
Thank you once again Matthew for such a revitalising review.
Kind regards,
Stephen B"
On a review of Since the Accident by Mistress Catherina:
"I stumbled upon your review of STA, and was extremly happy to read your comments. Its nice to see somone that recognizes good music and can give constructive critisism at the same time... I'm sure this is a bit random getting an e-mail from a complete stranger but i was glad to see somehting posted
thanx fo ryour time,
BR"
From Isaac of The Arid Sea:
"Matthew,
Just wanted to let you know that I much appreciated your kind review of The Arid Sea! It helped to put me in contact with Blu and Jyri and could quite possibly be what gets The Arid Sea back on stage... But i just wanted to let you know that thus far, your review has helped tremendously!"
From D.W. Friend of The Brides/Brickbats/RocknRoll Star Destroyer:
"Thank You! Thank You! Thank You! Thank You! Thank You! Thank You! Thank You!
. . .did I mention Thank You!!! The article looks great, I'm very, very happy with it. "
From a Noxious Emotion concert review:
"Damn!! You ROCK!!! I love getting reviews like that (where the reviewer actually understands us)......thank you thank you thank you THANK YOU!!!!! - Mike"
From The Dream Disciples:
"Thanks a lot, this is a really cool review, I would want to buy the album after reading it, if I was a punter and not totally skint all the time :-) Many thanks for the push as well..... much needed. I'll let the folks know, so they come and visit you.
Best
Col"
From Eric of Faith & Disease in regards to the joint promotional effort of StarVox and Kontrol+Alt+Delete in Seattle:
"O'brien and blu,
First off, I want to tell you both how impressed I am with your handling and promotion of the upcoming Audra show. Each time I return from a tour with F&D I am reminded of the world of a difference a good and bad promoter can do to a shows success. Audra is in very good hands, I told Bret that about a month ago when we played Phoenix."
Susan from Luminous Flux writes:
"Thanks so much for the awesome write up--we couldn't have asked for anything better! ...we think you totally rock and we really appreciate your support.
Thanks tons!"
On the Salome's Wish Itnerview conducted by J. -
"... just doing my preproduction for Salomes Wish and with the support you have given them in the past I wanted to contact you first. SW is finishing their debut ep and the Starvox support was a godsend. By having the interview available to link on email we have had 4 major labels and several larger indies at shows looking at SW specificaly....
Thanks for everything,
Salomes Wish and Petridish Entertainment"
From Matthew of Deathwatch Beetle Repairman:
"I really don't know what to say. Such high praise....I honestly don't believe that I deserve it. There are so many people out there with so much talent. I'm just some guy that threw a CD together several years ago...I don't know how to thank you. How could I ever live up to such a description? I just don't feel I have done enough to warrent such beautiful, strong words....I was deeply touched. To know you feel this way about something I have done humbles me more than you can imagine, and warms my soul. Thank you again.
Matthew"
From This Ascension:
"hi xian. thanks for this very articulate and caring review of the comp. you've really gone above and beyond the call of a reviewer's duty, but then that is no surprise considering the support you have given us all! ...a million thank yous! and again great job on the review... you should do publicity for a living you'd be famous! :) dru"
Acid Ice Flows writes:
"Wow! That's great! I'm really glad you like my song. I think I'll frame your review, hehe. I appreciate the feedback on the ending as well, and you know what, it makes perfect sense to end it that way. The great thing is, none of my songs have been recorded in a real studio yet (which is why the track sounds like crap compared to the rest of them on the cd, kind of embarrassing really). This gives me the opportunity to polish the way they sound and integrate suggestions I get. I like your idea so much I'm going to change the end. Also, if you ever get the time, I do have a mix up on my mp3.com site of Surrounded that I feel is superior to the one on the cd if you're ever in the mood to check it out. When I get the new mix with the different ending completed, I'll post that there as well.
Thanks again for the review!
-Gollum-
Acid Ice Flows"
David of Eternia comments on the Whitby Comp review:
"Hi Xian,
Thanks for the review. I'm impressed that you actually went to the artist's own websites for more info and appreciate the obvious time you took to write it. I really like the care that you StarVoxians take with yr reviews.
Regards
David"
From The Shadow Cabinet on a CD Review:
"Thank you so much for the great review of our CD - "Solitude."It really helps build our spirits since we are doing an "old school"style of music, which we just love to play, but does not seem to be "in" right now....Who cares when it comes down to art...right? We have nothing to change. Hopefully, we will get the chance to play up in your neck of the woods...
Take care and thanks again...
Orlando - The Shadow Cabinet"
Michael from Unto Ashes writes in response to Mike V's review:
"Still amazed at the review of Saturn Return you wrote for starvox.net - it is so comprehensive, it reads really well and there's so many ideas that you address - it's almost like an essay on art itself! Anyway thank you very much for all your kind words... people should read what you wrote, obviously you spent an enormous amount of time writing it!"
Kevin from The Grey Skies writes:
"Matthew:
thank you so much! i can't express to you how happy i am that you liked this disc. i honestly made it with the intention of no one ever hearing it, of it just sitting on my shelf. i mean, you hit so much right on the head. i was listening to "faith" so much back then (i had just gotten it on record and was entranced by how much thicker and fuller it sounded than the cd). anyway, i hope that in the future, i can live up to such a great review....thank you again so much. there should be more angels like you on earth."
Lucas from Cinema Strange exclaims:
"Hi, Blu! What's the haps, sister? It has been some time since our last exchange and I was just wondering if your life has become any less hectic lately.... I hope things are better, and if they're not, it's never too late for alcoholism.
Your skinny welp in the bottom of the trough,
your Irish stout in the dark of an oak barrel,
Lucas "Lampwick" Lanthier"
From Dirk, (vidnaObmana) on the CD review and interview:
"Dear Jett,
Thank you for the update and am really grateful for your support of putting the spotlight on the music of vidnaObmana in the excellent StarVox webzine. Really appreciate, Jett, and both articles are very informative."
Steve Roach writes of a CD review of Early Man:
"...thanks for the preview, excellent and respectful job! Thanks for hearing it as you do and taking the time to share it with other by way of this review ... I would love to walk into a cafe playing Early Man or other related ambience, that has been a long time thought, of how cool an ambient cafe would be with a constant flow of somadelic soundworlds and a heady aroma of rich ultra strong turkish coffee's intermingling with Early atmo's....
Thanks again"
From Exceed 6 Doses:
"Jett thank you for the Wonderful Review... You Rock! ...
JaYSeon(Who is very flattered)"
From Lee, the creator of the Only Sorrow Comp:
"Wow.
Blu from Starvox Music Zine has posted a review of Only Sorrow. I am so happy I bubble!! It is so wonderful working on and watching this project mature.
-Lee"
Projektquotes StarVox in their latest catalog: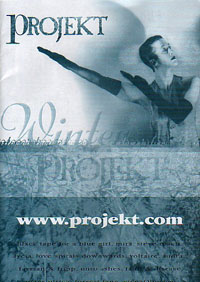 From Marshall of Sumerland to their email list:
"Our new CD 'SIVO', the one we want you to know all about has received it's first (stunning) review.... Blu (the editor of Starvox, and writer of this first review) has put a great deal of research into the album, uncovering layers of subtlety which can only serve to enhance your listening pleasure..."
From reader and musician Jonathan Howitt:
"I really , really dig your review of sumerland. I agree with you, they are very inspirational to me. I am actually friends with dorien here in Portland. Finally, a good review of sumerland, its been long awaited.
Later,
Jonathan Howitt
Children of Paradise
http://www.childrenofparadise.com/"
Middle Pillar writes in regard to the Sumerland CD review:
"I am floored by what you wrote. The time and complexity of your review made me almost blush, and it's not even my band!
wow!
-KD
(Middle Pillar)"
"Damn! With talk like this, Dorien's going to need those 6ft amazon bodyguards you promised us. (then again we don't have seductive voices)
- James
(Middle Pillar Presents)"
Eric from Faith & Disease wrote:
"I keep hearing your nights [events] are really popular, and that Starvox is growing and growing in Seattle. That's very cool, but I've known you since the Atlanta days and when you were a writer for Flipside..so there. he he Hope to see out soon,
Eric"
kaRIN from Collide sent us this card: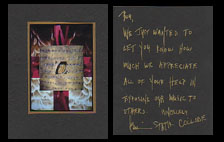 Tracy from Little Evil Things writes:
"Hi Mike:
Thank you so much for your kind words and letting us know that the review is up. You guys have a great site. We are coming out with the next volume of our series - Volume V. I'll be sure to send you one. Until then, thank again and take care.
Best wishes,
Tracy London"
From Breather:
"thank you soooo much!! I just read it, and I can't believe how great of a review it is....thank you a million times, seriously....it means so much to have someone out there who likes us... and I guess you really do.. we just added the link to our page.. and we'd love to do an interview...
loveandpoison
jessica"
Jason Wallach (The Unquiet Void) writes in response to Matthew's review:
"Hiya, this is Jason Wallach (aka. The Unquiet Void). Thank you for reviewing 'Between The Twilights'. Yes, I did get a good chuckle out of your story about running to the telephone because of one of the sounds incorporated in the PERCUSSION of "Sinking Into The Blue Black Oblivion". I have been asked about that sound and, no, it is not a telephone although I have heard of other people picking up their phones during that track. So indeed I had a nice chuckle from that.
But even though it didn't seem to be your cup of tea I must thank you for pointing out what positive qualities you thought it had. I appreciate that. It has always been my opinion that a good music reviewer, even if he didn't like the disc, pointed out qualities and gave comparisons about the work that people who might like it might find attractive. Anyhow, thanks for your review and just so you know... I don't have a phone at the moment... neener, neener, neeeeeener!!
Sincerely,
Jason Wallach / The Unquiet Void
http://www.mp3.com/tuqv"
From Hungry Lucy:
Hello :)
we received your email with the reviews link...thank you both SO very much for your ever-so kind words!! reviews like that make us want to keep on making music :) we have added a news item and a link on our links page to your site.
Thanks again!!!
Christa Belle & War-N
Anton from Lateral Tension wrote:
"Just thought I would drop you an email and let you know I think starvox is great! I just checked it out in detail. I am glad this new up and coming resource is around. You have complete support from Lateral Tension.
All the best
Anton
Management
Lateral Tension
www.lateral-tension.com"
Faith & the Muse writes:
"Thank you and all at Starvox for your continued support.
Love and thanks,
F&TM"
David from Eternia writes:
"Just wanted to say thanks for putting Electric on yr mp3.com station. Thanks also for the review - arguably the best review I've ever had for anything (except maybe the Australian guy who said my band was the worst thing he'd ever heard <g>)."
Someone on the Seattle Goth List had this to say about StarVox LIVE in Seattle:
"I was completely inspired by how well organised the event was, and it gave me much more faith about the health of our scene. Good job."
Rik from Mara's Torment and The Violet Collection wrote:
" ... you're one of the most supportive and kind people I've dealt with in the scene, and your work is most appreciated..."
Kirk from Dreams in Exile wrote:
"Allow me to extend my sincere gratitude for your thoughtful consideration of our work. Edwin, yours was one of the most respectful and sincere reviews anyone has written in regards to Dreams in Exile music -the kind of write-up Corey and I dream of."
Carrie, a StarVox reader wrote:
"Dear Starvox Staff,
I just thought I would let Starvox know that I truly enjoy your zine!!! There is so much music that I wouldn't have been in touch with without you (And I'm a music slut!!!!)

Also I frequently engross my self in the 'Women who Rock' section (I'm biased of course)! Sonya did a great job with her interview of Louisa John-Kroll. She uses great vocabulary and sets the mood and scene in marvelous detail. Very Informative. And the Reverend did an interesting interview with Nano... definately an attention keeper and he sets the scene well also. These type of interviews make you feel like you almost know the interviewee by the end of it.

Also Starvox is one of the few zines where if you really like something you can find alternate sources for more information... I enjoy that, it makes my music slut life a lot easier."
From Patrick Mata of Kommunity FK in regards to the StarVox LIVE in Seattle:
"THANK YOU so much for last nite's awesome eve! I met alot of 'KFK Kloset' fans... You possess a special gift of bringing such subversives together as the Deathrock genre and Industrial rivetheads under 1 roof! We hold you deep within our hearts
and we want to work with you in many capacities such as anti-art shows, special solo performances, and even future dinner dates."

VersusMedia - StarVox owners, were picked as TipWorld's site of the day, and had some great things to say about StarVox and Deaththreats too:
---------------------
C O O L W E B S I T E O F T H E D A Y TODAY'S TIP: VERSUS MEDIA

At first glance, this superslick site looks like it was designed by the Terminator himself... if he had been an independent record promoter instead of a killer cyborg. Versus Media appears to be dedicated to helping indie-bands promote themselves and turn profitable. Which it does. But even if you can barely play the harmonica, you'll want to check out Starvox and Deaththreat, two of the most killer (no pun intended) music zines on the Net. If you crave an insider's view into the underground/indie music scene that you definitely won't find on MTV News or in Rolling Stone, then take a click on the wild side.
| | | |
| --- | --- | --- |
| Eristikos ran this ad in it's literary arts journal called "exsanquinate" - volume 6, issue 1, winter 2001. Thank you! http://www.eristikos.com/(click photos to see larger version of the ad; ad design by VersusMedia) | | |
Lygia of TEMPLE OF MISERY
"I'm so ecstatic that we're getting a review for Starvox! I know when you're a part of something, it's sometimes hard to see how big it is, but Starvox is so respected/popular/important (I can't even think of the words I want, but I'm sure you understand) in the dark music genres. In short, it is THE dark music zine online."
Ad for StarVox LIVE in The Stranger - Seattle, WA
Design by The Stranger
From Cinema Strange -

"Holy shit, that's an incredible review! I don't know what to say except you have our humble thanks!"

From We, The Gods in regard to Matthew's review:
"Many thanks for the great review on Starvox. At first we were astounded to read so many compliments on Dark Embrace ... we didn't bribe you, did we ? (Just joking). We are glad that you succeeded in capturing the mood of the CD in such poetic words, you described the whole CD in detail for sure. And I have to say that you are the first who noticed that the samples were taken from Bram Stoker's Dracula (one of my favourite all time movies)."

From a reader on The Flock of Seagulls review:
I just wanted to say that your review of Flock of Seagulls was amazing... absolutely top notch... I was blown away... I was in one of my missing the 80's moods today and everything... you did a lot to recapture a lot of what people have forgotten... the early 80's were a very special time for arts and technology, and I'm glad that there's still a lot of people out there who recognize it...

From a reader on the Cinema Strange review:
Sounds like I need to procure a copy of that CD VERY fast with me DJing. They sound like exactly what I want to be playing: new Gothic music that kicks ass and is not drenched in Electronic/Industrial influence. Thank you for that review! I am going to pick that up next week after I download the songs this weekend. Just wanted to let you know that I read your review too and you succeeded in getting me all excited about a band! ;)

From vidnaObmana on the Portland conert review:
"Just wanted to send you a quick note to express my gratitude in the way you took the time and chance to highlight the Portland concert so respectfully and in detail. Upon reading your review, I felt immediately back into the exquisite Old Church space. "

From KD at Middle Pillar about the Butoh Feature:
"Thank you so much for taking the time on such an informative article! I'm extremely impressed. And such kind words! Wow!!"

Ghoultownthanked us on their latest CD: Tales from the Dead West

From Unto Ashes:
"Thanks for your fabulous review of Moon! It really blew us away. -Melody Henry"

"Thank you very much for your extremely kind and thoughtful words about "Moon Oppose Moon" we're really glad that the CD spoke to you in such a way and that you were able to GRASP so much of what we were trying to convey.
Sincerely,
Michael Laird"

From Communion and DJ Xian in LA:
"We at Communion want thank all of you for your contributions in time and efforts towards the success of Communion's first MP3.COM Artist Support Night. Alexavier's hard work did not go unnoticed, and we applaude him for his endeavors that evening. The turnout at Communion and response to the artists was warming and we're all thrilled to have helped these talented individuals gain such well deserving press and promotion. The spectacular results have ensured to us that we will definately be continuing with yet another artist support night in time!!"

Collide thanked us on Chasing the Ghost:

From StarVox reader Sarah (Ontario Canda):
"...I'm a dedicated reader of the zine, and I can't fathom all the work that you must do to keep it afloat. You've really got my admiration ... not to mention my appreciation. Keeping the music scene alive is such a daunting task, and I really think you're doing your part and more."

From Rik - The Violet Collection:
"I would like to extend my thanks again to you and Edwin for your support. It's really great to know that people are willing to back something like this, and it renews some of my faith in the world.
You rock!"


MUTE! Magazine gave us the inside cover of their 2nd and 3rd installment of the hardhitting industrial magazine. Contact them at mute7@earthlink.net or call 404-755-6787 for advertising and distribtuion.

from a StarVox Reader on our Hand of Doom feature (Nov. issue):
"Great overview of current doom metal. I posted a link to it on the metal mailing list I am a part of. And thanks as always for flying the metal flag. If it wasn't for Type O Negative and my Dying Bride, I never would have discovered "pure" goth and darkwave.
Derek"

Billy from Season of Mouring says:
"I would like to thank you for the most diligent review we have had up to this date. You wrote as if you really cared and this to me is important. We have been going strong for three years now with all the same members and at times it is a little rough for us to convey our feelings into our music."

Glampire thanked us on the Soft White Ghetto CD:

Reader Sarah from Ontario, Canada writes:
"I'm a dedicated reader of the zine, and I can't fathom all the work that you must do to keep it afloat. You've really got my admiration not to mention my appreciation. Keeping the music scene alive is such a daunting task, and I really think you're doing your part and more."

from Mikey Nichols on the LOURDS feature (Nov issue):
"Thanks for all the props! I love the use of my photos! Lawrence (Lourds' Manager) had a FIT when I sent him the link to the StarVox website and the story you did. He is including the entire story in Lourds press kit. It's beautifully and heartully written, girl! You are the major bomb."

from the band Masochist Halo:
"So, I visited StarVox.Net. Very cool site: I found that some of the reviews there were part of a remaining breed of honest, intellectual and researched writings."

James from MiddlePillar Presents writes:
"Thanks very much for the kind words about our release What is Eternal. Starvox has been very supportive and we hold our relationship with you guys in high regard."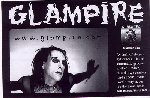 StarVox was most graciously quoted by Glampire in a recent ad placed in Outburn Magazine. We're honored he used us in his promotions.
From Tom from the tom and steve show @ ktcu in FTW:
" Been lurking the g-list lately as usual until...
Holy crap! Just saw your CD review listings: Pink Dots, Einsterzende Nuebaten, Cruxshadow, etc. AND Cosmic Slut [they're oh so very tasty]... Anyway, mucho coolness quotient on the mag reviews.... Please forgive me condition of perpetual pitching. I meant to simply write a fan note lauding you and your staff on some tasty editorial material. Now I will embark on reading some of it...."
From Jyri Glynn of 3SKS about their CD review in our August isue:
"Ok, so this is the best review I have ever read on our band, Blu! Hell, it makes me want to go out and buy it! :) Thank you so much! This means the world to all of us! ~j"
From Christian Merry of Acts Magdalena in regards to our August feature:
"I was speechless... Thank You Blu. You have made me feel very special to be included and I am so happy you find something in our music and my writings that you love. Its the "why".. its the Reason.. cuz I don't need women and booze.. well.. you know what I mean ;) Its times when you read something exactly like you wrote or hear it back from someone in person that makes you realize again its worth all the hell that happens when you stray far and wide off the beaten path and try to put into music the stuff you see in your head. I don't think I'll ever be able to perform 'Elliptical' without having in my head the image of you dancing to it, I don't think I'd WANT to get rid of that image..
:)
Love and Lots of
XOXOXOXOXOXOXOXOXOXOXOXOXOs
Christian
ACTS MAGDALENA"
Michael from Museum writes:
"Thank you so very much for the review. Of all the reviews that we've received so far, yours is truly the finest. You really captured what we feel ourselves. Wonderful writing, very talented.I could not say enough, again, a very appreciated thank you.
Michael"
Blowtorch 666 writes
" wow! I just checked out the Starvox site for the first time tonight. Needless to say that I was fucking shocked to see reviews of bands such as Immortal, Moonspell, And Impaled Nazerene. This is great news seems Starvox is 'metal friendly' which is excellent news for us."
Alda Xavier wrote about Convergence 6 in Seattle:
"There was a pretty decent bazaar with all sorts of wares on Saturday and Sunday; Kudos for the StarVox table and Jett Black and Blu for their dedication to networking and promoting the scene!"
Jason from the Unquiet Void writes:
"Black Orpheus, Hello, this is Jason from The Unquiet Void and I simply wanted to write and thank you for the incredibly flattering praise you had given my track 'SPIRIT' from The Darkness & The Machine 2 compilation."
A reader, Hamish, writes on our Simon Raymonde Interview:
"What a brilliant interview. Thank you. We are here in the UK believe it or not [and are] starved of interviews like these with people of such integrity! Thanks again, it was a lovely read."
The Gun from The Razor Skyline writes:
"Wow! Thanks so very much for that great review! You guys at Starvox have been and continue to be awesome. My only complaint would be that you guys keep your site so current that everytime I put a link to your page, I have to keep updating it as you keep updating your site! That's pretty unusual these days. Most sites put up an issue or two and then quit, leaving their site gathering dust for years before they finally pull it down. Keep up the good work, you guys are doing an incredible job."
Band's like Frolic (on Projekt) are using StarVox reviews in their press kits now - thank you! See here for an example.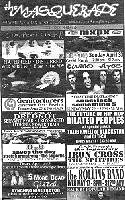 StarVox sponsored a benefit for Apocalypse Theatre with 5 More Dead Headlining. The Masquerade kindly ran this ad for us in Creative Loafing in Atlanta.
j.citizen of EYE writes:
"Thank-you very much for the review! Glad you found stuff of interest on it.You must have done your homework to know about "elf" as I haven't really advertised any of that yet - only a tiny little blurb on the web-site 'news' bit."
Nick from The Changelings wrote:
"Thanks for the excellent review. Very nice and nicely written ( as always) By the way, really good pics of everyone and I don't remember you having a camera! Also thank Sonya Brown for her...kind review of our Portland show...Congrats on another very well executed issue of Starvox. It never disappoints... Keep up the good work and PERSEVERE!"
Scott of SOMNUS:
"First off thank you for all your support and coming out to the shows, that's a good distance to travel especially on a week night! The show review was very cool! The best review was the way you actually put time into the cd review you didn't just say like so many ( oh yeah this band rocks! Buy their cd go to their shows you'll love em!) I like the fact that you spoke on the songs that you and other fans seem to dig! I also apperciate your personal comment to me (vocals!)....Thank you very much for hooking things up for us! I really appreciate your support!"
Louis from Threat Level 5 writes:
"I just read the review of "Maschinen" on Starvox.
Let me tell, sometimes I think to myself; has all this hard work and major dues paying been worth it? Well after I read your review the answer is: OH HELL YEAH!
Thanks, really, it means so much."
Sean from The Night Eternal writes:
"...thank you for the excellent review. This is actually the first review that we have received of our music and I must say that I am delighted that you enjoyed the CD"
Edwin Edwin Somnambulist, host of Industrial Strength Nightmares writes:
"...I really enjoy the zine... I've flipped through a few diferent zines, but most of them are trying to capture a huge [mainstream] audience.... StarVox keeps profiling bands that I've never even heard of... and that's the balance in my opinion: throwing in bands like Covenant with stuff like Mara's Torment... the biggest stuff to keep attendance, along with stuff that's underground to promote the audience's growth... that's the winning formula...."
Damon from The Changelings says:
"Just wanted to give Kudos on an awesome ezine. Its chock full of stuff!"
r curtis meyer of Large Orange writes of the Lili Roth Review:
"the review is very generous. . . so much that i would say we weren't worthy . . except that this CD is. in fact it is probably the most fulfilling album project i've had the pleasure of playing on, not to mention producing. so thank you! ...your review could very well be the start of an upward swing for the project. we really appreciate it."
Aaron Garland comments on a potential interview:
"...an e-zine was not what I had in mind but I got really enthused after looking over the latest issue of Starvox. this is the first e-zine I've ever looked at as I can recall."
Vyolett Sixx from MuseSick PR writes:
"I was sooooo happy to read your feature on Glampire! You COMPLETELY got it! ...the entire piece is really truly EXCELLENT!! Thanks again! You really did a fine job... Does Starvox come out in print, as well as online? I LOVE the site! You've really done a phenominal job covering great music. "
Lili Roth writes:
"Got your review, it's magical!!! Loved our review and will send it to everybody who worked on the album with me!!! Thank you so much!!!"
Steph wrote in her review of Acts Magdelena: "The Only Thing" is a song that speaks of a love that feels more like menace.
Christian from Acts Magdelena replied:
"...S.Q totally nailed this :) Some people listen and think its about hiding but its really about a love that can kill you suffocating the life out of you. I never correct people's interpretations because I always think if thats how it affects them and they like it so be it- but this is exactly what I meant.. very cool."
Voltaire writes:
I just wanted to say that I dropped by starvox and was really thrilled with the Halloween show review and interview I did with Kimberly! I think she did a great job and I thank you especially for the opportunity to share that show with some many far flung people who couldn't possibly be there. Usually, after I do a show, the euphoria lasts a couple of hours as people come up to express that they had a great time. Nonetheless, sooner than one would like, the feeling fades as the event itself drifts further and further into the past. With this review however, I just totally relived the experience!!! Thank you for making the show last more than just a few fleeting moments!!!!"

---
"It appears that some people are still too stupid to realise that criticism can be genuinely useful at times." ~ Mick Mercer, HEX FILES
Critics Corner:
Not ones to be overly self gratifying, here's what our critics say:

---

Tim, A&R for Cleopatra writes:
"I have followed Starvox for awhile and have personally felt that some reviews have been dishonest and overtly kind to certain records. "

---
In reference to a concert review (see http://www.starvox.net/crypt/2feb3.htm and look for the Fear of Dolls, Abney Park, Written in Ashes review), singer Robert of Abeny Park sends:
Subj: Reviews
Date: 3/3/01 9:36:46 PM Pacific Standard Time
From: robert@robertbrowndesign.com (Robert Brown)
To: blu@starvox.net
Because we played two covers songs in our set, you stopped listening? You admit we did a good job of covering the songs, but the fact that we played them negates the other 10 songs in that set? Because the songs sounded enough like the original to be recognized it's a bad cover? Because it is a popular song, it was a bad choice? Wow, you are unique.
Abney Park plays live by them selves mostly. We have over 4 sets of original material, and usually book by ourselves, or with one warm up band. Since this was a Written in Ashes show, and not an Abney Park show (And the first show we haven't head lined in three years), we figured it would be nice to give people like you (People who don't know our music) something they knew. We put a couple covers in the set because its' fun to listen to, and fun to play, and gives the audience a break from hearing all new stuff.
If your one of those dorky Goths that view Sisters as gods that shouldn't even be approached or covered, then you are not really worth my responding to. Get a life. I got a feeling if we SOUNDED exactly like Sisters, like so many other bands you seem to like, you would have loved it.
Reviews aren't for constructive criticism, they are about informing the listeners. I KNOW you are not qualified to give me constructive critism, and if you admit you didn't listen to our set, then you aren't qualified to review it.
- Robert
Abney Park

---

From: anti_statik_turntable_mat@hotmail.com (anti statik)
To: blu@starvox.net
Hi
I am just a normal punter in the scene, but I would like to bring to your attention mine and a few of my friends concerns.......primeraly against Uncle Nem. I don't mean it to be a personal attack or anything BUT....I seem to feel his reviews are getting more and more off the wall....I mean how do you control someone who is losing their marbles ??? or do you even realise until its to late...At any rate me and a few mates (shall I get them to email you) feel that he is losing touch with the scene !! Whether he is getting too old or just complacent I don't know.......Please either speak to him or axe him.......one of the two otherwise he will lose all credibility within the scene !
Just a concern......up to you
DJ Andy

Subj: Re: reviews and stuff
Date: 12/17/02 4:07:21 PM Pacific Standard Time
From: Blumoon2
To: anti_statik_turntable_mat@hotmail.com

Andy,
I'm not sure whether to take you seriously or not but I do appreciate you writing and am quite willing to hear you out and to consider your opinion.

Having said that, I personally really enjoy his reivews. His writing is very good, comical, interesting to read and technically, I have no complaints. He follows the formats and gives accurate descriptions of what he sees and hears to my knowledge. He is often times much more picky with his own writing than I'd ever be. He goes above and beyond covering many more concerts and turning in great photos. More so than any other writer I have and certainly, there would be no UK coverage at all in StarVox without him.

As for whether or not he's "in touch" with the scene I can say this: no one has complained and infact, I've gotten nothing BUT rave reviews and thank yous from bands and people in the scene on his pieces. If the bands are not complaining (not even the ones he criticizes) then I'm suspect as to why you think he's out of touch with the scene?

If you could be a bit more detailed or give me examples of why you think he's so "out of touch" I'd be more than happy to consider your complaint a little more seriously. You've given me nothing to go by I'm afraid.

~Blu
Editor - StarVox

---