Part 4: Boneshaker Babies, Vibrant Madness
& Undead Tunes all over Germany
An Article on the Deathrock scene in Germany
~by Thomas Thyssen
(photos property and courtesy: club photos by Thomas Thyssen/Pagan Love Songs
Cinema Strange photos by Krissy James (Cinema Stranger))


What the fuck is Deathrock? This was the headlining question for a new monthly column I am writing for Orkus Magazine in Germany. What the fuck is Deathrock in Germany? This seems to be the question I will try to answer within the following essay. I would like to point the main-focus of this article on the new developments in Germany. No more whining about the old heroes is needed. Treat their heritage with respect and try your best in order to keep a scene alive, which – some years ago – was in fact more than dead.


In times in which German mainstream gothic-clubs are ruled by poppy techno dancefloor-artists like VNV Nation and Apoptygma Berzerk, it seemed obvious that the underground, or as Rocketom of Germany´s most underestimated Deathrock band Murder At The Registry likes to call it, the sub-subculture was in desperate need of their own infrastructure. There were obviously no places for old school goths to party, where they could dance to their old classic tunes and where they were able to discover exciting new bands. When looking back now, it seems to me that there were so many coincidences in the years of 1998 and 1999, that it seems unreal nowadays.

Pagan Love Songs
My brother Ralf and I started our own "Pagan Love Songs" club in late summer 1999, after many months of preparing the event. Our opening ball was a huge success and from this day on, every fourth Friday of the month is dedicated to all the undead boneshakers that love to dance their asses off to some ghoulish tunes. The Zwischenfall venue in Bochum, in which Pagan Love Songs is located, is Germany´s oldest and most traditional Goth-club. I remember seeing Forty Five Frank of Antiworld standing in the backstage area, his jaw dropped to the floor while looking at all the band posters there were pinned to the walls. It seemed unreal to him that so many artists that he adored personally played that very venue, in which he and his band were going to give their debut on European soil. Due to the fact that Zwischenfall has only got one floor and is not as huge as many of the more modern Electro/Industrial oriented venues in Germany´s Ruhrarea, the whole atmosphere seems to be more punk-like as Granny Fiendish, Queen of the Antiworld mic, pointed out.
Back in November 1999 we did our first concert at Pagan Love Songs, and we were extremely honoured and happy to have Gitane DeMone playing live alongside Paris of E.X.P. and Shadow Project on Keyboards. Although their gig was more electronic, the place was packed with Deathrock people who went nuts during their performance. A couple of months later we had the pleasure to welcome Faith & The Muse, who played a special Rozz Williams Memorial Show at our club, since they played from 23pm on the 31st of March to 1am of April 1st, the day of Rozz Williams death. It was a really
touching moment to hear the first bass chords of "Romeo´s Distress". I definitely won't forget this. It was only two months later that Malochia, an extremely talented goth outfit from Amsterdam, in the Netherlands played Pagan Love Songs. Unfortunately it wasn't much heard of them afterwards, since their original record company went bankrupt. But the real highlight of our personal Pagan history has to be the 22nd of September 2000. The day Cinema Strange played their first and only European show.


I still got the first emails Lucas Lanthier of Cinema Strange and I exchanged in mid-1999 when I discovered the strange cineasts by chance while browsing through the web. He sent me their 7"-singles and I was completely blown away. Shortly afterwards I was the one to write the first article ever in Europe about them and their record deal with [trisol] was finalised within a short amount of time, too. It was Ralf's idea while hearing their first compilation-like cd to make them the offer to come across the pond and rock at Zwischenfall. We negotiated with the band, their label and our club and as soon as possible we set up the rough surroundings for the event.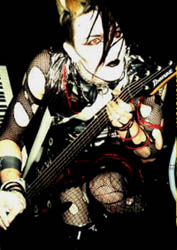 The result of our work blew us away. More than 500 people from all over Europe, including Austria, the Netherlands, Belgium, Poland and England, attended Pagan Love Songs on that very special day in order to witness the vibrant madness of the Ribiat brothers and Mister Luc Lanther live on stage. Murder at the Registry, as I already told you – in my humble opinion – Germany's most awesome Deathrock band, supported Cinema Strange that night and they had a blast, too. It was only seven months later when the infamous trio returned to Pagan Love Songs during their first "Kittens In The Catacomb" European tour, making themselves the first band to play twice at our party. That time we invited the promising German UK-Goth oriented trio New Days Delay as special guests. Again, the place was packed, again Cinema Strange and their support gave everything they had, making it a wonderful evening for everyone.
July 2001 saw the European debut (you seem to recognise our special interest in doing those kind of "first time events" ;-) of the Hollywood based Diva Destruction. Debra Fogarty and her band definitely left a mark at Pagan Love Songs. Although summer had reached its peak with subtropical temperatures, the Zwischenfall was packed again. After their performance – they were supported by the local Gothic Rock trio Cadra Ash by the way – the band really celebrated their premiere. With that in mind it doesn´t seem too strange that their song "The Broken Ones" now has even made it into the playlists of the more mainstream-oriented Goth DJs.


Only two months later, Pagan Love Songs had the next major attraction for every Deathrock-lovin´ freak in its pockets: Antiworld from Portland, Oregon made it to Bochum and they blew the roof off Zwischenfall with their post punk sound. We had the pleasure to accompany Antiworld and Cinema Strange after that special gig to the huge "Herbstnaechte (means Autumn Nights)" festival on Castle Raben in eastern Germany. The Sunday line-up saw a terrific mixture of Germany´s Death- and Goth-Rock créme de la crème combined with Antiworld and Cinema Strange as headlining bands. William Faith of Faith & The Muse, who played a special acoustic set the day before, stood beside me when Cinema Strange entered the stage and I remember him smiling with pleasure as he witnessed their performance. Rumours say that he may be involved with the production of Cinema Strange third album. I guess only Bonzo von Ecke knows more details about it. I had the pleasure to do the aftershowparty on this fabulous festival with Mark Splatter of deathrock.com. I guess if I say we had lots of fun spinning together, it would be an underestimation.


Pagan Love Songs of course still exists. Currently, Ralf and I are putting the finishing touches on our first double-cd compilation which tries to cover the wide range of all the stuff that we play at our party. It took us nearly two years to compile the tracklist. It is so fucking hard to get your hands on many of those old heroes, that we were on the verge of throwing the towel on more than one occasion. Hopefully the "Pagan Love Songs Compilation" will be released later this year on the well-known German Schwarzrock label.

Underground Party Scene
Another important fact which contributed a lot to making the current German Deathrock scene stay healthy, is the very good contact between all the party organisers and gig promoters in Germany. One of my personal favourite clubs for instance, is the "under cover of darkness" party which is located in the Triptychon in Muenster, or Monster in Monsterland as Andi Sexgang pointed out on his gig in that very special venue. The party is held every third Saturday in January, March, May, July, September and November. The DJs Kerstin, Kanne and Steven Cavity spin lots of real fun stuff. A good mixture of Batcave, New Wave and Gothic-Rock sounds in a nice party atmosphere with a big bunch of cool people. What do you want more? We had the pleasure as well to do some cooperation parties with those guys, including a fabulous celebration at the Wave Gotik Treffen in 2000 where I nearly broke my ribs at the Sigue Sigue Sputnik concert! ;-)


One of Germany´s oldest Gothic-Rock parties is the Nightstalkers Ballroom, which is located in the Honigfabrik in Hamburg. The DJs René and Martin spin their records on every third Saturday as well, but in the months when under cover of darkness is not held. The venue, a closed honey factory contributes a lot to the unique atmosphere. In Germany you see lots of the same people at all the clubs across the country. Some of them drive hundreds of miles each month only to party to their favoured tunes. There was also a special "Pagan Love Songs meets Nightstalkers Ballroom" aftershow party at Cinema Strange´s first Germany gig. Currently the next joint venture party is planned for late 2002.
Of course there is a gothic-rock/wave specialised party in Germany´s capital city – Berlin – as well. The DJs chr-IST-ian P. and Franck E. open the doors of the K17 club on every first Saturday in February, April, June, August, October and December. The dynamic DJ duo also does lots of guest-dj jobs mostly in eastern Germany as well. If you've got the chance to visit one of their clubs, do not hesitate to dance the undead twist to some old spooky tunes. Of course a "Pagan Love Songs meets Artfuck" event has already been held! ;)
Last but not least, there's the Sex Beat party which is the main attraction to all southern German Batcave and Deathrock fanatics. Held in the small Top Act club in Zapfendorf in Bavaria, the DJ team Juergen and Stefan try their best in order to fight against the tidal waves of Electro and Industrial in their region on every first Saturday of the month.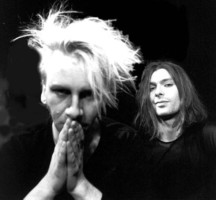 German Bands
After all the talk about German Deathrock parties, now let's move on to the new or still existing bands, which please our ears with their superb tunes. At first I simply must mention Murder at the Registry from Braunschweig again, who are Germany´s most ass-kicking unsigned band, to my mind of course. Their songs "Pump", "Cupido" and "The Stolen Photograph" are dancefloor fillers all across the country, although they are only available on very limited cd-r editions. Currently the band is working on their new album, which will hopefully be released in summer 2002. I can only recommend to check this f´n great band out.


Next I want to draw your attention to Bloody Dead And Sexy, a four piece band which seems to have listened a lot to old Rozz Williams records ;) , but that´s not a bad thing, that´s a good thing. Songs like "Bloody Rose" and "Hey-Ho Armageddon" are very successful in several clubs, and their live-performances are equally well-known. Frontman Rosa Iahn is driven by his personal demons that bring out the insane monster in him. Their gig at the Herbstnaechte festival last year ranks among my personal favourite performances. Currently Iahn and his gang are working on new material, too. I'll keep my ears open.


New Days Delay from Oldenburg in northern Germany is the next band I'd like to recommend. They are playing fast-driven, very UK-oriented goth-rock which reminds me of Skeletal Family and Ghost Dance amongst others. "Glass-Made Saviour" and "Selected Sunrises" made it onto the DJ-playlists as well. Right now the band is reorganising their line-up, because the original bass-player Matthias Dopp left the band in order to start his new project which will be produced by Justin of the UK-Goth outfit Passion Play. Alongside their new bass-player, guitar-player Christoph told me to expect some new sides of New Days Delay with their upcoming material.
Cadra Ash are veterans among the field of up- and coming bands in Germany. Making music together since the early 90ies, the band was often compared to Mephisto Walz although their newer material has a more electronic edge to it, without forgetting their goth-rock roots. Their official debut-album "Everything´s Gone By" should be expected in 2002. "Call To Remembrance" was definitely one of the biggest clubhits from a rather unknown act back in the year 2000.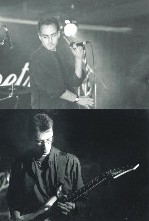 Morbid Poetry seems to be one of the most traditional German goth-bands since their sounds reminds me a lot of old Sisters Of Mercy and Fields Of The Nephilim stuff, although they never forget to put their very own unique details into the mix. Their newest EP "And The Dance Goes On!" contains their by far best material up to now. "Babel Falls" and "Tomorrow" are regulars on the playlists, and they deserve more recognition, without the shadow of a doubt. Morbid Poetry even made it to the fourth place of a music-contest which was held by the huge Sonic Seducer independent magazine.


Fallen Apart must be considered as veterans as well. Two third of the band is also playing in one of Germany´s most famous goth-bands, namely The House Of Usher. Nevertheless the trio still puts a lot of effort into their old school wave sound. Their latest release is the "Misereality EP" on 12" vinyl, which can be considered as a real collectors item for fans of old post punk and wave sounds like Joy Division, Sad Lovers & Giants and The Church. Dirk and Ralf of Fallen Apart already played in a goth-rock band in the late 80ies called Funeral Address. Their material was re-released on cd-r a short while ago, and at that time their sound reminded me a lot of old Red Lorry Yellow Lorry material. The band is hoping to release a new piece of vinyl in 2002. Hopefully they can realise their dreams.


Last but not least I want to give a short introduction of one of the newest goth-rock bands in town. Burning In Water hail from the ruhrarea and their music can be described as a mixture of very rhythmic UK-Goth and crazy old Deathrock stuff. Female singer Almerija has a very dominant voice, and their live-coverversion of the Skeletal Family classic "She Cries Alone" is a true gem. Unfortunately the band hasn't released an official demo yet, but the band is working hard to finish a cd-r within the next couple of months.
To cut a long story short: This was the first rough overview of the current state of the art of the German Gothic- and Deathrock scene. Please excuse spelling mistakes I made, I am still trying to improve day by day.
I really want to thank Blu and the whole Starvox-staff for giving me the space and the opportunity to give you a small view of what is going on in Europe.
If anyone of you guys is planning a trip across the pond, do not hesitate to contact me for detailed information on cool venues etc.
~Thomas Thyssen (thomas@nightmarezone.de)
Club Patrons - Click on the thumbnails for larger version:
| | | | | | | |
| --- | --- | --- | --- | --- | --- | --- |
| | | | | | | |
| | | | | | | |
| | | | | | | |
| | | | | | | |
| Photos by Ralf | | | | | | |
| | | | | | | |
---
About the Author:
Thomas Thyssen is working as an editor for all of Germany´s three big independent music magazines, namely Zillo, Sonic Seducer and Orkus. Furthermore he and his brother Ralf are organising several party events at the Zwischenfall in Bochum, Germany´s oldest and most traditional goth-club. In addition to that the Thyssen Bros. were responsible for lots of relatively fresh US bands coming overseas and playing their debuts at their Pagan Love Songs event. For e.g. Cinema Strange, Antiworld and Diva Destruction had the chance to walk in the footsteps of other American artists like Faith & The Muse and Gitane DeMone who played at Zwischenfall, too.
Click Here to Contine to Part Five: Pagan Love Songs Goes to LA
Related Links:
2/01/02